Fabulous Over 50
04 Jul 2020
Strength passion & grit from amazing Charleston women
Intro by Emily Sweeney, Bios by Monica Kreber
Photos by Lea Austen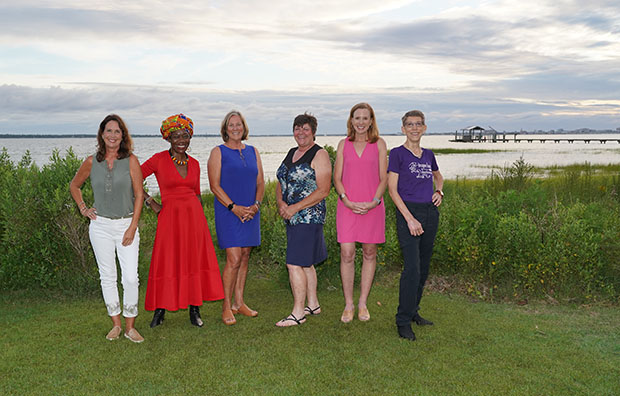 My mother was the first woman to inspire me to be a better person through kindness to others, respect and faithful commitment to her family.
She raised five children, then branched out to literally dance through the next season of her life in retirement.
Now that I am at a milestone age of 55—just having celebrated my birthday—I find it is a liberating age to find myself again, have purpose and hopefully be an inspiration to others. Each day is truly a gift.
I have begun embracing the Lowcountry more than ever, through bike riding, kayaking through our winding salt-marsh waterways, sitting for sunsets and simply enjoying what Charleston has to offer, right in our backyard.
I'm proud to live in a city with such ample opportunities to explore life and even find new passions. I have also been blessed to be active in Charleston's immensely supportive philanthropic community.
There are so many strong women who are making a difference in Charleston and I have admired them for many years. I receive inspiration and guidance from them with their personal paths and journeys.
I've had the pleasure of becoming acquainted with the amazing women featured in this article.
They share their stories about discovering their passions, pursing lifelong dreams and conveying poignant life lessons, such as when they were hit with adversity, they tackled it head-on—persevering and embracing their inner strength.
Charleston is lucky to have their passion and grit to help make our community even better.
I am humbled by the accomplishments and passions of these women. In this milestone time in my life, have been thinking a lot of another strong woman: my mother. I miss her every day and hope that she is proud of the woman I've become.
Sara Dalcher
Sara Dalcher starts her day with a simple sentence: "Thank you for the opportunity of another day."
It's up to her to make it a good or a bad day, but her day begins with that thank you.
Dalcher considers it her job to be positive, to be as healthy as possible, to be active and to keep engaging with the outside world.
It is an attitude that she takes with her to her Dragon Boat races, where Dalcher started out as a paddler and has evolved to become a steersperson and instructor.
Dragon Boat Charleston (DBC) provides a source of camaraderie, friendship, teamwork—and, of course, fun—to cancer survivors who join. As a two-time acute myeloid leukemia (AML) survivor, it is a group Dalcher holds near and dear to her heart.
DBC promotes the physical and mental health of cancer survivors and their community through dragon boating, a sport that originated in China more than 2,000 years ago. DBC races on the Ashley River. Twenty paddlers sit two abreast in 48-foot vessels while paddling to the beat of a drummer.
Last year, Dalcher celebrated making it five years since a stem cell transplant—a major procedure that she recovered from with the help of 100 DBC members.
Dalcher now finds passion in coaching newcomers to the group and sharing her story.
"I owe my life to this organization," Dalcher said.
And Dalcher will promise with a grin—it is one heck of a workout.
"You bring the attitude and the clothes, we'll handle the rest," she said.
Vernelle Dickerson
Something that Vernelle Dickerson wants others to learn from her story: don't ever give up.
After winning her battle against acute lymphoblastic leukemia (ALL) in 2003, Dickerson went into congestive heart failure and had a defibrillator implanted. In 2010, she suffered a heart attack and was put on the top of a priority list to receive a new heart.
"Some days it was like, Lord, how am I going to do this?" she said.
Dickerson and her family are deeply rooted in their faith, and she contributes her success story to her team of doctors, her family and to that faith that helped her get through the transplant when a heart finally arrived in 2011.
Today Dickerson is passionate about staying active and finding ways to give back to her community. Her main fundraising is for the Keith School Museum on Clements Ferry Road in Berkeley County. She is also active in the Leukemia & Lymphoma Society and is an ambassador for the American Heart Association.
Her activeness has led her to meet many great people and allowed her to share story with the intent to spark a little bit of hope and education about heart health.
Dickerson said she feels assured when she receives a hug or a "thank you" from someone – "because I just encouraged someone else and made them feel hopeful."
Catherine Burns Hollister
Four years ago, Catherine Burns Hollister opened Blue Sky Endurance with the hope to fill a void she noticed in the Charleston area: there was not a place where someone could go to get all their gear for endurance sports in one hit.
Hollister is originally from Michigan and moved to the Charleston area about 10 years ago. She is a triathlete herself, and has worked in other specialty retail stores for running and triathlons.
"I just decided that you know what, maybe I need to do this," she said.
Hollister combined her retail experience and love of endurance sports to open her own specialty retail swim, bike, run and triathlon shop on Coleman Boulevard in Mt. Pleasant.
The shop also offers training programs for triathlons and running, such as program for the Cooper River Bridge Run.
Hollister has enjoyed creating lifelong relationships with customers, watching them connect with each other and seeing them become more confident as they take on the challenge of becoming the best version of themselves.
She has a very strong faith and sees her role as a way to share her passion with the community.
"I kept looking for some reason I shouldn't be doing it and so far, every single day, there's been some indication: you're supposed to be here," she said.
Shannon Walsh O'Brien
Shannon Walsh O'Brien has been a swimmer her whole life.
O'Brien, a Charleston native, is the founder and program director of Lowcountry Aquatic Project Swimming (LAPS), a water safety and swimming instruction program that serves students in Charleston County Title 1 schools.
O'Brien swims at the MLK Pool in downtown Charleston and saw a need for teaching children how to swim. She was retiring from teaching and wanted to reach children at underserved schools.
LAPS began in 2012 and currently serves 14 schools and 1,400 children and has up to 20 CPR, First Aid and Swim Lessons University certified instructors. Lessons are taught in eight 30-minute sessions with the children participating in two sets of lessons–one in the fall and one in the spring.
The program also provides transportation, swim aids and extra towels and swimsuits for the swimmers.
"I've been very fortunate to carry my love of young children and swimming into this great job," she said.
Some of these children have gone on to join swim teams. O'Brien has a favorite success story about a former student who was able to save a family member who fell to the bottom of a pool. Thanks to the swim lessons, she was comfortable enough to jump in and retrieve him.
"I still get goose bumps when I talk about it," she said.
O'Brien attributes the success of LAPS to a hardworking staff that knows the importance of LAPS's mission.
"It's very rewarding to all of us," she said.
Casey Price
Casey Price did not just wake up one morning and say to herself, "I want to be a goat farmer."
It was more like her husband, Tim, pointing out that they lived on a farm, and they loved to drink milk, so: "How about a goat farm?"
They got their first goats in 2002, and their farm has become a place that allows visitors to come and see where their food comes from, a place to experience a goat yoga class or snuggle with a baby goat.
For visitors, it could feel like stepping into another world, but for the Prices, it's living the good life, working with their hands in the dirt, and serving as "a living testimony to God's provision."
Casey said she and her husband both come from small towns—she is from Oregon and he is from Virginia—and they decided to create an environment similar to what they both grew up on.
"I love our life," Casey said. "It's simple, it's rewarding…I just can't imagine any other way to live."
They try to maintain about 20 goats. Their farm offers tours, classes and workshops for visitors. The farm also includes a flock of laying hens and large vegetable and herb gardens.
Casey said the farm is supported by numerous loyal customers; farms are becoming an attraction, she said, and Charleston is supportive in that it's still got a small-town feel.
"It fosters community and I think that's what we love about Charleston," she said. "It's a big small town and you know your neighbors."