Fall Inn Love
01 Jul 2012
Known as one of the top resorts in the country, Palmetto Bluff is incredibly romantic with top notch service and exquisite scenery.
By KATHERINE PETTIT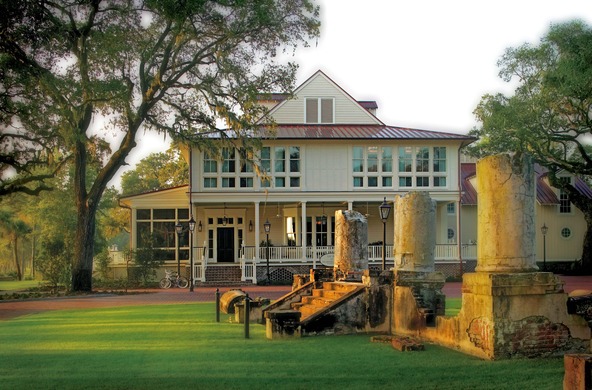 Sure, you'll probably take your cell phone and I-Pad to a getaway at Palmetto Bluff. Most folks do. But, whether you're staying for a weekend or longer, and taking the family, your significant other, or going solo, you'll find that unplugged just seems right in this most beautiful of Lowcountry settings. Under 100 miles from Charleston, the #1 rated hotel in the USA is within easy reach.
That rating, by US News & World Report, is among many accolades awarded to one of the most inviting places I've ever visited. It's also been given five diamonds by AAA – one of only a handful of resorts to garner that prestigious award. In fact, since it opened in 2004, Palmetto Bluff has caught the attention of Condé Nast , Golf Digest, Travel + Leisure, Robb Report, Andrew Harper's Hideaway, Mobil Travel Guide, Golfweek and TENNIS Magazine. They've all lavished awards and recognition on every aspect of the resort, from amenities, to service.
It's easy on the eyes, as well. At the gate, guests are given a CD to play that will set the stage for your next few days as the ten-minute drive winds around trees and through quintessential Lowcountry scenery. You learn that behind the discreet gates positioned here and there are family estates – some covering ten acres or more – that provide the ultimate in luxurious getaway homes. But that's not where we're headed today.
Our ride ends at the village square and the Inn at Palmetto Bluff, a misnomer of sorts since there are no actual guests staying in the inn. That lovely building is reserved for the restaurant, porches, meeting rooms and gathering areas. Guests stay in one of 50 cottages or cottage suites, or 40 Village Homes. They're all within walking or biking distance, and all positioned to provide stellar views as well as a modicum of privacy.
Bikes await your explorations, and a bottle of the Inn's Cabernet joins other refreshments to invite posh thirst-quenching. A fireplace flickers at the touch of a button. A yoga mat is thoughtfully placed in the dressing room, beside fluffy bathrobes and next to the sound system. Outside on the porch, the birds chirp and the Spanish moss drifts softly in the breeze. Get the picture?
There are 20,000 acres in this resort area, residential community and conservation preserve and everywhere you turn, professional, friendly and exquisitely-trained staff stand ready to answer questions, anticipate your every need and help make the moments that will be treasured forever.
It's the art of listening and discerning what's important to the guests, and at Palmetto Bluff they've got it down pat. Have a favorite song you'd like your beloved to hear as she walks into your cottage? No problem. Want a special dessert to remind him of your last vacation in Italy? Consider it done. It's a culture of service, raised to the level of fine art. And it's yours, for the asking.
Families – or Couples
Children should be seen and heard – sometimes. That's why there's a family pool and an adults-only pool. Activities keep the little ones happy during the day, and at least twice a month, evening programs keep the youngsters safe and entertained while adults have dinner, or perhaps a bike ride.
There are camps where children ages 5-12 have summer activities planned by professionals. In fact, the property is one remarkable outdoor classroom. A tree house beckons, as do the paths and that family pool. At Longfield Stables , families can saddle up, explore 15 miles of trails, and enjoy the 173-acre farm. (Max and Herbier are known to be exceptionally patient with children – great for young riders.)
Older kids and teens will enjoy canoeing through five miles of lagoons, past egrets nesting and under bridges. Dolphin spotting on the May River is all but guaranteed. Tennis courts, bocce ball, croquet and a world-renowned Jack Nicklaus Signature Golf Course offer more ways to have fun.
Fitness centers are state of the art. Pilates and yoga classes are held daily. And then there's the sandbar. For several hours each day, a lovely beach appears in front of the Inn. Sun bathers enjoy the coastal breeze, cool water, and watch the pleasure boats cruise by. Get in on the action with a scenic May River Cruise on Grace, the 60-foot, antique motor yacht that's named for Grace Wilson Vanderbilt – sister of Richard T. Wilson Jr., who built the original plantation home, and wife of Cornelius Vanderbilt III.
Grown-up campers will enjoy the Palmetto Bluff History and Nature Tour. You'll notice the columns in the village square – all that remain of the once-magnificent mansion built in the early 1900s. It burned in 1926, but during its heyday, visitors from New York and other centers of power arrived at Palmetto Bluff to enjoy the lavish parties and magnificent scenery of this Lowcountry retreat. (Visit the museum and discover how generations of elite treasured this property.)
For a day excursion, take a Palmetto Bluff Mercedes (available for guests to use) over to Beaufort, or through downtown Bluffton or Hilton Head Island.
The more adventurous will enjoy birding the Bluff, deep sea fishing, island explorations, or perhaps tracking alligators. No persons or gators are harmed during the expedition.
Refresh Your Spirit With Fire and Water
Fire brings people together. It warms, soothes and protects and being drawn to it is embedded in our DNA. There are fire pits in front of the Inn, and placed in various locations around the property. Each evening, fires are lit and the gathering begins. Just as the fireplaces in the homes and cottages represent comfort, these outdoor pits are beautiful, inviting and memorable.
The Auberge Spa at Palmetto Bluff is a must-enjoy rite of passage. At the front desk, Kiah will make sure you have the treatments you want, from pedicures to couples massages. Even the water is special – it's harmonized to help alleviate conditions such as arthritis, environmental toxicity, and even a hangover, if you've celebrated being here a bit too enthusiastically.
In 2010, the Spa was named the #1 Spa Resort in the U.S. and Canada by Travel + Leisure and with good reason. Southern hospitality is abundant here, from the moment you're brought a southern "toddy" to help you relax. Soothing aromas are used during the massage – many from rosemary, mulberry and rose bushes on the property. And, if getting down and dirty is your thing, a relaxing soak in local Pluff Mud (it's rich, fertile, local and aromatic) will make you feel remarkably clean, afterward.
Food, Glorious Food
Nobody can beat Charleston's much revered cuisine, but for something different, consider the exquisite dining you'll find here. You're only 30 minutes from Savannah culinary charms, but you may not be able to tear yourself away from the exquisite dining to be found in a variety of restaurants and grills. Authentic southern cuisine will be found here, including fried green tomatoes at Buffalo's corner café. Experience fresh, local ingredients, elegant yet simple presentations, house-made breads and just-spun ice cream. Outdoor seating near the live oaks gives you superb views with your fresh beet and goat cheese salad – yum!
The Canoe Club Restaurant, May River Grill and River House Porch offer views and casually elegant menus for all tastes. And the River House Restaurant and Verandah feature exquisite concoctions that might be considered contemporary Lowcountry – for a Southerner, the best of all possible dining worlds.
You'll Want to Stay Forever
OK, the real world summons, but before you leave, consider the possibility of recreating this experience with a vacation home of your own, here. Beautiful properties have compelled families to set down roots and begin forging lasting memories for generations. Grandchildren learn to ride bikes. Teens discover natural beauty that is more entertaining than video games and Facebook. And adults learn to reconnect and re-appreciate one another. After all, there's a reason Palmetto Bluff is called, "The Marriage Mender."