We sit down with Terry Hamlin to discuss his philanthropy projects, and discover that sometimes a tragedy can open doors to greatness.
By JASON A. ZWIKER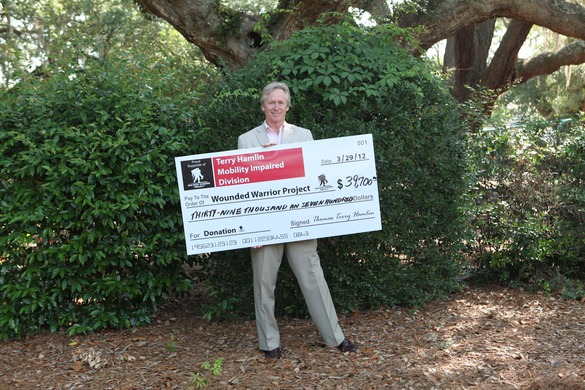 "I'm going to help you through this," John Fernandez said over the telephone. He was speaking to Terry Hamlin, a lifelong runner who had just lost his leg. That was an experience Fernandez – a former West Point lacrosse star and Army officer who lost both feet in Iraq - certainly understood. "I'm going to send you a video. I want you to see everything that I'm able to do now."
Watching Fernandez's amazing recovery had a profound impact on Hamlin. Since that time, he has been a relentless advocate for the Wounded Warrior Project, a 501(c)(3) nonprofit organization that seeks to raise public awareness of the needs of injured service members.
When Hamlin, who co-founded the Cooper River Bridge Run in 1978, was honored with his own division in the race, his choice for what to do with it was obvious: it became the Terry Hamlin Mobility Impaired Division of the Cooper River Bridge Run, honoring those injured while serving our country.
"We've already raised over $39,000 for the Wounded Warrior Project," he says. "Our goal is to keep the fundraiser open until we reach $100,000."
Currently a realtor at Keller Williams, Hamlin has worn many hats in his life: researcher in a biochemistry lab at MUSC, Reserve Deputy Sheriff, farmer, and licensed home inspector. Consistent through all of these has been a steadfast conviction that a man has to give back to his country.
"Everyone owes their country some level of service," he says. During Operation Desert Storm, he tried to enlist but was two years above the maximum age. Undeterred, he simply found another way to serve. "I went to my friend, the sheriff of Berkeley County, and let him know that I wanted to do this. He told me how to make it happen. I decided, okay, I'll use my wits and I'll survive."
He was working a lot of hours – his time as a reserve deputy was in addition to his full-time business hours – but, after 9/11, the President of the United States had asked those who served to stay, and so he did exactly that as long as he was able.
The commitment to service, that sense of aiming for a greater purpose in what we do, is a philosophy he has also brought into his work as a realtor.
While many people focus on the cost of a home, Hamlin encourages considering other factors as well. "Not only is a home the most expensive purchase you'll likely make, a home is also the place that makes the family."
"Consider the actual environment in which you will be living," he advises. "Will it be a good place for you? Will it be a place for you to socialize with others?" He recommends writing a columnar list of needs and wants in order to whittle the decision down to the factors that are most important to you and your family. What is the life you envision building here with them?
"It's too important for you not to do your homework completely," he says.
With over decades of experience as a licensed contractor, home inspector, and realtor, Hamlin understands that homework intimately. He believes that the right home will just feel right and he also believes in putting emotion and logic together to arrive at the best decision possible.
It's been an amazing run for Hamlin. His early years were the picture of athleticism: he ran cross-country and was an avid surfer. The loss of a limb is a devastating blow for anyone, but his love of running added to the ache after a serious farm injury mangled his left leg. Hamlin and his doctors made a valiant effort to save the leg, but eventually all therapy options were exhausted. In summer 2010, the leg had to be removed.
But he had friends. Friends he knew about and friends he had yet to meet.
One of his clients, a veteran of the war in Iraq, introduced him to another veteran, who had lost his legs in combat. Everywhere he looked, he saw those who had gone through the same trauma reaching out to help. And then came the life-changing call from John Fernandez.
Today, Hamlin feels a profound sense of gratitude to Fernandez, who took the time to share his own story of recovery, to the Wounded Warrior Project, and to all those who serve.
"I got involved in order to help these guys and, all of a sudden, they're the ones helping me," he says. "I'll never forget that."
For more information or to make a donation, visit www.WoundedWarriorProject.org.