Salad Celebration
18 Sep 2014
Can seasonal summer salads be spectacular and virtuous at the same time? These beauties manage to deliver the goods. Enjoy!
Text and Photographs by KIM BYER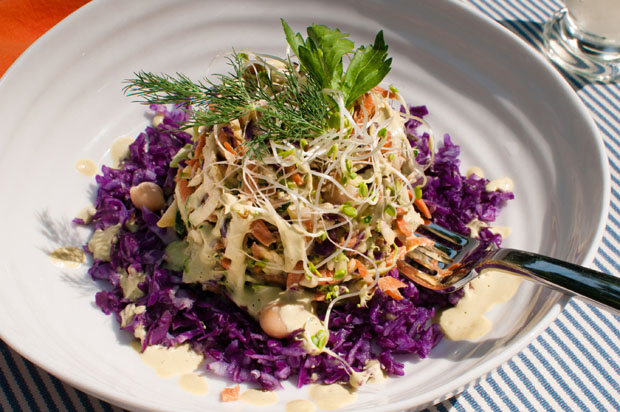 Sweet June, with her sun-kissed shoulders and berry-stained lips, passes the summer baton to her brassy sister July, who stomps into town like a twirling, sparkling drum majorette towing a parade of patriotic celebrations, pop songs and potluck goodness in her wake. The party has arrived.
Few things in life match the excitement of a waterside gathering, where friends and family pile out of the car, carrying fireworks, neon floats and homemade desserts. The celebration won't be authenticated without fried chicken, hotdogs, BBQ or rows of hamburgers sizzling on the grill. Cold salads, chips and sides spread out across the Carolinas atop picnic tables, beach blankets and boat hulls. Indeed, nothing tastes finer than a summer meal in sunny Carolina.
Inside my air-conditioned kitchen, my countertop looks like I'm preparing to feed the block: a woven basket filled with peaches, a paper bag bulging with banana peppers, another with okra, a dozen jalapenos, a small seedless watermelon that thumps like a drum, a cantaloupe, pickling cucumbers, Silver Queen corn, crook-necked squash, and a platter of homegrown, vine-scented, purple and ruby-hued tomatoes. And although I may not can or freeze much of it, I'm trying hard not to waste a single sweet peach.
Salads are my savior on hot summer weekends and weeknights. Whether it's the main event, or an accompaniment to a grilled piece of fish or chicken, salads keep me motivated to peel fruit and chop vegetables all summer long.
This recipe collection celebrates our July and August bounty. The Fresh Corn Salad with Sheep's Milk Feta uses raw corn, straight from the husk, cooked in citrus juice. If you don't have fresh corn on hand, cook it for a minute or two first. The peach salad is a great way to use those firm, but not-quite-ripe peaches in your basket. And it's a standout main course salad. A two-minute toss in a hot skillet makes tomorrow's ripe peaches all the more sweet tonight. Prosciutto is also a wonderful way to cut back on meat. Like bacon, it packs a wallop of taste into a morsel.
Another spinning star of the lazy Susan is the Bacon, Spinach and Tomato Salad. Not that we'll ever tire of summer BLTs (or just Ts) slathered in Duke's mayonnaise on thick slices of fresh, white bread, but this salad expands that goodness into a weeknight meal. Add avocado, blue cheese, walnuts or boiled egg to it and it's impolite not to invite the neighbors over. For side salads, try the Chopped Garden Slaw with your next BBQ. Inspired by the master vegan cook Mimi Kirk's Chop-Chop Salad, this tahini-cashew dressing is great, no, glorious; you may find yourself sneaking a straw into it when you think no one's watching. And for a super quick side salad, take a few zucchini and slice them into ribbons with a handheld peeler. Add lemon juice, dill, cured olives and ricotta salata (a milder, mellower cousin of feta) and savor one of zucchini's most sublime summer moments.
10 Tips for Summer Salads
Chill salad plates and bowls before serving
Use a salad spinner to rinse and dry your lettuce.
Fruit and vegetable rinses make cleaning a breeze.
Homemade dressing means no unnecessary preservatives and can be as easy as drizzling extra virgin olive oil and squeezing a lemon.
Toss a variety of freshly picked herbs (parsley, basil, dill) in with your lettuce.
Lighten up your daily vinaigrette: in a mason jar, use one part oil to two parts vinegar; add a spoonful of Dijon mustard and a pinch of sugar, salt and pepper. Shake!
Leftover bacon from your weekend breakfast is a great way to add a punch of flavor without adding a lot of meat or firing up the stove in the heat of the day.
Chop day-old bread into cubes and freeze for handy croutons.
Before tossing, pour salad dressing around the rim-- never directly onto the lettuce.
Even on a hot night, a quickly grilled or pan-fried ingredient (meat, fruit or cheese) transforms a simple salad into a main course.
Fresh Corn Salad with Sheep's Milk Feta
Serves 2 to 4
3 ears sweet corn, shucked and sliced off the cob
1 cup (20-25) red grape tomatoes, sliced lengthwise
5 ounces sheep's milk feta cheese, divided
Juice of one lime (2 tablespoons)
Juice of one lemon (2-3 tablespoons)
1-2 jalapenos, seeded and minced
4 large leaves basil, torn or cut into fine strips using your best chiffonade technique
Salt and freshly ground pepper, to taste
This recipe calls for very fresh corn since no cooking is involved. Toss first six ingredients (using 1/2 of feta cheese) and chill for one hour or overnight, stirring occasionally. The feta should blend in and coat the corn. Before serving, crumble remaining feta and top with basil, salt and freshly ground pepper.
Pan-fried Peach and Prosciutto Salad
Serves 2-4
4 large handfuls of baby arugula, washed and dried
1-2 firm peaches, thinly sliced and freed from pit (freestone are easiest)
1 8-ounce round of Brie or blue Brie
2-4 slices prosciutto
2 tablespoons pine nuts
1 teaspoon lemon juice
1 teaspoon honey (optional)
Butter or oil for frying
In a hot buttered skillet, quickly fry prosciutto, and then tear into small pieces. Next, fry the peach slices in the same oil. Add honey to help caramelize peaches, if desired. In a dry, non-stick skillet, toast the pine nuts until golden. Gently warm the uncut Brie in the same dry skillet. Combine all ingredients, except Brie, in a medium sized bowl. Toss gently until the arugula glistens. Plate and serve salad, chilled or at room temperature, with triangles of warm, melting Brie.
Bacon, Spinach and Tomato Salad with Basil Mayonnaise Dressing
Serves 6- 8
1 large salad bowl full of spinach, rinsed and dried
2-4 tomatoes, sliced into wedges
1-2 slices of cooked bacon per person, cut into 1-inch strips
1 cup of day old, crusty bread, cubed
1 clove of garlic, minced
1 tablespoon butter
1 tablespoon olive oil
Salt and freshly ground pepper to taste
Basil Mayonnaise Dressing:
1/2 cup Duke's mayonnaise
4 large leaves of basil, roughly chopped
1 1/2 tablespoons apple cider vinegar
2 strips of cooked bacon, fat removed and roughly chopped
1/4 teaspoon sugar or sweetener of choice
1-2 tablespoons water
Salt and freshly ground pepper to taste
Add tomatoes and bacon to bowl. In a small skillet, heat butter and olive oil. Add garlic and bread cubes and toss until garlic begins to smell. Remove before garlic begins to turns brown. Add croutons to salad. To make dressing, combine all ingredients except water and chop with an immersion blender. When liquefied, slowly add water while still blending until desired thickness is achieved. Pour dressing around the rim of the bowl and toss just before serving. Add salt and pepper, if desired.
Chopped Garden Slaw with Tahini Cashew Dressing
Serves up to 12
3 medium carrots
2 yellow squash
2 zucchini
1 small crown of broccoli
1/2 cup red cabbage
1/4 cup raw cashews as garnish
Sprigs of fresh dill, tarragon or mint (optional)
Tahini-Cashew Dressing:
1/2 cup oil, such as grapeseed or extra virgin olive oil
1/2 cup tahini
1 large fresh handful Italian parsley, most of the stems removed
1/3 cup raw, unsalted cashews
1/4 cup apple cider vinegar
1/4 cup tamari
3 tablespoons lemon juice
2 tablespoons agave or sweetener of choice
1 clove garlic, peeled
Salt and freshly ground pepper to taste
2/3 cup water
To make dressing, place all ingredients (except water) into a blender and liquefy. Slowly add water and blend until the dressing is thick, but pourable. Chop all vegetables either by hand or in a food processor. Immediately before serving, pour at least one cup of the dressing over the salad. Garnish with cashews and dill or other herbs. Serve remaining dressing on the side. If chilling chopped ingredients for a few hours or overnight, wait and add the dressing immediately before serving.
Chilled Zucchini Ribbons with Cured Olives, Lemon and Ricotta Salata
Serves 2-4
3 medium zucchini, unpeeled and washed
4-5 ounces ricotta salata cheese, crumbled
1 green onion, chopped
Zest and juice of one lemon
Handful of pitted and cured black olives, sliced
Salt and freshly grated pepper, to taste
With a wide cheese grater or vegetable peeler, slice zucchini into ribbons. Add cheese, onion and lemon juice. Chill for up to eight hours before adding olives and olive oil. Add salt and freshly ground pepper to taste, then serve immediately.