Flavors of Summer
12 May 2021
If you had to choose your favorite flavor, the best taste imaginable, what would it be? It's hard to pick just one, but for us, it would have to be the bright and delicate flavors of summer, perfect to enjoy on warmer days.
Recipes and photos by Kaitlin Gooding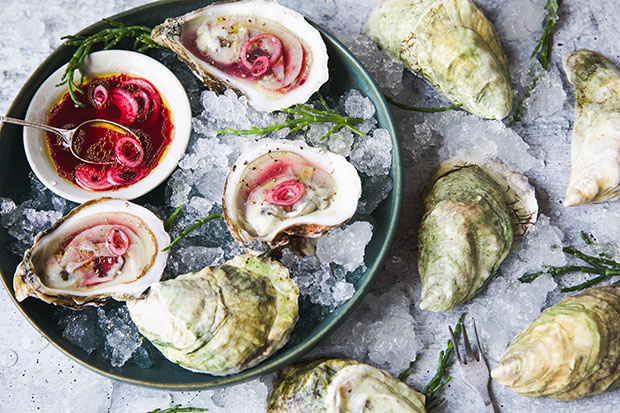 Raw Oysters with Blood Orange Mignonette
Servings: One dozen oysters
1 blood orange (juice)
1 tsp soy sauce
1/2 tsp sugar
1 tbsp extra virgin olive oil
1/2 shallot (thinly sliced)
4 tsp rice wine vinegar
Directions
1. Mix all the ingredients together in a small
bowl until it is well combined. Serve
with 12 oysters on the half shell over ice.
<
Haricot Verts with Tahini Drizzle
Servings: 2-3 side dishes
12 oz haricot verts
2 shallots (thinly sliced)
2 tbsp butter
1 tbsp pistachios (chopped)
1-2 radishes (thinly sliced)
mint leaves for garnish (can use herb of choice)
Directions
1. Bring a large pot of salted water to a
boil over high heat. While it is heating
up, add ice water to a separate bowl.
2. Place the beans in the boiling water and
cook for 5-6 minutes. Once finished
cooking, drain the water out and add
them to the ice water. After the beans
have cooled, drain the water, and set aside.
3. Create your sauce by adding all the
ingredients into a bowl and mixing until
smooth. Add one spoonful of water at a
time to thin, until you have reached the
right consistency and then set aside.
4. In a sauté pan, add two tablespoons
of butter and the sliced shallots. Cook
on medium heat until fragrant
and then stir in the beans and radish.
Stir in the pan until they are
warmed through and fully coated.
5. Remove the haricots from the pan and
place in a bowl or plate. Drizzle tahini
sauce over top, sprinkle the pistachio
crumbles, add salt and pepper, and
garnish with any herb of choice. Serve
immediately while the beans are warm.
Tahini Drizzle
1/4 cup tahini
2 tbsp lemon juice
1 garlic clove (minced to a paste)
1 tsp Dijon mustard
pinch of fresh ground pepper
pinch of sea salt
2 tbsp extra virgin olive oil
1 tbsp maple syrup
2 spoonfuls of water (can add less or more)

<
Roasted Branzino
Servings: 2
2 branzino whole fish (scaled & gutted)
1 lemon & lime (1 in slices)
1 sweet onion (diced)
1 tbsp Dijon mustard
6 sprigs thyme
2 garlic cloves (thinly sliced)
4 bay leaves
handful of parsley
sea salt & pepper
extra virgin olive oil
Directions
1. Preheat the oven to 400 degrees.
Add the fish to a baking sheet
lined with parchment paper.
2. Drizzle olive oil over the fish and rub
it all over the skin of the fish. Use your
fingers to spread one tablespoon of
Dijon mustard to the inside of the fish.
3. Season the fish inside and out
with salt and pepper.
4. Stuff the inside with the diced onions,
garlic slices, chopped parsley, bay
leaves, and lemon/lime slices. Use the
rest to lay over the top of the fish.
5. Add to the oven for 20-22 minutes.
Once finished cooking, remove from
the oven, and allow to cool until you
can handle it with your hands. Drizzle a
little lemon juice over top and sprinkle
with salt and pepper. Serve and enjoy!

<
Tomato Farcies
Servings: 2-3
6 large tomatoes
1 lb ground chicken
2 garlic cloves (minced)
2 shallots (finely chopped)
3/4 cup milk
2 slices stale bread (prefer sourdough,
cut into small cubes)
1 tsp Dijon mustard
1 tbsp salt
1 tsp ground pepper
2 tbsp parsley (roughly chopped)
+ extra for garnish
2 tbsp grated parmesan
extra virgin olive oil
Directions
1. Preheat the oven to 375 degrees.
2. Slice the top off each tomato, setting
aside for later. Use a spoon to scoop
out the seeds and insides of the tomatoes
but be careful not to pierce the
skin. Sprinkle the inside with salt and
flip the tomatoes over on a paper towel
to allow the excess liquid to drip out.
3. Add the bread to a bowl and
pour milk over top to soak.
4. In a large mixing bowl, add your
ground chicken, salt, pepper, garlic
cloves, shallots, parmesan, and Dijon
mustard. Drain the milk from the bread
and mix it into the large bowl until
well combined, creating the stuffing.
5. Fill each tomato with stuffing, replacing
the tops. Place the tomatoes on a baking
dish or tray and spray or drizzle each
tomato lightly with olive oil. Add to
the oven and cook for 35-40 minutes.
6. Once they are finished cooking, remove
from the heat, and allow them to cool
for about five minutes. Sprinkle the
tomatoes with sea salt, pepper, and
garnish with chopped parsley. Serve
while the tomatoes are still warm.

<
Strawberry Mascarpone Galette
Yields: 1 galette
4 cups strawberries (halved)
1/4 cup mascarpone cheese
1 tsp balsamic vinegar
1/4 cup sugar + extra for sprinkling
1/2 tsp cinnamon
1 tbsp fresh thyme
1 tbsp cornstarch
1 tbsp butter
1/4 tsp salt
1 tbsp honey
CRUST
2 cups flour
2/3 cup chilled unsalted butter
2 eggs
pinch of salt
2-4 spoonfuls of water
Directions
1. Preheat the oven to 350 degrees.
2. In a mixing bowl, whisk together the
salt and flour. Add the butter into the
dry ingredients. Crack the eggs and mix
into the dough mix. Add 2-4 spoonfuls
of water depending on how wet
or dry the mix is. Knead the dough
for a few minutes and then form into
a ball. Place in a covered bowl and
put in the fridge for 20 minutes.
3. In a mixing bowl combine the strawberries,
sugar, balsamic vinegar, cornstarch,
salt, cinnamon, and thyme. Set aside.
4. Remove dough from the refrigerator
and roll it out on a lightly floured
surface into a round, about 12-14
inches. Slide the dough onto a baking
sheet lined with parchment paper.
5. Spread the mascarpone into the
center of the dough and leave about
1.5 inches from the border.
6. Pour the strawberry mix into the center
of the dough leaving the 1.5 in border
uncovered. Fold the dough over the
filling as you pleat around the edges.
7. Melt the butter and brush it along
the pie crust. Sprinkle with additional
sugar. Bake for 30-35 minutes
or until the crust is golden brown.
8. Allow the galette to cool completely and
drizzle honey over top before serving.

<
Grapefruit Fizz
Servings: 1
5 mint leaves
1.5 oz gin
2 tsp honey
1/2 grapefruit (juice)
1 lime quartered
sparkling water to top
Directions
1. Lightly muddle the mint leaves,
1 quartered lime, and honey
in the bottom of a glass.
2. Add the grapefruit juice and gin and
combine by stirring to dissolve the honey.
3. Add ice, top with sparkling water, and
garnish with a mint sprig. Enjoy!