Folk Art Fame
05 Jan 2021
James "Squeakie" Stone finds international appeal painting vibrant scenes of South Carolina
By Jenna-Ley Jamison
Images provided by Charleston Artist Collective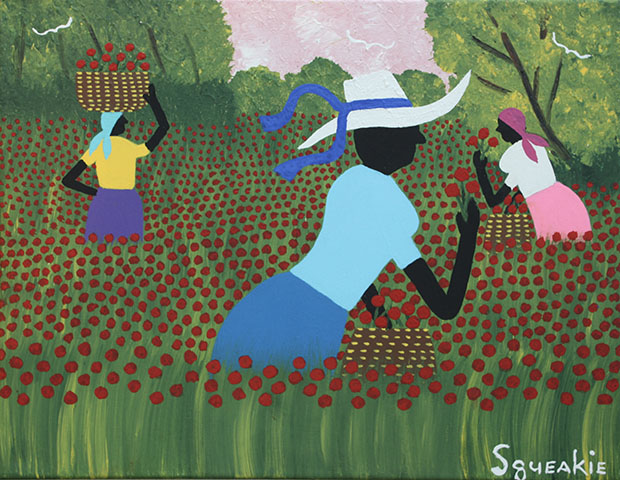 Eighteen years ago, Georgetown County native James "Squeakie" Stone picked up a paintbrush for the first time with the intention to create art, not secure a paycheck.
For the first five decades of his life, he marveled at the imaginative works of his uncle—famous folk artist Henry "Squirrel" Stone—not knowing a similar talent lay untapped inside him.
For years, painting was nothing more to him than a three-letter word—a job. James Stone painted houses for a living.
At his uncle's request, and using a photograph for assistance, he hand-painted a church, sparking something powerfully creative inside him.
"I didn't really never care 'bout (painting creatively) because I didn't think I could do it," said James Stone."(I) never painted (with acrylics) before that. My uncle kept asking…and I finally said, 'Give it here,' and I painted it and mailed the painting to the church in Tennessee—and they wanted three more."
The then-budding artist was shocked by the response to his inaugural painting—which, to this day, remains his favorite piece of art.
"It turned out so good I couldn't believe it. I almost didn't believe I had painted it," James Stone said.
From that point on, he had no other option but to continue pumping out pieces, meeting customers' demands, and expanding upon his amateur repertoire of scenes—though he initially struggled to diversify them.
From huge homes to handheld canvasses, James Stone found a remarkable ease with a paintbrush. He began selling his vibrant paintings roadside.
"I didn't really know what to paint (at first)," James Stone said. "We moved beside the road, and I started putting paintings out of tobacco picking and cropping and flower ladies. I (would) try other stuff, but when I paint one of them, that (would) get gone (quickly)."
His popularity as an artist soon grew, and his desire to continue painting for a living. That's the moment James Stone decided to quit his day job.
"I climbed ladders for about 30 years, and I was tired," he said. "I made as much (painting on the side) as I made (in) one week painting houses, (so) I said, 'I'm not going back'; and I never went back."
Though even as he painted true folk art, the title eluded him. It wasn't until an art gallery owner in Pawley's Island spotted his work and explained its cultural significance.
"She said, 'You know, you're doing folk art, don't you?'" James Stone said. "We didn't know nothing about folk art; we was just painting."
That same honesty shines through his art. The son of a sharecropper, James Stone grew up near Lake City, South Carolina and now calls small-town Andrews home. His quiet residence rests about 60 miles north of Charleston.
No stranger to the simple, rural life—one that often pays homage to hard work and heritage—James Stone employs those same themes in his paintings. After all, they are the familiar images of his childhood and the ones that best paint the Palmetto State's past.
"I grew up on a farm…so I was used to all that," he said.
Specifically, James Stone's paintings often depict rustic structures like barns and log cabins, as well as hard-working people picking cotton and flowers. He also showcases tobacco croppers, sweetgrass cutters and other similar scenes from around the Lowcountry. Over the years, he's painted on materials like tin and wood, but prefers canvas.
While his uncle could paint from his imagination, James Stone noted he required more guidance—needing to look at photographs and other items to steer his brush.
"(My uncle) would do whatever was in his head, and I didn't have nothing in my head; I just painted what I saw," he said.
However, the method by which he paints is efficiently unique, working on multiple pieces at once.
"I'll start 8-10 at one time," James Stone said. "I'll do the skies then I'll do the trees then whatever background I'm planning on. Then, I'll put the people on them and finish up. I guess I got that from painting houses because you didn't have time to let the paint dry."
He often displays his paintings in his yard, propped up around his truck for passersby to see; and it doesn't take long for them to find new homes.
"Some (buyers) just be riding by, see the paintings beside the car, and stop," James Stone said.
Over the years, he's also picked up the unwritten practice most folk artists follow: signing a nickname to paintings.
While his uncle went by "Squirrel," James Stone took on his catchy childhood moniker, "Squeakie." Today, that two-syllable onomatopoeia is a respected and celebrated folk artist signature around the world. And it's not hard to see how his humble beginnings helped shape the man and artist he is now—still bewildered by the notion his art could receive such complimentary criticism.
"I didn't never dream I could paint nothing nobody ever wanted," James Stone said.
Not only do his paintings have a personal tie, reflecting his own rural roots, but the simplicity of his scenes are anything but simple; they evoke a rich sense of history and Southern pride unparalleled by the works of his artistic counterparts.
As a testament to his niche talent, galleries overseas and locally have featured his art.
"I got paintings in about 42 states and 7-8 countries," he said. They've been sold by national online retailer One Kings Lane.
James Stone's work has even been featured on the Hollywood screen as part of the 2018 Oscar-nominated dark comedy "Three Billboards Outside Ebbing, Missouri," starring Woody Harrelson and Sam Rockwell. He said his work was chosen after an art director/producer for the movie discovered it online.
"He came across mine and he liked mine better," James Stone said. "It kind of surprised me."
Locally, his paintings are currently on display and for sale inside the Charleston Artist Collective at 414 Whilden St. Mt. Pleasant.
Though he still cranks out new pieces from time to time, he doesn't paint as frequently as he'd like.
"I can't paint as fast as I used to," he said.
But giving up his skillful passion isn't an option.
"Without painting, I wouldn't know what to do," he said.
For more on James "Squeakie" Stone, visit rootsupgallery.com/squeakie.