Frannie & The Fox
02 Nov 2023
Restaurant inside boutique hotel Emeline notches up the Charleston dinner scene
By Wendy Swat Snyder
Photos by James Stefiuk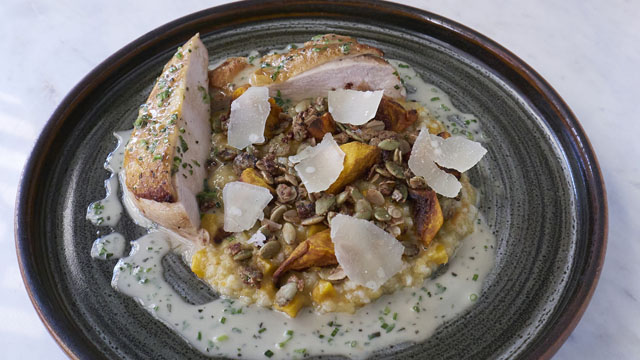 If your idea of a great dining experience involves mixing it up with an element of surprise, step into the world of Emeline, where boutique hotel concept meets trendy eatery and so much more. Inside the historic Church Street property, a broad lobby bustling with good energy leads past intriguing niches (to be explored later) into the hotel's signature restaurant, Frannie & The Fox. For those hungering for a unique experience, Frannie is as much a chic gathering place as a great place to eat.
The property debuted in July 2020, part of Dallas-based Makeready's extensive portfolio of curated hotels, restaurants, spas and retail venues.
"The organization creates unique, luxury lifestyle experiences within hotels, with a strong focus on food and beverage," says Adam Jimenez, Makeready area general manager, food & beverage.
Jimenez says the pandemic gave the team the opportunity to grow slowly, with Frannie taking cues from the local market and gradually layering in hours and staff. He and executive chef Tim Morton started up operations for services like private events and banquets. A smaller space within the restaurant was re-imagined to fill a niche in the restaurant.
"We had lacked a lobby bar," notes Jimenez. "Classic cocktails like martinis were trending nationally. It was an opportunity to do something a little different, something there's not a focus on here in Charleston."
They hatched a plan for an intimate "hideaway" dubbed The Den and rolled it out in October 2023, serving craft martinis, champagne and caviar—plus a few Frannie menu favorites—for patrons looking for a more elevated experience.
Across the lobby, Clerks Coffee Company perks up specialty coffee drinks, a selection of teas and light bites. Folks can grab a demitasse fresh from the La Marzocco espresso maker and browse historic exhibits in the Archive, Emeline's homage to the Charleston Renaissance, a period of cultural renewal that fostered a reawakening of the arts and literature in the Holy City.
Inside Frannie, sleek Midcentury Modern styling rules—super cozy easy chairs, tons of potted plants and a scattering of Oriental rugs conjure a comfortable living room vibe.
A central dining area with bistro style tables and lively bar has a cafe feel, while an adjacent room offers more privacy. A few steps away, an open-air courtyard provides plenty of seating for diners, and a standout, standalone centerpiece fireplace is surrounded by couches.
The contemporary design concept by Dallas-based Swoon starts with a cool white palette that sets off warm earth tones: custom olive green leather banquettes, forest Moroccan tile walls, rich hardwoods and dark brick flooring. Vintage lighting and furnishings add a convivial feel to the ambiance. Tying the spaces together is an open floor plan that floods the interior with natural light and provides a sight line of the entire restaurant from every seat.
Chef Morton's kitchen revolves around a wood-fired oven, producing approachable dishes like artisanal pizzas and other Italian classics. The Minnesota native got his start in hospitality as a teen washing dishes, and "fell in love" with the high energy pace. Following a fine dining stint in Jackson Hole, he signed up for the three-year American Culinary Apprenticeship in Sea Island, Georgia, where he met mentor Scott Crawford, a five-time James Beard Foundation nominee and former executive chef of Woodlands Inn in Summerville.
That relationship would eventually take him to Charleston, where he was tapped for the executive chef role by The Indigo Road Hospitality Group for the opening of Mercantile & Mash and The Cedar Room.
"(Indigo founder) Steve Palmer and Scott Crawford were good friends," notes Morton. "I was very excited to come to Charleston, and Indigo Road is a great company. I honed my leadership style there for over four years plus before joining Makeready."
Morton's passion for Italian foodways was also a good fit for the Frannie & The Fox concept.
"My wife and I traveled to Emilia-Romagna (known for its gastronomic and wine-making traditions) several years ago," says Morton. "Also Bologna and Modena, where I went through the process of making balsamic vinegar and parmesan. How they cook in Italy was fresh in my mind and really helped shape the concept here."
On a second visit in April, Morton was joined by Frannie chef de cuisine Paolo Rossin, an Italian native. They spent ten days cooking with a local chef in Rome.
The kitchen's marriage of Italian sensibilities and ingredients from both local and global purveyors were on display the evening my guest and I sat down for dinner. Sources include GrowFood Carolina, Kings Tide, Hunter Cattle and a chef/farmer in Italy growing his own wheat for pasta.
We shared several dishes from the "small plates" menu: A fantastic confit potato with a rich parmesan fonduta and herbaceous salsa verde—a dish chef says exemplifies their philosophy of making two or three choice ingredients really shine.
Blue crab from Crosby's Seafood showed up in fritters, blended with mascarpone cheese, fried to a delightful crispness and paired with a Calabrian chili aioli.
Blue Point oysters from North Carolina, simply presented on the half shell with an herb butter and preserved lemon, drew their distinct flavor from the wood-fired oven.
Next, we sampled the apple panzanella, a tangy kale salad moistened with a honey vinaigrette in a novel presentation on melted taleggio cheese—one of my favorites.
From the "large plates" section we sampled the seasonal squash agnolotti, served with a flavorful bacon-y guanciale jam (which can be omitted for vegetarian guests.) The ricotta gnocchi, another great meatless option, was light and bright with wood-fired cauliflower, brown butter and lemon.
We chose the Calabrese pizza from a list of intriguing looking pies: the mildly spiced sausage was offset by earthy escarole—an ingredient that's very traditional in Italy that Rossin insisted on highlighting in the dish. Molto bene!
Our finale: A decadent layered cake made with pistachio flour imported from Italy, piled high with buttercream frosting and paired with a dollop of goat cheese gelato that added a pleasant savory note to the sweet dish.
Cozy and cool, Frannie & The Fox brings a new twist to the mix with an innovative menu, on-trend venue, and unique touches that pack a wow factor.
Frannie & The Fox
181 Church St., Charleston
843-577-2644
Instagram @frannieandthefox
Frannieandthefox.com