The Art of Holiday Tablescaping
02 Nov 2023
Set the table like a stylist
By Emma Dannenfelser
Photos by Priscilla Thomas
The holiday season is not just magical for the kids, it's also a time of year for reconnecting with loved ones. What better place to do that than a beautifully-set table that is both appealing to the eye and functional for any family get-together? Use these tips and tricks—and get inspired by special tabletop pieces—from local tablescaping experts for your next holiday gathering.
The Boutique Charleston
302 King St., Charleston
843-722-1441
@theboutiquecharleston
Theboutiquecharleston.com
When many think of the holidays, they immediately think of Christmas tree green and holly berry red sweaters, being cozy at home and eating lots of turkey. But for those who instead think of magical Nutcracker matinee shows, pink crushed velvet dresses and twinkling Christmas Eve candles, this stunning tablescape from The Boutique Charleston will fulfill all of your sugarplum fantasies.
Holiday table settings don't have to mean red and green and all things naughty or nice. Sometimes, what sparks joy is just dressing up for the occasion and tablescaping is no different. Lois MacRitchie, owner of The Boutique Charleston, was inspired to create a tablescape that was "dressy" and exciting, yet could also be used from November 1 through Valentine's Day. "It's all just very special, it's gold and sparkly," MacRicthie said.
To start this design, MacRitchie first chose one of the most important details of any design venture: the color scheme.
"I like to keep it just beautiful and warm and inviting, think of comfort food and things like that. You'll see this look is very organic, it's got branches and leaves and overall, warm tones," she said.
When aiming for a whimsical and boldly feminine look like The Boutique Charleston's design, it can be intimidating for new collectors. Fear not, because the one piece that will bring any look together, according to MacRitchie, is a simple gold charger or a basic set of gold-trimmed stemware to both dress-up the table and also create cohesion.
Making each place at the table is a great way to tie in a personal touch, while also making each guest feel special. The hand-painted dog figurines located at each place is a perfect example. "They just made me smile, and I'm thinking, 'If they made me smile, then they'll make my guests smile,'" MacRitchie said. If you're short on beautiful dog figurines, "some magnolia leaves or an herb wrapped in ribbon could be really pretty," she added.
Pro Design Tips:
» Symmetry is key. Make sure everything is perfectly lined up and spaced evenly.
» Polish your table setting and be sure every piece of flatware is in the traditionally correct place for a professional touch.
» Make sure your centerpiece reflects your personality, which is going to set the tone for the entire table.
» To amp up your look, add monogrammed napkins.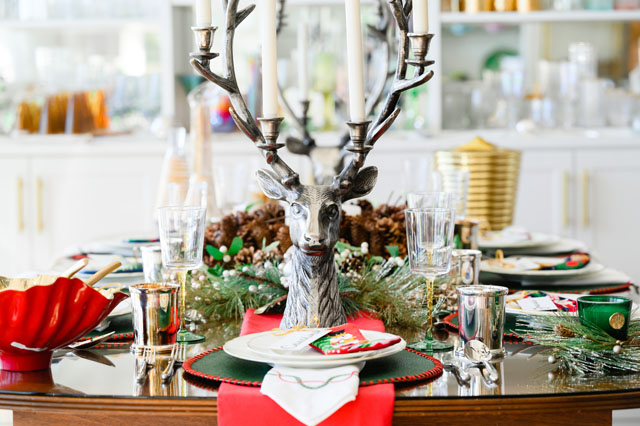 Rhodes Home & Gift
92 Folly Rd Blvd., Charleston
843-225-5244
@Rhodeshomeandgift
Rhodesboutique.com
You really can't go wrong with traditional, classic holiday looks when it comes to hosting, and Rhodes Boutique's tablescape is truly timeless.
Rhodes Boutique sales manager, Frannie Lee, said she set out to create a theme for the holiday table by first picking out an eye-catching centerpiece to base the rest of the look around. In this case, Lee decided on two deer-head candelabras, which can serve as reindeers at the Christmas dinner table, or as unique and rustic deer head décor year-round.
"It started with putting two of them on the table, and they got me thinking it was robust and handsome," Lee said. "So, then we went with the traditional red and green to match."
Working from the deer décor as a base, Lee then went on to add forest green accents, leather-like placemats that were complete with swooping red stitching that evokes a Santa's workshop feel throughout the table. One aspect of any table design that makes a large statement is the plating. Lee chose to use formal china, which makes any holiday dinner feel even more special to its attendees. When asked how to create a timelessly traditional tablescape this year, Lee replied, "Definitely bring out your china and your nicest glassware. The accents that you use are also important, perhaps it's lovely cloth napkins that were your grandmother's. Bring out those lovely heirloom pieces, bring that silver out and don't forget to polish it."
The red and green stemmed wine glasses complete the dish set's style, tying in nostalgic Christmas references throughout the design. For water glasses, Lee chose a silver mint julep glass.
Lee added to the center design of the table by including frosted winter greenery and rich-toned pine cones, along with sparkling touches of gold, silver and red found in the numerous serving dishes, candle holders and vases scattered across the table.
What undeniably makes this tablescape memorable is the charming and colorful stocking place card holders. Originally intended to be ornaments for a Christmas tree, Lee repurposed them by adding name cards, proving that sometimes what can take a table from "good" to "incredible" is just a little creativity.
On the flip side, if traditional isn't your style, Rhodes also styled an additional modern, funky Matouk Tiger Palm table featuring a deer print centerpiece. The deer print adds a touch of home and organic flair, but in a unique and fresh way. Mixing and matching prints, like the deerhide centerpiece, paisley tablecloth and tortoise shell glasses, is a great way to show-off your own personal style while also uniting the organic, natural theme.
Pro Design Tips:
» Start with what you have and what is meaningful to you, then bring in new items that feel updated and exciting.
» Bring in softness with colors or designs to balance out the harder items and colors in your design.
» Be precise with dimensions. Make sure your table does not look bare, but also doesn't seem overwhelming.