From Modeling to a Body of Work
05 Jul 2018
Local artist Briahna Wenke takes art from the canvas to the flesh, in her newest exhibit at Grand Bohemian Hotel
By HELEN MITTERNIGHT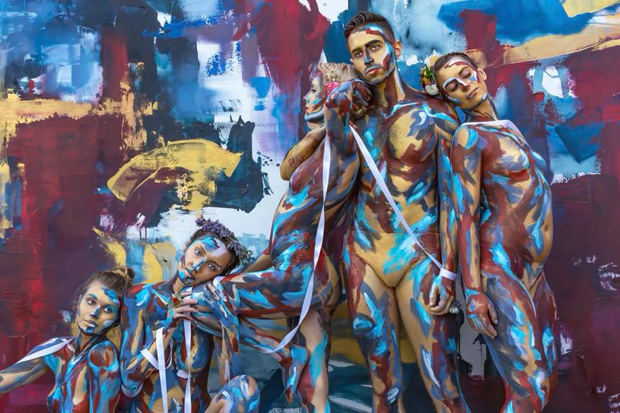 Briahna Wenke used to model in New York. But the career made her "all too aware of body measurements and things that shouldn't matter," and she left the field to pursue something more creative.
Ironic, then, that Wenke would have a shared exhibit at Spoleto that focuses on painting human subjects, who become her canvases. Or, maybe not. As Wenke sees it, it's modeling's direct opposite.
Wenke grew up in Mystic, Conn., and went to a performing arts high school before she decided to get practical at the University of Connecticut and study history. Her creative side still beckoned, and after graduation she would paint murals or do gig jobs long enough to earn funds for her next travel: Europe, Australia, Thailand, North Africa.
"I'm so grateful. I didn't realize how much that travel would influence my outlook on the world," she says now.

When Wenke was in her early 20s, she moved to New York to give modeling a shot and art went on the back burner. "I lived a fast, exciting life," Wenke says. "I was put in a lot of unique and cool situations and a lot of unfortunate situations. I learned a lot, and I learned a lot about what I didn't want, which is just as valuable in figuring yourself out."
When Wenke fell in love with a man who was about to move to Charleston, she kept visiting the city. By 2014, she had moved here for the guy and for the art.
"I fell in love with the relaxed vibe, the easygoing, warm people," she says. "It was quite a harsh contrast to New York. And I was excited to see that Charleston has a growing creative community. I'd never had that before, a tribe of artists. It's pretty awesome and I'm very grateful."
Wenke's style is "impressionist impasto," creating impressionistic images with a heavily textured paint.
"I love impressionism. The details are there that make sense only when you step back. It's almost like a puzzle," she notes. "I love the fragmented roughness when you look at a painting up close. It's really beautiful to me. There's such a focus on perfection, especially in the modeling industry—it's all about the airbrushed perfection." But she's searching for the human element.
"As for the painting being sculptural and textural, I was experimenting with a palette knife to loosen myself up. I think the three-dimensional aspect adds another layer, metaphorically and literally, to the piece. Who knows, sculpture might be in my future."
Which brings us back to the live models.
Wenke and good friend Samantha Rueter were asked by the Grand Bohemian Hotel to create something edgy, that would bring people in to the hotel on Spoleto's opening night. The two decided to paint humans.
"I wasn't sure Charleston was ready for that level of nudity," she admits with a laugh. "I mean, we had nipple covers and the bottom was covered, but still. They gave us the go-ahead, though, and it was really interesting to have skin as the canvas and using the contour of the body—exaggerating the lines that I feel are beautiful, like the jawline, the collar bone, the curves of the spine."

Wenke says there is a real difference between her human subjects and herself as a human mannequin in the modeling world.
"Before, I didn't have a choice how I was viewed. I wasn't meant to have any opinion whatsoever about it. As a result, I was Photoshopped beyond recognition at times for printed editorials, and fully reduced to a mannequin, in its most literal definition," she says. "My human mannequins now have a voice. They get to express honestly. They are not Photoshopped—they are in real time." She continues, "Sam and I encouraged the models to be emotive, to allow the colored layers we were applying to dictate their posture and mood."
This fall, Wenke will be locally exhibiting her art, a national project that pits her and other humans against a robot painter and is an artist in residence for the South Carolina State Park Service at Dreher Island.
"Above all, I'm seeking integrity and honesty in my work. I'm bored with our Photoshopped world, small talk, and perfection. It all feels incredibly irrelevant," she says.