Rooting for the Home Team
05 Jul 2018
RiverDogs General Manager Dave Echols talks about his love of the game and the Lowcountry
By TERRI ERRICO GRIFFIS
Photos by LEA AUSTEN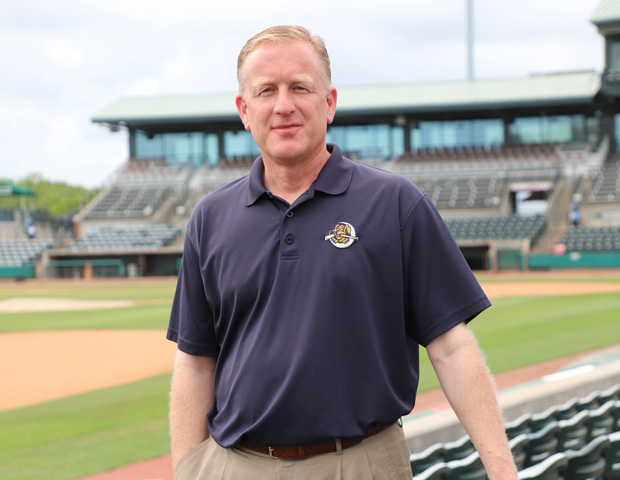 Just as professional baseball players move from market to market to gain experience in the business, Dave Echols has enjoyed the same fortunate career path. From internships in North Carolina to positions in Charleston, Boston and in between, he's now back in as the RiverDogs' General Manager and President—and has no plans to leave. The fans, the field, the business and the community have everything he's looked for in a career, and he only hopes he can continue building the legacy of our beloved home team.
"When you're in the sports business, you tend to meet and know a lot of people in the industry, and one thing led to another," Echols says of his journey that led him to the RiverDogs—twice—after starting with the Fayetteville (NC) Generals in 1992. "I was looking for a place to move on to and Charleston was looking to add—and we just bumped into each other at the right time."
Stepping Up to the Plate
Echols played ball in high school, and while he loves sports, he never believed he'd have a future in them once that curve ball slowed down. He attended the University of Dayton and recalls with a laugh, "I started out as an accounting major for about two-and-a-half days! I had never really heard of Sports Management before, but I immediately switched." Echols changed majors, with a business emphasis, adding, "I don't think anybody really saw me as an accounting major per say."
Following graduation, Echols "jumped into this new career with both feet" and worked towards running a minor league team someday. To get there, he had five checkpoints: "The end goal was to run a club, in a market I wanted to settle down in, with a great ballpark, great fan base and owners that trusted you to do the job," he admits.
When he realized that Charleston could give him all of those, "I really put my efforts into reaching the Presidential and General Manager role," he says. "I got lucky enough to get my foot in the door and have been with it ever since."
It was in 1999 that Echols first joined the RiverDogs as an assistant General Manager, before heading up to Boston in 2002 to help manage their up-and-coming team, the Brockton Rox—both of which are owned by the Goldklang Group. Marv Goldklang spearheads as the principal owner and chairman along with his son and current president, Jeff Goldklang.
In Brockton, Echols was named the 2003 Executive of the year for the Northeast League—and received the honor two more times in the South Atlantic League. In addition, he has won various awards for excellence in promotions, marketing and ballpark operations. Echols returned to Charleston in 2004 as the team's General Manager-turned-Executive Vice-President and GM in 2013. He was named President in 2015 when Mike Veeck stepped down after 18 years.
Behind the Scenes
For Echols, the RiverDogs name is synonymous with more than just baseball. It's family. It's entertainment. It's giving back. While he had big shoes to fill following Veeck, Echols also had big hopes, though he adds with some humor, "My goal for Charleston was just not to screw things up!"
He continues, "It has all those amenities that would draw people to want to have the job I have, and we're lucky enough to have a tremendous brand recognition, community awareness and partnerships. Charleston is growing and we want to grow with it."
The RiverDogs gets involved in the large to the small with initiatives by the Community Relations team all the way down to each staff members' individual causes. They support Charleston County Schools and local youth sports, and are avid partners of MUSC's Children's hospital and the Storm Eye Institute, to name a few. And the organization collaborates year round. "We try to be everywhere and we try to do as much with as many people that are interested," Echols says. "It just feels like the right thing to do."
The GM continues, "We really try to get the message out to the community that we want to help, rather than just saying, 'Come to a game.' So when we're out there taking Charlie to a March of Dimes walk or youth baseball opening night, our goal is to make the community see that we care and want to be a part of it."
A Night Out
As Echols says of the RiverDogs' role in the community, "We bring the entertainment."
And bring it they do! Echols has set an all-time attendance record each year he's been in Charleston, with 305,622 fans at Joseph P. Riley, Jr. Park last year.
Best of all, you don't have to love baseball to enjoy a game. "You want to come grab some food—unique and affordable food? You want to bring your family for an affordable night out? You want to sit around with friends and have a cocktail? Or do you want to watch baseball? You can do all of that here."
Each night is different at the park, and each year the promotions, food and fun changes for the better. "We have promotions that stretch from the really bizarre to the tried and true, and we try to do anything in between that keeps things fresh."
The Joe also hosts events outside of baseball. It's a venue for the community with concerts, festivals and oyster roasts. With the addition of the Riley Events Club, a 365-day event space, they'll be able to offer even more.
Settling Down
Echols and his family—wife Debra and son Logan—have found happiness here. And while their six-year-old may not sleep with his baseball glove just yet, he embraces his dad's favorite sport, and together they have fallen in love with the RiverDogs and lowcountry life.
"I've been truly embraced by our fans and even just on a personal level here. From a career standpoint, I couldn't see myself needing to go anywhere else," Echols reflects. There is still so much to accomplish and plenty of challenges ahead, but he values the vision that he and ownership have for the growth of the RiverDogs business.
"If I was to leave, I have no doubt there would be a hundred people wanting this job. It's a tremendous spot and I think it's one of the top five jobs in minor league baseball," the GM says without hesitation. "I feel blessed to have been given this opportunity, and I'm just trying to grow it each year so they'll let me keep doing it."