Full Fall Flavors
08 Sep 2017
Spinning kitchen gold with butter, sugar, eggs and flour
Recipes and Photos by KIM BYER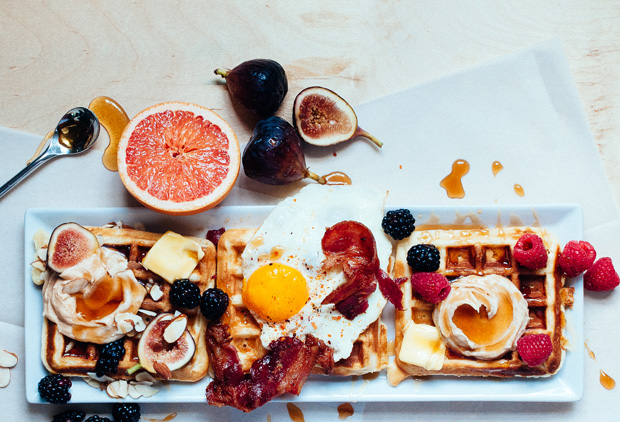 We've fallen into that fabled season of harvest moons and homecomings, carnivals and ghost tales. When the waning Carolina days are still hot enough to brag about, yet cool enough for a pumpkin spice latte. Our closets are a motley mix of shorts and sweaters, boots and flip flops. Between the chili cook-offs and tailgates, we're hiking, hunting, biking, knitting, corn-mazing and carving jack o' lanterns. And all around us, enveloping us in a giant quilt of memories, are the mystical smells of mulling cider, browning butter, cinnamon, and vanilla. #upandautumn, my friend—it's time to preheat your oven.
Join us in this back-to-the-kitchen seasonal stir-a-thon, with six of our favorite baked goods. Our ricotta and honey tart is as big and beautiful as any harvest moon. Our elephant ears aren't the deep fried midway variety, but bite-for-bite, they're the most delicious way to eat an elephant. Our buttery cashew bars are certified Blue-Ribbon winners from the State Fair—a must-bake this month!
If your waffle iron is just waking up from a long summer's slumber, try the whipped waffles—perfectly crisp and buttery on the outside and airy on the inside. Be sure to spread the love on thick with our cinnamon maple spread and any other toppings that light your bonfire. Want to wrap your hands around the coziest little spice bomb you ever did smell? Our pistachio and pear muffins will spin you into an olfactory orbit. Most importantly, since sharing is caring is every Southern baker's mantra, you'll find that sharing our apple nut crumble cake with its bewitching caramel sauce is so deliciously kind of you, it's frightening. Gasp! Who is that beautiful baker in the magic mirror?
Ricotta & Honey Tart with Apricot-Orange Glaze
Yields one 11-inch tart
1 pound ricotta cheese, strained overnight
1 almond crust (see below)
2 eggs
½ cup orange blossom honey
½ cup apricot preserves, warmed
Zest of one orange
Orange peel and/or toasted almonds (optional)
Almond Crust
1 ½ cups all-purpose flour
½ cup powdered sugar
½ cup slivered or sliced almonds
½ cup cold, unsalted butter, cut into cubes
Overnight in the refrigerator: Strain ricotta by tying it in cheesecloth or setting it in a fine-mesh strainer atop a bowl. If using a strainer, weigh the cheese down with a heavy object.

Preheat oven to 350ËšF.

In a food processor, combine the flour, powdered sugar, almonds and butter and pulse until the mixture is the consistency of soft sand.

Press the crust mixture evenly into the bottom and up the sides of an 11-inch tart pan. Set aside in refrigerator.

In a food processor, blend strained ricotta, eggs and honey until smooth.

Spread the filling in the tart shell and bake until the center of the tart is barely set and the crust is golden, about 25 to 30 minutes.

When the tart cools, spread warm preserves mixed with orange zest over the top. Garnish with a ribbon of orange peel and/or almonds. Refrigerate for several hours.
Note: Tart will remain fresh in the refrigerator for up to 4 days.
Buttery Cashew Bars
Makes approximately 24 bars
1 cup butter (high fat and salted)
2 cups light brown sugar
2 cups self-rising flour
2 eggs
1 tablespoon vanilla
2 cups cashews, roughly chopped
6 ounces white chocolate chips
Preheat oven to 350

Ëš

F. Grease a 13x9-inch glass or non-stick pan. Set aside.

Melt butter over low heat in a medium-sized saucepan. Add sugar and continue stirring until the sugar is melted.

Remove from heat. Add flour, eggs and vanilla. When combined, stir in cashews.

Pour mixture into prepared pan and sprinkle on chips.

Cook for 20 minutes or until bars are golden brown. [Optionally, cook for 2 minutes, or until chips soften. Then, gently glide a sharp blade through the melting chips to create a swirled, marbleized pattern. Return to oven and cook for 18 additional minutes.] Cool on a wire rack.
Note: Bars will keep up to one week in an airtight container at room temperature. May be frozen for up to three months. For perfect slices, refrigerate for 2 to 3 hours. Turn the pan onto a cutting board and, using a serrated or chef's knife, slice into individual bars.
Elephant Ears
(a.k.a. Palmiers)
Yields approximately 1 dozen
1 sheet all-butter puff pastry, thawed (Dufour brand recommended)
¾ cup sugar
¼ teaspoon kosher or sea salt
Flour for dusting
Preheat oven to 400ËšF. Line baking sheet with parchment paper.

With a rolling pin, roll cold pastry lengthwise onto a flour-dusted surface until sheet is approximately 24 x 12 inches.

Combine sugar with salt. Spread half of the sugar onto a flat surface in the shape of the pastry sheet. Place the pastry on top of the sugar, then cover the entire pastry surface with the remaining sugar. Roll over the dough with a rolling pin, lightly pressing, until the pastry is coated with sugar. Gather remaining sugar for later.

Mark the midpoint of the roll lengthwise. Then roll each side (like a scroll) into the center. Keep the roll tight. Chill dough for 15 minutes.

Remove pastry scroll and, using a serrated knife, slice into ½-inch slices. Sprinkle on remaining sugar.

Place elephant ears on baking sheet in a spacious grid and bake for 5 minutes. Remove from oven and flip each ear with a spatula. Carefully tighten any ears that have loosened. Bake for 5 more minutes, or until golden brown. Cool pan on a wire rack.
Note: Ears will stay fresh for one week in a sealed container at room temperature.
Pistachio & Pear Muffins
Makes approximately 18 to 20 muffins
3 cups all-purpose flour
2 cups sugar
1 teaspoon salt
1 teaspoon baking soda
1 cup roasted and salted pistachios, chopped
¼ cup sweetened dried cranberries, chopped
2 cups chopped ripe Bartlett pears
1 ¼ cups vegetable oil
3 eggs
2 teaspoons pure vanilla extract
Preheat oven to 350ËšF. Prepare muffin tin with baking spray and/or paper liners.

In a large bowl, mix dry ingredients together including pistachios and cranberries.

In a medium bowl, mix pears, oil, eggs and vanilla extract. Pour wet ingredients into a well inside the dry ingredients and combine. Spoon into muffin cups.

Bake for around 20 to 25 minutes, taking care not to over bake. Remove from oven and cool for 5 minutes before removing from tin. Muffins may turn soggy if left in tin for too long.
Note: Muffins will last in an airtight container for several days. Muffins in paper liners tend to last longer.
Whipped Waffles with Cinnamon Maple Spread
Makes approximately 12 waffles, 4x5 inch
2 cups all-purpose flour
2 teaspoons baking powder
½ teaspoon salt
3 eggs at room temperature, separated
1 ½ cups whole milk
8 ounces (1 stick) unsalted butter, melted and cooled
¼ cup vegetable oil
½ teaspoon pure vanilla extract
3 tablespoons sugar
Cinnamon Maple Spread
1 cup powdered sugar
3 tablespoons unsalted butter, melted
2 tablespoons maple syrup
1 teaspoon pure vanilla extract
½ teaspoon cinnamon
Preheat waffle maker. Preheat oven to 200ËšF. In a large bowl, sift flour, baking powder and salt together. In a medium-sized bowl, mix egg yolks, milk, butter, vegetable oil and vanilla. Set aside.

Using a stand or hand mixer, whip egg whites until stiff peaks begin to form. Add sugar and continue whipping until peaks are stiff.

Combine wet ingredient bowl into larger bowl. Then, using a spatula, gently fold egg whites into batter, being careful not to over mix.

Spoon batter into waffle iron following manufacturer's instructions. As waffles are removed, keep them warm by placing them directly on the oven rack.

While waffles are baking, in a small bowl, blend Cinnamon Maple Spread ingredients until smooth. Serve waffles with spread, fresh fruit, eggs, and/or bacon.
Note: Plain waffles may be frozen for up to two months. Thaw, then gently reheat at 200ËšF.
Apple Nut Crumble Cake with Caramel Sauce
Yields 1 9x5-inch loaf
½ cup sugar
½ cup dark brown sugar
½ cup unsalted butter, softened
1 teaspoon pure vanilla extract
¼ cup sour cream
2 eggs
2 cups all-purpose flour
1 teaspoon baking soda
1 teaspoon cinnamon
½ teaspoon salt
¼ cup golden raisins, chopped
1 cup pecans, chopped
2 cups Granny Smith apples, cored, peeled and chopped
Caramel Sauce
½ cup butter
½ cup dark brown sugar
1 teaspoon whole milk
Preheat oven to 350°F. Grease a 9 x 5-inch loaf pan.

In a large bowl, cream sugars and butter together until light and fluffy, then add vanilla, sour cream, and eggs. In a smaller bowl combine flour, baking soda, cinnamon and salt.

Mix the wet ingredients with the dry ingredients, then fold in raisins, pecans and apples before adding to the loaf pan.

Bake for approximately 55 to 60 minutes or until a toothpick inserted in the top comes out clean. Cool on wire rack, then remove from pan.

In a small saucepan, add butter, brown sugar and whole milk. Bring to a boil then reduce heat and stir with a wooden spoon until sugar becomes smooth and pliable. Remove from heat. Wait a few minutes for caramel to thicken and cool. Pour over cooled cake.
Note: Cake will stay fresh for 4 to 5 days in a sealed container at room temperature. May be frozen for up to two months without caramel sauce.