Function Over Form
15 Nov 2014
If your project needs cabinets or countertops, the folks at Jilco Kitchen and Bath offer a turnkey process from design to install
By BRIAN SHERMAN » Photos by DIANA DEAVER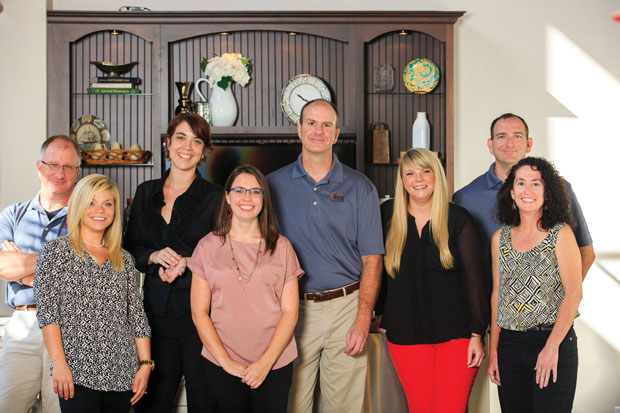 Bryan Fletcher would rather build a new kitchen for a chef than for a homeowner who simply wants to use the room as an entertainment venue.
That isn't to say that he wouldn't be happy to do either. His company, Jilco Kitchen and Bath, has completed more than 12,000 jobs since 1991. But he readily admits that he would prefer to remodel a kitchen for someone who favors function over fashion.
"With a chef, it's all about access, work flow, traffic, internal accessories, storage and appliances," he pointed out. "Working for someone who uses their kitchen is different than for someone who just wants to look at their kitchen for aesthetic purposes."
In addition to kitchens, they design and install bathrooms, laundry rooms, entertainment centers – and anywhere else that calls for cabinets and countertops. Its customers include local builders, as well as people whose homes have been damaged by fires and floods, and homeowners who simply want a more modern, up-to-date kitchen or bathroom.
Fletcher, who grew up in Charleston and now lives in West Ashley, majored in business at the College of Charleston. He worked as a carpenter for a remodeling company before and during his college days, but, when he took a job as an assistant project manager at Jilco shortly after he graduated, he thought it would be just that – a job. Instead, he worked his way up and eventually bought half of the company from its founder, Verner Jordan. A few years ago, he purchased the entire company.
Originally located on Ben Sawyer Boulevard in Mount Pleasant, their showroom is now on Clements Ferry Road. The showroom features samples of granite, marble and countertops made from other materials, as well as cabinets from four American companies. Fletcher has set up mock kitchen and bathroom areas so potential customers can see exactly what the finished product will look like.
Jilco also sells cabinet hardware, sinks and accessories produced by a variety of manufacturers.
Dealing strictly with American-made cabinets, Jilco installs 95 percent of what it sells. Occasionally, a do-it-yourselfer will purchase the materials he needs for a project, but for the most part, they handle the job from start to finish. The company offers turnkey service on projects but outsources flooring work and appliances.
Five designers are on staff and 10 other employees. Many of them have been with the company for several years.
"The designers quarterback the whole thing," Fletcher explained. "They are the first contact our customers have with us, and they walk the customer through the whole process."
Fletcher pointed out that the company does not charge for its design services or to provide estimates. And it's not a problem if the customer decides they are not a good fit – just yet.
"If they come in and meet with us once or twice and they're not ready for us to build them a new kitchen or bathroom, that's OK," Fletcher said.
Their remodeling business helped the company survive the building recession that started in 2008. While its competitors were working strictly with new construction in the years leading up to the recession, 15 to 20 percent of their business was in remodeling. Following the construction bust, that number rose to 40 to 50 percent.
Jilco does work for a variety of local builders, but Fletcher pointed out that some of his most gratifying projects have been remodeling jobs for customers who live in older homes.
"Some of these people have lived in a nice home, and they've been thinking about remodeling their kitchen for 20 years. They wanted to make their house better. I like that. I really enjoy doing work for the family chef," he said.
He added that many of his customers have moved or bought a second home and hired them to build them a second or even third kitchen. And the children of some of Fletcher's customers are now hiring him to remodel kitchens and bathrooms in their own homes. He said each of those 12,000 jobs the company has completed are numbered, so with a little bit of research, he probably could come up with a list of all their customers, dating back to 1991. He said when he joined the business, the list was at around 500.
Fletcher, whose company has done work in houses ranging from multi-million-dollar mansions on Kiawah to mobile homes, said the kitchen and bath business has changed quite a bit since he took a job with Jilco in 1995. Plans once were drawn up as black-and-white line drawings, but now everything is in color on computer screens. Customers also bring in photos from slick magazines and websites, and ask him to build them a kitchen "just like this one."
"That's a big part of the way people shop now," Fletcher commented.
So how has Jilco survived and thrived for the past 23 years? According to Fletcher, the company's sterling reputation throughout the tri-county area is the main reason for their success.
"People know about our customer service and the flexibility we offer," he said. "We have a good degree of personalized design service, and we're not intimidating to the customer." 843-849-6465, jilcokitchenandbath.com