Merry & Bright
15 Nov 2014
Tips for decorating the perfect holiday table
By JASON A. ZWIKER » Photos by ASHLEY WALKER and LEA AUSTEN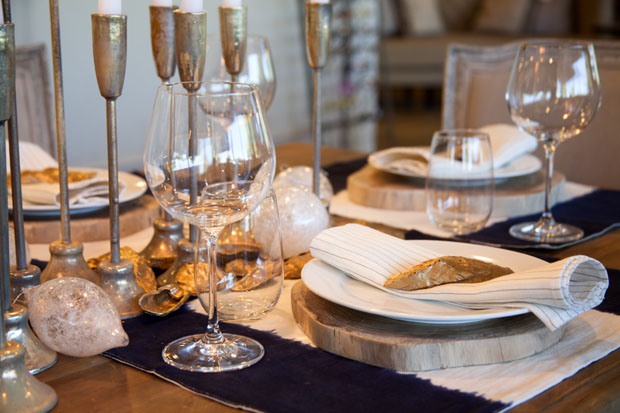 The holidays are the perfect time to make our living spaces bright and cheerful. It's the time of year to gather family and friends close and share our love of fine food and drink. Who doesn't love to dress up the house a bit when the weather cools off?
We asked some of our favorite designers at GDC Home, Celadon, and Backyard Retreats to help us show off the season with finely designed holiday tables and decorating tips.
GDC Home
What would the holidays be without tradition, those touchstones that connect us with the generations that prepared the way for us? Our friends at GDC Home have set a table replete with rustic and formal elements that will definitely keep old acquaintance in mind amidst the holiday cheer.
The table "The table itself is an imported Indian table layered with an antique Turkish Oushak rug as a table runner," says Gil Tisdale, interior designer/assistant manager at GDC. "The place settings themselves consist of a painted glass charger with a metallic chevron design, a pumpkin colored glazed dinner plate, a pewter finish stoneware salad plate, and a hand-fringed decorative burlap napkin, each topped with a Bavarian metal animal figurine that doubles as a bottle opener."
The table is a showstopper, sure to draw all eyes in the room to it. And the details just go on and on. Flatware trimmed in 24 carat gold, fit for Good King Wenceslas himself, are sure to get the caroling started. Traditional wine glasses mixed with rustic horn cups for water will put smiles on your guests – they'll dine feeling like royalty, as guests should.
Brighten the overall presentation of the table with flowers and fresh herbs – as well as hearty food and drink, of course.
Add in accent elements like miniature pumpkins and gourds, fresh potted herb plants, old glass bottles, amber votives, and wood to complete the warm reminiscent feel of the days of auld lang syne.
The tips Courtesy of Gil Tisdale
Oushak rugs or tapestries make great table runners and provide an interesting, unexpected backdrop for place settings
Contrast natural materials with traditionally formal dinnerware to create a rich environment that feels comfortable, inviting, and classic
Add elements that have a sense of warmth and texture. Burlap and wood provide a nice foil against metal and glass
Intermix rustic elements onto the table for interest. Old ale bottles can be used as vases and fresh planted herbs can serve as a nice alternative to a typical floral arrangement
Keep seasonal colors in mind, but trade in a couple of them for brighter accent hues that can transition as a pop of color throughout all of the holiday months
GDC Home
843-571-5142, gdchome.com
Celadon
Living in Charleston makes holiday entertaining outdoors a breeze, especially in the cooler months. Porches and backyards are the place to be when the temperature dips into that "just right" sweet spot. When that happens, it's time to show off more than a favorite holiday sweater and scarf.
Oyster roast or hot toddy gathering? Yes, please.
We turned to our friends at Celadon for tips on how to be the star of the neighborhood this holiday season. Their "starry night" themed decorating tips will have your outdoor spaces shining bright.
The table Celebrating outdoors in the evening allows you the perfect opportunity to craft the lighting precisely as you want it to be. This is the time to have fun with candles or robust bonfires to create an exact blend of warmth and light to suit the mood of your festivity.
"We wanted to create a space with a fun feel," says Taylor Sasser, advertising and social media manager at Celadon. "We used neutrals like navy, gold, wood, and clear glass as a base, and warmed it up with the colors in the blankets on the back of the chairs, which are one-of-a-kind, handmade Kanthas. We chose navy place mats because they can be transitioned from a dinner party to a more casual night with friends. Being local, we really love our roots and want that to show during the holidays."
Simple touches arranged in just the right way keep your guests feeling like the real stars this season. Mix vintage and new to lend that special touch to a table. For a traditional feel, Celadon recommends choosing a center piece with a distinct Charleston flavor, such as a driftwood Christmas tree.
Celebrating outdoors opens the door to a wide variety of merrymaking options, from seasonal favorites as traditional as chestnuts roasting over an open fire or its Lowcountry equivalent, roasting oysters. Music is always a welcome touch. Time to break out the song books for an evening under the stars!
The tips Courtesy of Taylor Sasser
Entertain outdoors. We live in Charleston. Enjoy it!
Keep the table simple, yet special. A mix between casual and fun provides a comfortable feel for guests
Have fun with your table and dining experience by letting food and drinks help guide your sense of style and color pallet. Try a "farm to table" feel or maybe mix in a signature old speakeasy cocktail
Hand painted oyster shells provide a homey, coastal feel
The holidays should be about your own personal style. Make your guests feel welcome and at home
Celadon
843-884-7005, celadonathome.com
Backyard Retreats
This time of year is all about cooler days and warmer memories. It's the time to turn our thoughts toward home, family, love, and happiness. Certain colors and textures just say Christmastime, don't they? Think of red and green, the smooth feel of ribbon between the fingers, or the dry plates of an open pine cone near a warm hearth.
This traditional take on do-it-yourself decorating from our friends at Backyard Retreats is sure to liven up your lawn or patio with holiday cheer.
The table "We started with a powder coated cast aluminum table," says Sharon Campbell, president and owner of Backyard Retreats. "The circular shape encourages conversation flow and makes for great Christmas cheer with your family and friends."
"Our idea was to decorate mainly with what you already have and what you can gather in your backyard. It's a very family-oriented theme. It's about spending time together in this great Charleston weather."
The abundance of greenery in the Lowcountry makes it easy to create a centerpiece that's both beautiful and inexpensive. Magnolia leaves, sprigs of cedar, and pine cones lend natural beauty to the table. Traditional snow flocked pieces and artificial deer help create a sense of a winter wonderland (without the subzero shivers, of course). The idea is to create an extension of your indoor dining space in the beautiful outdoors, so that you and your guests can enjoy all the fresh air and gorgeous weather the Lowcountry has to offer throughout the fall and winter.
China, decorative placemats, and napkins all contribute to the festive theme. The traditional colors of red and green tie all of the elements together for a holiday look that will recall cherished memories from years past, and help create new ones for generations to come.
The tips Courtesy of Sharon Campbell
Don't do it all yourself – make it fun by involving the entire family in the decorating. You will create heartwarming memories and traditions, especially for the children, who will carry these with them.
Create a warm welcome to your home with a festive centerpiece on your front door. This doesn't always have to be a wreath. Be creative! Be you!
Trim the tree with ornaments that bring back cherished memories of family and friends. Using favorites year after year helps establish traditions.
Place holiday scented candles and fresh garland in your entry ways for that Christmas holiday welcome. Your family and friends will get that warm fuzzy welcome feeling when they enter the front door.
Don't forget outdoor spaces and backyards. Add festive flair in outdoor areas with wreaths, candles, and plants.
Backyard Retreats
843-856-0049, backyardretreatsinc.com