Furry Family Members
04 Jul 2014
At Tidewater Veterinary, you'll find caring practitioners that will love your pets and the owners too
By AMY KEHM O'NEILL Photos by ASHLEY WALKER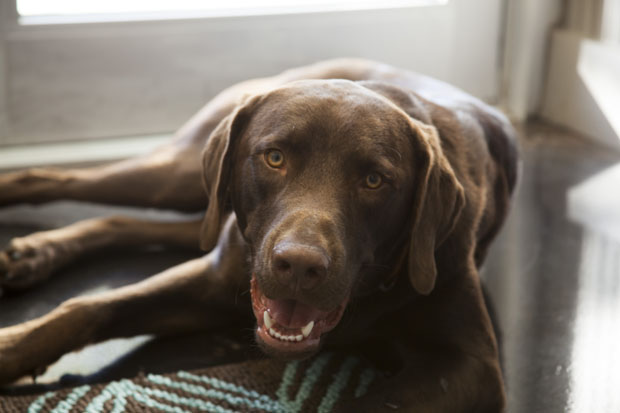 It is a simple statement that is backed by solid numbers: Americans love animals, specifically their pets. As you read this, you may be nodding in agreement as you pat Fido's head or stroke Fluffy's back. According to The Humane Society of the United States, pet ownership in the country has tripled since the 1970's, from pets in 67 million homes to 164 million homes. The organization breaks it down by noting that in 2012, 62 percent of U.S. homes had pets which included 83.3 million dogs and 95.6 million cats. That means that we have a lot of furry family members!
As pet ownership grows, the need for pet care grows along with the need for practitioners who grasp the unique relationships that individuals and families have with their pets according to Dr. Cara Daniel of Tidewater Veterinary.
"There's a very special bond between each pet and their owner. Even if one person has three or four animals," Daniel said. "I love seeing the different personalities and how they act."
That love was strong enough to pull Dr. Daniel away from her beloved slice of the Lowcountry, on Sullivan's Island, to pursue her bachelor's degree in animal science at Clemson University and her Doctor of Veterinary Medicine from the University of Georgia College of Veterinary Medicine.
After time away educationally and then professionally in Columbia, Dr. Daniel opened her own veterinary practice in August 2012 in Mount Pleasant's Seaside Farms neighborhood. There she focuses on what many veterinarians are now focusing on, which is medicine that aims to be more proactive than reactive.
"I definitely try to focus more on preventative," Daniel explained. "Our goal is to try to educate our client, educate as far as the pet owner goes, in order to keep their pet healthy to begin with."
Dr. Daniel explained that when a new dog or new cat owner visits Tidewater Veterinary, she and her vet techs will spend a great deal of time simply getting to know the owner before instructing them on best care methods. Owners will learn not only about basic care but also about what will happen if and when blood work, dental care or more serious treatment is needed.
That way, when situations arise, "It's not new to them. It's something we've been discussing all along."
Emphasis is placed on the individual pets' emotional needs as well. For instance, cats are very quickly taken to a special room for them that is away from the office bustle. This allows them time to get comfortable in what can be a very unnerving situation for them.
"We like to let them acclimate in the room," Daniel explained. "To explore and get comfortable."
Dogs are greeted differently – most often with exuberant hellos or even a welcome from Dr. Daniel's own canine buddy, Tucker.
"I have my dog here a lot of the time."
Daniel believes that veterinary care goes beyond annual checkups and vaccines. This includes nutrition advisement, pet enrichment and multi-modal pain management. More innovative and somewhat newer pain treatments might involve laser therapy and even acupuncture for animals, a trend which is growing according to Daniel. She studied small animal acupuncture through the prestigious Chi Institute after watching larger and older dogs, like Labradors and Golden Retrievers, still enjoy life but struggle to get around. Results vary from pet to pet, but are very promising in helping to ease or heal many ailments.
"It's definitely becoming more common. Even the national associations are starting to acknowledge it," she said. "It just kind of depends on what their condition is. It depends on how severe they are. Some are back to normal. They don't have any more pain."
For veterinarians, constant education assures that your beloved pet is constantly receiving the best care.
"Even if it's an old topic for me, I like to go check into things," noted Daniel.
Dr. Daniel's number one tip for pet owners is to be as she is – proactive in pet care. For instance, she noted that administering heartworm medication each month is far better than a costly treatment later.
"Getting ahead of the game is so important. The basics are doing the things up front that can prevent a lot."
Another key to pet ownership bliss?... finding a veterinarian who cares for both pet and owner.
"I love the owners that go along with them [the pets] just as much," Daniel revealed. "My pets have always been really important to me and the relationship I see I have with mine. For me, they're family members." 843-856-7300, tidewaterveterinary.com.