Gather 'Round
06 Nov 2020
Holiday table settings that make a statement
By Jenny Peterson
Photos by Lea Austen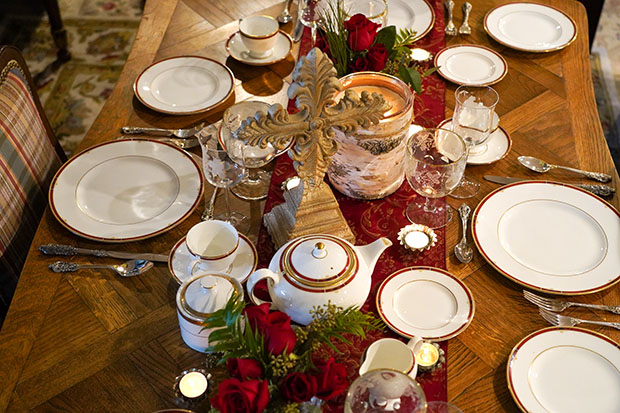 Nothing sets the holiday mood like a festive table setting.
From accent and statement pieces to matching table settings and silverware, it doesn't take much to transform a table into an instant dose of holiday cheer.
While the key to any festive table is the company and conversation.
You won't believe what a difference a garden clipping centerpiece or holiday day ribbon can make.
Here are some tips from local experts in home décor on how to create an elegant and merry table for the holidays.
The Hidden Countship
21 Burns Lane
Charleston
Transport yourself to the tables of Italy with this stunning setup from Donatella Della Porta, owner of The Hidden Countship, which offers Italian imports for fine living.
The store brings exceptionally handcrafted objects to American connoisseurs. Everything on the table is authentic and speaks to luxury and centuries-old craftsmanship.
The plates are handmade and hand-painted in the small village of Deruta from the Ubaldo Grazia's workshop, a family business that has produced majolica—tin-glazed pottery—since 1500. These plates are hand-painted by master painters and include a delicate brass rim.
"I wanted to create something bold, but classic. And very Italian," said Porta. "It's great for both formal occasions and friend gatherings."
When choosing items in the store to use for this table setting, she thought of ways to bring Italian heritage to the table in unique and surprising ways.
The tablecloth is 100 percent Italian linen by Pascucci 1826, an Italian workshop that uses rust in a well-kept family secret to bring out the rich color.
It's a nod to a beautiful terra cotta color that is, "so Italian and so good for Thanksgiving," Della Porta said.
The napkins are woodblock printed by hand, with a lovely ancient motif depicting a dancing couple.
"It is so charming," Della Porta said.
The silverware with horn handles is by Coltelli dell'Artigiano, a small company that keeps alive the old technique of hand-forged blades adding a chic handle.
The silver cake stand is by Pampaloni, one of the most prestigious silversmith in Florence, just a short walk from Palazzo Vecchio. The glasses are by RCR, a crystal factory in Tuscany.
Adding to the colorful table is a very unique shade and shape of glassware in a rich blue. It also is available in red and green, perfect for the holidays. Bellissima!
Pro tips:
-Don't be afraid to go bold. Pops of color make a statement.
-Interesting pieces that tell a story are a great investment—and great conversation starter.
The Red Dresser
510 Mill St.
Mt Pleasant
For this table, set by Glenda Bradley at The Red Dresser, "use what you have and let it shine!"
"It's nostalgic but not fussy," she said.
The consignment furniture and décor store is brimming with items and Bradley decided to mix formal dinnerware with more organic pieces for this holiday table. Items available at the Mt. Pleasant store.
"The Wedgewood china was so beautiful and we have this antique French parquet table and thought the two would marry well," Bradley said.
The traditional red and white colors of the china plates and sugar bowl and milk set are accented with a gold rim. A standout cross sits in the middle for the centerpiece. Delicate crystal etched wine glasses add a festive tone and texture, along with the ornate handles of the silverware set.
Décor can be as simple as what's in bloom outside your very door, she said. And in fact, the greenery and flowers for this table were taken from the garden.
Along the theme of using what she had, Bradly repurposed antique cupcake forms into tea light holders.
"We want people to be inspired to pull out all the stops for the holiday. When you elevate the table for the occasion, it puts everyone on their best behavior," Bradley said. "Go ahead and use the good china, crystal and silver. Most importantly, use what you have and don't fret about it so much that it's not fun."
Pro tips:
-Remove tall centerpieces when guests are seated so it doesn't block the view.
-Don't be afraid to mix styles, like formal with organic pieces. Show your personality!
Rhodes Home & Gift
84 Folly Road
West Ashley
843-789-3180
No doubt Christmas has arrived with this festive table from Rhodes Home & Gift. While it shows off traditional colors, there are fun surprises in store sure to delight your dinner guests.
"I wanted to put my spin on the traditional red and green," said McNair Rhodes Somheil, manager of the gift store that her mother Caroline Rhodes owns. "I built the table around the Arte Italica dishware and I thought that the Vermont Evergreen glass trees were perfect since it doesn't take away from red and green but adds such a light and airy feel."
The unique table runner is a standout and is another surprise—it's paper!
"It's just adorable and comes in a big roll and we rolled it out and cut it to size," McNair said. "You could cover the whole table or you could put it horizontally under the mat. It's really versatile."
A playful mix of elements is key to this welcoming table. The matching dishware, including the matching wine holder and cake stand, keeps a consistent theme and personal touches like red dinner napkins and name cards make everyone feel right at home.
"We still have traditional aspects with the Couzon Silverwear and the Christmas Crackers set but it's really fun," McNair said. The crackers, shown above each plate, are traditional festive table decorations that make a snapping sound when pulled open, and often contain a small gift.
Pro tips:
-Matching table accents with the dinnerware adds a cohesive touch.
-Personal touches like name cards make guests feel at home.