Georgetown Washington DC
01 Sep 2012
We take a quick jaunt north to the city of Georgetown, with its luxury shopping venues and five-star hotels, and soon discover there's more to the DC area than politics.
By KATHERINE PETTIT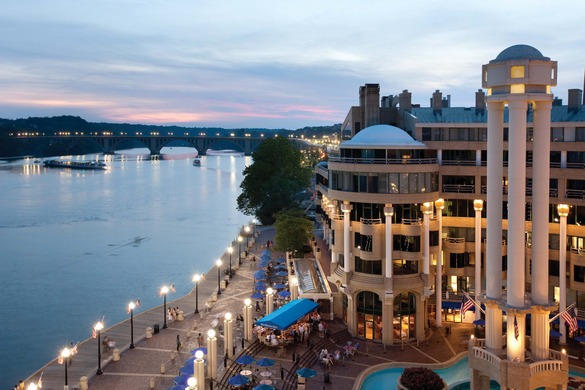 When the days grow shorter and there's a crispness in the air, a girl's thoughts just naturally turn to -- shopping.
For a change of pace, consider Georgetown, in Washington, D.C. We recently visited this très chic area and came away with fashion-forward ideas, a better appreciation for cupcakes, and a newfound understanding of how history and retail can beautifully co-exist.
Why Go?
Because you can is the phrase that comes to mind, but Georgetown offers a part of Washington that's so different from the towering memorials and power aura. It's a world apart from Columbia and sometimes, different is exactly where you want to be.
There are shops in Georgetown that can't be found anywhere else on the East Coast. And there's a particular vibe that is nothing short of exhilarating. Distinctly international, overwhelmingly historical and ultimately charming. Here's what we found during a three-day foray into DC.
Where to Stay
Getting there is easy. Drive if you've got the luxury of two extra days, but flying is affordable and fast. Leave in the morning, arrive by lunchtime. A short taxi ride passes beautiful buildings, lots of green space and happy people jogging, strolling and daydreaming.
There are many good hotels in Georgetown and several great ones. The Ritz-Carlton, Georgetown is a luxury AAA Five Diamond hotel, redesigned on the site of the historic incinerator building. It's within walking distance to shops, fine dining, nightlife and the charming waterfront.
The Four Seasons is another luxury option that is Washington's only five-star, five-diamond luxury hotel. Very close to all points of interest, it's a destination in itself that is known for perfect service and scrupulous attention to detail.
In the middle of everything and very affordable is Georgetown Suites, with spacious rooms featuring kitchens and dining areas, and plush bedding that puts you to sleep as soon as your head touches the pillow.
Start Shopping
With more shops per square foot than anywhere in Washington, DC, Georgetown is known locally as DC's style capital. Their retail scene has expanded rapidly over the last year, with 29 new openings in 2011 and more in 2012. Many are new independent retailers, and several national retailers have chosen Georgetown as one of their few locations around the country. Older than DC, the history, style, unique retail mix and charming European nature of the neighborhood right on the banks of the Potomac has found Georgetown consistently voted the "Best Neighborhood for Shopping" by DC residents.
Here, in no particular order, are some of the shops which caught our eye and enticed our pocketbooks:
» Annie Creamcheese – It's upscale vintage and carries a large selection of designer clothing and accessories. Celebrities love it so don't be surprised if you find yourself eyeing the same scarf as Paris Hilton, or perhaps one of the Kardashians.
» Rag & Bone – This stylish denim and British-influenced shop has branched outside of New York with its new Georgetown location. Good looking stuff.
» Babette – Based in San Francisco, Babette has made its East Coast debut here. The women's clothing is creative and artistic. You'll love it.
» Jack Spade – We're not only about the ladies. This is a Kate Spade offshoot and features bags, apparel and other accessories for men. One of six stores nationally, the designs are functional and stylish. The store is very appealing as well.
» Streets of Georgetown – It's the second in a series of "Streets" stores, featuring all of HMX Group's menswear brands, including Hickey Freeman, Hart Schaffner Marx, Bobby Jones, Coppley, Reid & Taylor, and Palm Beach.
» The Phoenix – We loved the contemporary women's clothing found here. The fine jewelry and accessories are equally enchanting and have been hand-picked by the owners from their worldwide travels.
» Duo – another unexpected find. It's a trendy women's fashion boutique that features established designers as well as up-and-coming creative. The jewelry is lovely, and hand-made by two sisters who recently opened this appealing store.
» All Saints Spitalfields – it's edgy and British, with clothing for men, women and children.
» Hu's Shoes – Those Sex in the City women would have a blast in this attractive store, which features amazing shoes from household names like Ferragamo, Chloé and Giuseppe Zanotti. Even you won't be able to take your eyes off your gorgeously-clad extremities.
» Lost Boys – This one is an award-winning boutique that offers menswear, and a private style studio aptly named, "The Black Room."
Treats Along the Way
You'll pass a number of shops featuring mouth-watering concoctions. The bar has been set very high here and you won't find a thing that's not absolutely scrumptious in the just-a-little-something-to-tide-me-over department.
Our first stop was at Pie Sisters. Owned by three sisters from Virginia, this tiny shop features homemade fruit, sweet and savory pies. Try one of their "cuppies" which are mini, single-serving pies in flavors like Classic Apple and Bourbon Pecan. One of the owners accommodated my request for a piece of key lime pie. I took it back to the fridge in our room and allowed myself one decadent bite that night. After three days, the pie was gone and I was one happy, satisfied camper.
The next day, we stopped where lines formed around the building. Georgetown Cupcakes is the brainchild of sisters Katherine Kallinas and Sophie LaMontagne. Also stars of the hit TLC series DC Cupcakes, these celebrities obligingly posed for photographs with tourists who swarmed the front counter. Cupcakes were brought out to sample and each was better than the last (although my personal favorite had to be chocolate hazelnut.) The sisters still spend countless hours developing new flavors with results that range from interestingly yummy to positively sublime. They've even invented a special carrying case so you can bring these beauties home without losing a bit of frosting or flavor.
Later the same day, we stopped at Fleurir Hand Grown Chocolates. Located in a former home, Robert Ludlow has created amazing chocolates with clean, yet intriguing flavors. We bought some for a friend. Alas, the friend may have to wait for another order from their online store, or perhaps a return visit. It was too good to resist.
The next morning, a tasting at Kafe Leopold made us vow to return again. It's friendly, European-style fare in must-see Cady's Alley.
Real Food
Remember the 70s song "Afternoon Delight?" Bet you can still hum a verse or too, even if you're not of a certain age. Clyde's is a great restaurant whose late afternoon appetizer menu inspired the song. And you thought it was about something else? Try the sesame seared Atlantic Salmon – spectacular.
For dinner, consider Sea Catch Restaurant & Raw Bar and choose al fresco dining, overlooking the C&O Canal. I chose oysters with a starter of their signature gazpacho with lump crab meat. Knowledgeable servers and alluring atmosphere makes this a must-stop.
Another superb choice is Mie N Yu, an award-winning silk road-inspired restaurant with contemporary American cuisine augmented by flavors from the Middles East, Asia, Africa and the Mediterranean. The setting is intimate and the tables are full. The chef,­­­ R.L. Boyd, is friendly and the food is matched only by the atmosphere. And one more thing. If you need to find the WC while there, prepare to be amazed. After all, how many award-winning bathrooms have you visited?
There are others of course, but you'll have to blaze your own trail. We didn't eat at Martin's Tavern, although for sheer pizazz, it's hard to top the neighborhood tavern where Jack Kennedy proposed to Jackie in a front booth. And, since we're talking retail here, we won't go into the sense of history and privilege which fairly oozes from the place. Take a walking tour, or river tour, if you can. You'll get a sense of place and learn some insider tidbits that enhance the visit.
We were there during the neighborhood's annual open-air Georgetown French Market, held each year in April. It was fun, but so was strolling, shopping, eating and exploring. Georgetown invites its visitors to "Come Out and Play." Just don't forget your credit cards and your gift list. Have fun, but vow to hit the gym the day after you return. Trust us – it will be worth it!