No pinching allowed here―just delicious crabs to serve to family and friends
Photos by CHRISTOPHER SHANE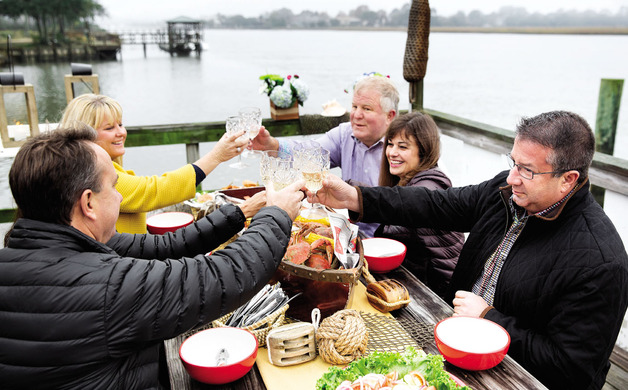 Sure, you could sit inside again this winter season. Or, you could take your cue from John Keener, owner of the Charleston Crab House, and throw a distinctly grown-up soirée on a dock at dusk, with fabulous Charleston she-crab soup and a Lowcountry crab and shrimp boil. And no we didn't forget the sweets―key lime pie makes for the perfect ending.
Crab Dip
1 pound special crab meat
1 pound jumbo lump crab meat
1 pound minced celery
1 tablespoon onion powder
1 tablespoon white pepper
1 pound Mozzarella/cheddar
1 jar Dukes mayonnaise
1. Rinse and clean crab meat.
2. Add crab meat.
3. Mince the celery, strain and add to mix.
4. Combine and mix in all ingredients. Chill for 1 hour. Serve with fried pita cuts.
She Crab Soup
1 pound butter
1/2 pound crab base
1 1/2 cups minced celery
1/2 pound crab roe
4 cups flour
1 1/2 gallons of milk
4 quarts half and half whipped cream
1 cup honey
3 pounds machine pick crab meat
1/4 cup Indian mace
1. Heat a pan skillet on medium-high and add butter. Once the butter has melted add minced celery (dried).
2. Add the flour one cup at a time, whisking as you go.
3. Once the roux has acquired, add the milk and cream, again whisking as you go.
4. Cook until sauce has acquired a creamy texture.
5. Add the machine pick crab meat (picked and dried).
6. Add the crab meat, roux base, honey, crab roe and Indian mace, whisking as you go.
7. Cook for an additional 20 minutes or until the sauce has reached a creamy texture.
To serve, pour the soup into individual heated soup bowls, dividing the crabmeat and roe equally into each bowl. Add Sherry and serve immediately.

Spring Veggie Salad
10 Roma tomatoes (10)-Ambrose Farms
5 Cucumbers (5)-Ambrose farms
2 Vidalia onions
1 cup Red wine vinegar
2 tablespoons Virgin olive oil
Kosher/sea salt, to taste
Black pepper, to taste
Dried dill weed
Powdered mustard
3 tablespoons sugar
1. Cut onion into strips.
2. Cut cucumbers into thin slices.
3. Cut tomatoes into wedges.
4. Mix all in a large bowl, chill for 30 minutes and serve.
Lowcountry Crab and Shrimp Boil
25 fresh Blue crabs
5 pounds shell-on-shrimp (headed or head-on)
2 pounds Carolina pride smoked sausage
2 Vidalia sweet onions
1 cup Old Bay Seasoning
1. Boil in water the Old Bay seasoning, onion, and sausage for 10 minutes.
2. Add blue crabs, cook for 10 more minutes.
3. Add shrimp, cook 3-5 minutes.
4. Serve with cocktail sauce or drawn butter.
Key Lime Pie
7 egg yolks
1 can condensed milk
2 oz. key lime juice
1 Graham cracker pie shell
1. In a large mixing bowl, add in yolks and whisk thoroughly.
2. Add in condensed milk.
3. Pre-heat convection oven to 325 degrees. Let cook for 15 minutes.
Easy Boiled Crabs with Garlic Butter
Salt
1/4 teaspoon black pepper
1/2 cup butter
1/2 cup chopped fresh garlic
1 cup chopped parsley leaves
2 tablespoons Old Bay seasoning, or to taste
6 blue crabs

1. Combine first 5 ingredients in a small pan over medium-low heat. Cook for 3 minutes or until butter melts, stirring occasionally. Set aside and keep warm.
2. Boil/steam crabs in a large pot with basket, making sure the water covers the crabs. Add Old Bay seasoning and salt. Cook crabs until they are red, approximately 10 minutes, then let crabs cool to the touch.
3. Crack crabs and remove the lungs, leaving the roe in and claws attached. Crack the crab in 2 sections down the middle.
4. In a deep skillet, melt butter and add the garlic and parsley. Place crabs in the butter mixture and then on a platter. Pour remaining butter from skillet onto crabs before serving.