Giving Thanks
07 Nov 2019
March of Dimes Ambassador Family spreads the word about worthy cause
by Jenna Ley Jamison
Photos by Alcee Sophia Photography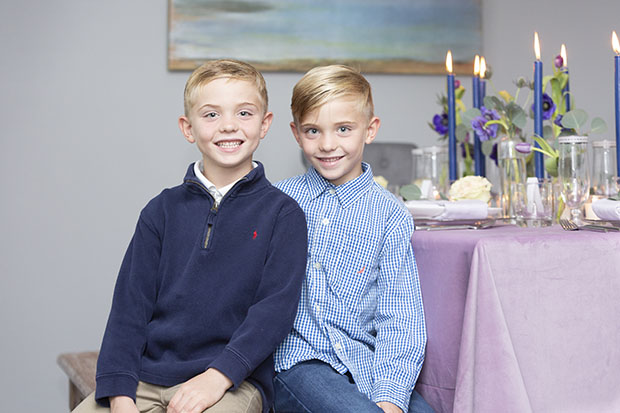 This holiday season dig out the little, black dress and the freshly-pressed suit from the back of the closet, polish off the fancy shoes and stilettos and whisk away on a date to one of the Charleston area's most elegant and tasty events of the year--all in the name of saving lives.
Through the 2019 Charleston Signature Chefs Auction, March of Dimes' is hoping to draw in at least $350,000 to ensure the health of moms and babies during pregnancy and premature births.
Each year, attendees participate in a live auction and decadent dining experience featuring cuisine from prominent Holy City chefs who create memorable menu items at top local restaurants.
It's the perfect fundraiser to satisfy the taste buds, especially for the March of Dimes' Ambassador Family, the Kammaufs.
According to Laura Kammauf, she and her husband Ryan are fans of many of Charleston's popular upscale eateries and consider the black-tie affair a rare date night opportunity they've been craving.
"We are excited to get dressed up, get out of the house and have some delicious food and drinks, especially at the new beautiful Hotel Bennett," she said.
Laura Kammauf names her husband as the family's staple chef, known for his grilling skills and crafting the main dishes at holiday meals; but she also revealed how it's his weekend morning meals for the family that are his top claim to cooking fame.
"He is also the breakfast chef at our house and spoils us every weekend with a gourmet breakfast," Laura Kammauf said, adding how her favorite early feast he preps includes breakfast burritos and homemade hash browns.
"This has become a tradition that means a lot to us."
But it's not just the Kammaufs' man of the house doing all the kitchen tasks. The couple's identical twin sons Ellis and Riley have also been known to lend a hand. As for mom, she explained her cooking specialty resides with the desserts and sides.
"We love our sides," Laura Kammauf said. "You can't go wrong with macaroni and cheese and good 'ole green beans."
She best remembers her own childhood favorites--sweet potato rolls and homemade apple sauce side dishes her grandmother would make.
"One day I hope I can make mine taste half as good as hers," Laura Kammauf said.
But there was a time when family-of-four traditions and time around the kitchen table weren't guaranteed for the Kammaufs' future.
At 27 weeks, Laura Kammauf said her twins were discovered to have developed twin-to-twin transfusion syndrome and through emergency surgery at Medical University of South Carolina, were welcomed into the world prematurely.
The siblings' miracle story is one their parents are looking forward to sharing this year at their first-ever Signature Chefs Auction, where they said they'll be joined by friends and family.
"This will be a bittersweet celebration to share our story with so many others and to spread awareness to families who have not been in our situation is important to us as well," Laura Kammauf said.
According to the pair, they first learned about March of Dimes not long after their twins were born, primarily because of a unique drug they received.
Funded and researched by the organization, it helped sustain the newborns' weak and underdeveloped lungs.
According to Laura Kammauf, the March of Dimes cause is one that's more vital than ever to spread, especially in her own community. She explained how for the third consecutive year, the rate of premature births across the nation and state has worsened; and with prematurity comes a multitude of possible complications.
"The after-effects of premature birth do not end when babies are healthy enough to go home from the hospital," Laura Kammauf said.
Ellis is now plagued with seizures due to a brain bleed at birth.
"He now suffers from epilepsy due to the damaged brain tissue," Laura Kammauf said. "It is a constant worry and reminder of all of the trauma that his little body continues to endure." However, the couple are grateful for the role March of Dimes has played in their own family and countless others around the globe.
"March of Dimes saves lives," Laura Kammauf said. "Ellis and Riley know that without doctors, nurses and the March of Dimes, we would have a different story to tell."
It's the couple's belief in the power and truth of the organization's mission that's been keeping them dedicated and passionate in their support of it.
March of Dimes has also linked them up with others who've encountered comparable health challenges.
"It is a healing process to meet others who have been in similar situations as us," Laura Kammauf said.
And during this season of giving, she's even more so stressing to friends and strangers alike why they, too, should consider funding the life-saving effort.
"Put yourself in the shoes of a family leaving their newborn babies at the hospital, unsure if they will survive the night," Laura Kammauf said. "Imagine not knowing what their future will hold and just praying for every minute of every day that their baby's heart will continue to beat, (that) they will be able to breathe on their own...and lead a long, happy, healthy life. Being a parent comes with enough worry. Prematurity and the after-effects should not be one of them. Give to the March of Dimes! Every little bit helps."
In addition to the auction and fundraiser for March of Dimes, the Kammaufs are excited for another year to carry out holiday traditions--ones that include a pizza dinner at Mellow Mushroom and an energetic Christmas Eve party, but not before a special family visit to Charleston Place Hotel downtown just to see the facility's large-scale model train display.
"It is a magical feeling to walk down King Street and feel the joy along with the hustle and bustle," Laura Kammauf said.
Credits:
Creative Direction + Styling – inventivENVIRONMENTS, @inventivEVENTS • Jacqueline Lawrence • Greer Coleman • Photography – Aleece Sophia Photography, @aleecesophia • Rentals – Snyder Event Rentals, @synderevents • Linens – Nuage, @nuagedesignsinc • Event / Organization – March of Dimes Eastern South Carolina • Event Details Found Here: signaturechefs.marchofdimes.org/Event.aspx?EventId=20574