Turning the Page
07 Nov 2019
New Executive Director for Charleston's libraries excited for the future
By Holly Fisher
Photos provided by Charleston County Library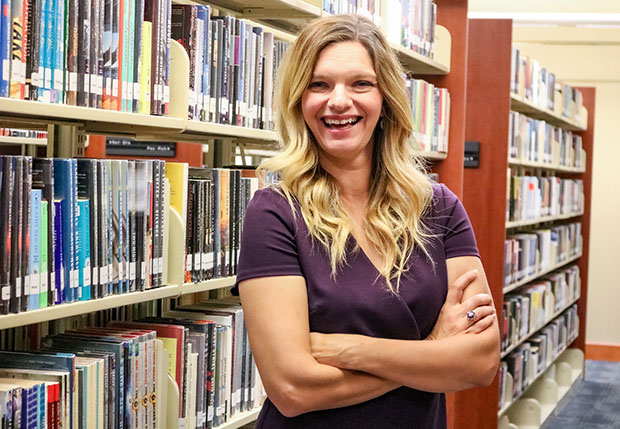 Growing up Angela Craig was surrounded by books. She and her family were avid readers – everything from non-fiction and National Geographic magazine to science fiction and books of maps. It wasn't until she grew older that Craig realized most people didn't have their own personal library.
Now Craig is giving that "personal library" experience to Charleston County residents through an expanding base of public libraries.
As the new Charleston County Public Library executive director, Craig is leading the library through the construction of new branches, a new bookmobile and expanded services and programs to meet the needs of Charleston's growing communities.
Craig took the helm in April 2019, just a few short weeks before the ribbon cutting at the Wando Library at the northern end of Mount Pleasant. A state-of-the-art facility, this library has plenty of new books, of course, but it also has a makerspace, digital creation studio, auditorium and community meeting rooms along with a robust calendar of programs for adults, children and teens.
"Part of what drew me here was the opportunity to build these wonderful branches and work with the wonderful staff," Craig said. "I came in at the tail end of Wando, so I got to be here for the ribbon cutting in June and it helped me get an idea of the impact of a new branch in Charleston. There hadn't been one for a long time."
The Wando Mount Pleasant branch was the first of five libraries opening all around Charleston County thanks to the passing of a $108.5 million referendum approved by 74% of Charleston County voters in 2014.
The new 20,000-square-foot Baxter-Patrick James Island Library is scheduled to open in November and will include an auditorium, digital media room, a DJ station with turntables, creative studios/makerspace, a teen lounge and cultural path and genealogy corner.
A new St. Paul's Hollywood Library and a new Bees Ferry West Ashley Library are both expected to open in the first half of 2020. The library will be breaking ground soon on the new R. Keith Summey North Charleston Library that will replace the Cooper River Memorial Library. Several other library branches are scheduled for upgrades and renovations.
Drawing on her vast experience
With a robust construction schedule, Craig hit the ground running. Fortunately, she has more than a dozen years of experience working in libraries, including overseeing construction projects and program expansions.
Craig joined the Charlotte Mecklenburg Library staff in 2005 working in circulation. She moved up in the ranks with roles in the outreach department and as manager of the children's department. Realizing she wanted a career in libraries, Craig earned a master's degree of library and information science from the University of South Carolina.
Craig also oversaw ImaginOn: The Joe and Joan Martin Center, a nationally recognized facility that is part children's library and part children's theater. The facility is a collaboration between the Charlotte Mecklenburg Library and Children's Theatre of Charlotte. Each year, more than 300,000 people visit the space located in the heart of Charlotte's cultural arts district.
Craig said she was flattered to hear from the Charleston library board and staff that Charlotte's libraries have been inspirational to their work here in Charleston.
Libraries as a 'third space'
She recognizes Charleston's unique position serving both urban and rural populations – a task it does very well, Craig said. But, whether urban or rural, public libraries are an important resource for those individual communities.
Each library has services and programs unique to its patrons, and the public library is responding to new technologies and user needs by adding creative spaces, more meeting facilities and classes to help people learn how to better use available technology.
Libraries, too, serve as important public gathering spaces. "Libraries are one of the last places people of different backgrounds and beliefs can come together," she said. "They can find anything they want at the public library."
Craig said she wants people to think of the library as their "third space." They have home, work or school and then that third space where they like to hang out. "We would love to be the community's third space where they come and learn and interact with people," Craig added.
New resources keep with the times
Certainly, all the libraries will continue to have shelves of books – everything from reference materials to the latest bestsellers, but what people don't always realize is the library has a robust collection of ebooks, audiobooks and movies – all available for free.
"We're your Netflix, Amazon and iTunes," Craig said.
The library serves as a bridge for the digital divide, giving everyone access to technology and online resources. And even beyond the access, Craig said the library helps people optimize technology and expand their knowledge. Tutors can help library patrons set up an email account or create a resume. They can help students find vetted resources for a school project.
"Some of the things we channel out to the community is knowledge and access," Craig said.
In addition to the construction projects and upgrades, Craig is using her 14-year library career to grow other areas of the Charleston County Public Library. By the fall of 2020, she wants to roll out a more organized library volunteer program.
She also wants to draw on the vast expertise of the library staff, encouraging them to write articles, publish books and speak at national conferences. Craig herself published one book with the American Library Association. It's a professional development resource about how libraries can serve at-risk teens.
Early next year she'll publish a second book about serving the special needs population.
In the early days of her library career in Charlotte, Craig said she benefited from mentors and she's eager to return the favor with her staff here in Charleston.
Even when she's not working, Craig is experiencing local libraries as a user instead of a staff member.
A mom of two, Craig and her family live in Mount Pleasant and are frequent patrons of the Wando branch. They also love visiting the Edgar Allan Poe branch on Sullivan's Island before spending a couple of hours at the beach.
Craig said she'd been coming to Charleston as a tourist for years, so moving to the coastal community she loves was an easy choice.
"I feel like I hit the lottery living here and working here," Craig said. "Driving over the Ravenel Bridge is a beautiful view. I never get tired of that."