Going Coastal
13 Aug 2022
Haven's Furniture & Home Décor makes shore style a breeze
by Denise K. James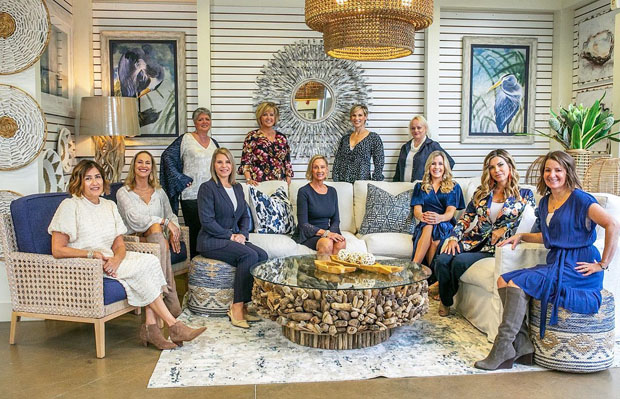 It all started when Angie Balderson embarked on an intriguing new venture: painting used furniture to make it look fresh and new, then selling the pieces to interested customers. Yet, when the founder and owner of Haven's Furniture & Home Decor shared news of her then-fledgling business with industry friends in her hometown of High Point, North Carolina—the furnishing capital of the world—they candidly inquired why she didn't utilize her vast network to purchase and resell new furniture instead.
With that lightbulb moment, Haven's had its first evolution. The shop started including brand-new pieces among the consignment—and eventually, consignment was phased out completely, in favor of all new furniture and decor.
Another evolution occurred when Haven's began offering interior design services, which, naturally, have boosted sales and notoriety more than ever. Operations Manager Jordyn D'Andrea notes that due to the ongoing population boom in the Lowcountry, couples and families who are new to the area are looking to transition their decor into a more coastal, relaxed vibe.
"We are seeing more and more families moving from out of state with darker furniture wanting to update to coastal modern, which we specialize in," she points out. "We specialize in combining your personal favorite pieces with a little bit of Charleston."
Haven's Furniture & Home Decor now has a total of four locations: Summerville, Oakland in Mount Pleasant, Longpoint in Mount Pleasant and a delivery and pickup warehouse in North Charleston. Though all share a special similarity—"We sell right off the floor at each store," D'Andrea affirms—the offerings are different, and it's well worth visiting each version of Haven's to search for your dream piece.
The outlet center located off of Longpoint Road offers a combination of discounted plus new items, as well as the largest selection of outdoor furniture. Meanwhile, the Oakland Market location is the hub of interior design and features the most upscale pieces, and the Summerville shop offers even more coastal chic items to comb through—all with modern flair, of course.
To stay well ahead of the always-moving design curve, members of the Haven's team look forward to attending the markets in High Point and in Atlanta each year. There, they engage with new vendors to add styles and products to store inventories, as well as educate themselves on trends and styles to bring back to the Lowcountry.
In addition to being the Lowcountry's best source for all modern coastal decor, Haven's Furniture & Home Decor is known for being able to put a space together easily—and have it look good to boot — thanks to their three locations and two warehouses being filled to the brim with gorgeous options. Right now, customers will find a wide variety of natural elements that make pulling off that easy, coastal look a breeze—from seagrass to teak, driftwood, cane, mango and more. "These natural elements help tie the room together while making a statement," says D'Andrea.
If you need a little extra help deciding what would best grace your space, don't fret; the team at Haven's is happy and ready to help you through their customized interior design services. Whether you are simply in need of a design refresh in one room, or you're moving into an all-new home with hardly anything at all, you can count on their taste and expertise to guide the process. First, a designer will visit your home, measure the space and "discuss your visions and goals," says D'Andrea. Then, you'll meet your designer at Haven's to go over your options. Best of all, the cost is reasonable—$175 for the service, and it's included when you buy more than $2,000 worth of furniture.
The future clearly looks bright for Haven's Furniture & Home Decor, and the business is primed to take on new clients and receive continued accolades. The team also looks forward to adding an online shopping option "in the near future," according to D'Andrea and Balderson.
"Our mission is to continue to be Mount Pleasant's best furniture store, as we've been voted for five years in a row," says Balderson. "We aspire to offer the best customer service and the most unique design options in town — along with the most affordable prices."
To lean more, visit www.havensfurniture.com.