Grab-&-Go and Delivery
04 May 2020
Restaurants offering grab-and-go, delivery during social distancing
By Sarah Ravits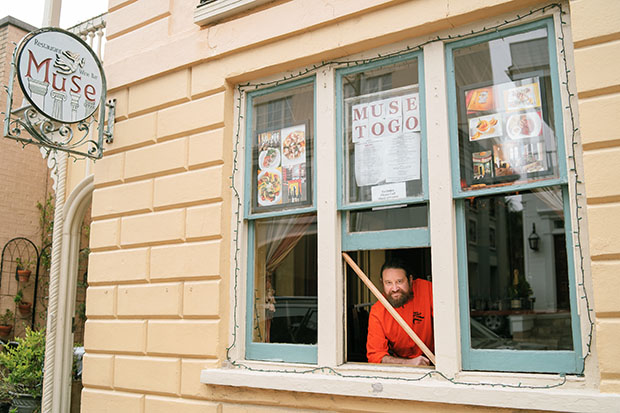 With the COVID-19 pandemic social restrictions put in place for April, many of our beloved Charleston area restaurants have been forced to close down. But some have found creative solutions to stay in business and continue feeding loyal and hungry patrons.
Despite limited hours, reduced staff and closed dining rooms, some of the city's iconic restaurants are still cooking up their signature delicacies. While we wait for these establishments to fully reopen and get back to normal, we can still enjoy what they have to offer. Please call ahead or visit the restaurant's social media pages in advance, as items and operating hours are subject to change.
167 Raw
193 King St.
843-579-4997
Instagram: @167_Raw
This seafood hotspot downtown, which was established on Nantucket Island more than 40 years ago, remains open for takeout from 11 a.m. till 9 p.m. Highlights of its curbside menu include ceviche with chips, a soft-shell crab sandwich, lobster roll and oyster po-boy sandwiches. For dessert, one can order key lime pie by the slice or splurge and get the whole thing. 167 Raw also sells wines by the bottles, and a festive signature "frosé" blended with blueberry and basil.
Burwell's Stone Fire Grill
14 N. Market St.
843-737-8700
www.facebook.com/BurwellsCHS
A restaurant that prides itself in its commitment to social and environmental consciousness, Burwell's Stone Fire Grill partners with a number of local farmers and vendors. Its motto is "Everybody deserves to eat good food" — even in the midst of a pandemic. The restaurant is currently allowing for pickup orders between 2-8 p.m. on Tuesdays through Saturdays. It also has delivery capabilities. Popular items on its menu include a number of family-style sides, like mac and cheese, collard greens and potato gratin, along with hot sandwiches and more upscale entrees such as confit duck and dumplings and beef Bolognese pasta with parmesan.
Muse Restaurant & Wine Bar
82 Society St.
843-577-1102
Instagram @charlestonmuse
www.facebook.com/pg/MUSECharleston
In addition to offering takeout, Muse is maintaining a semblance of normalcy as head bartender Donnie Exelbierd goes live at 5 p.m. for a #VirtualBartender connection. During this time, Exelbierd answers phones, puts orders together, chats with guests online and runs Muse Trivia nights on Wednesday at 6:45 p.m. and again on Saturdays at 7:45. The takeout options include a variety of salads, sandwiches, pizza, seafood and other Italian-inspired entrees, along with desserts and side dishes.
Chubby Fish
252 Coming St., # 6768
854-222-3949
Instagram: @chubbyfishchs
Chubby Fish, which partners with local fisherman and farmers to present fresh, innovative meals, is also serving to-go items for seafood-craving customers. It is open for business with limited hours, Monday through Saturday. Customers can check the website for the daily-changing menu, pre-order at 3 p.m. and pick-up between 5 and 8 p.m. Recent highlights have included a smoked mackerel curry with peanuts, eggplant, citrus and rice; and a chili garlic shrimp dish, cooked with ginger and lemon and served with rice. It also offers to-go beverages and desserts.
Hall's Chophouse
434 King St. & 300 Nexton Square Parkway, Summerville
843-727-0090, 843-900-6000
www.facebook.com/hallschophouse
One of Charleston's premier, family-owned steakhouses, Hall's is still offering premium cuts as well as vegan and vegetarian options for pickup that its customers can retrieve at its beloved King Street location and new location at Nexton in Summerville. While its famous Gospel brunch has been put on hiatus amid social distancing protocols, patrons looking for a sense of Sunday normalcy can still order their favorite dishes, with highlights including avocado toast with smoked salmon and arugula, French toast and several varieties of omelets.
Edmund's Oast
1081 Morrison Drive, Charleston
843-727-1145
Instagram: @edmundsoast
"Don't sleep on that biscuit—it's serious." That was the Instagram post for the downtown restaurant and brewpub offering breakfast, lunch and dinner items every day for pick-up or delivery from Gurbhub, UberEats and Postmates. Choose from a mouth-watering housemade sausage, egg and cheese sandwich on the aforementioned biscuit; pickled shrimp on grilled rye with aioli, pickled vegetables and herbs or special, family-sized picnic packages that include fried chicken, hearty sides and a very large serving of house beer. The restaurant starts taking orders each day at 10 a.m.
Wild Olive
2867 Maybank Highway, Johns Island
843-737-4177
Instagram: @wildoliverest
The cozy, rustic Italian eatery's full menu is still available even though the dining room is temporarily closed. Patrons can continue to enjoy its wide selection of comfort pasta dishes, such as baked penne with sweet sausage, bell peppers, onions, tomato, mozzarella and parmesan; or meat-intensive dishes like grilled grass-fed ribeye steak with smashed, fried and truffled Yukon potatoes. It also offers side dishes and starters, such as marinated olives and salads. Cuisine is available for curbside pickup daily from 4 p.m.-9p.m.
NICO Oysters and Seafood
201 Coleman Blvd., Mt. Pleasant
843-352-7969
Instagram: @nicoshemcreek
The upscale, roadside brasserie that specializes in seafood is open for pick-up and delivery orders, starting at 3 p.m. until 8 p.m. daily. Brunch, lunch and dinner are available, along with wines by the bottle. Specialty sandwiches include a lobster roll on brioche toast and a soft-shell crab sandwich on a brioche bun. On its dinner menu, larger, classic dishes include steak and fries, rigatoni seafood and roasted salmon. Owner Nico Romo also says that he will be organizing oyster pop-ups throughout the spring in partnership with local oyster farmers, and for patrons to stay tuned on the restaurant's social media pages for further details.
The Obstinate Daughter
2063 Middle St., Sullivan's Island
843-416-5020
www.facebook.com/theobstinatedaughter
With a menu that subtly changes daily, The Obstinate Daughter still offers most of its signature artisan pizzas and pastas for patrons who call between 4-9 p.m. Popular picks include the Rutledge pizza, which includes Italian sausage, local greens, red onions, ricotta, mozzarella, provolone and chili flakes. The Obstinate Daughter is also offering 30% discounts on all bottles of wine. Meanwhile, its Beercat Gelateria location on the first floor of the building is open from 1-9 p.m. daily and offers breakfast sandwiches, gelato and coffee.
Jack of Cups Saloon
34 Center St., Folly Beach & 1962 Maybank Hwy., James Island
843-633-0042,
Instagram: @jackofcupssaloon
This popular Folly Beach restaurant and bar offers bold, worldly flavors on two menus: one for residents of Folly Beach and one for "off-island" folks inside Paddock & Whiskey bar on James Island. While the menu items change daily, recent highlights have included creative takes on classics, such as red curry mac and cheese, pork dumplings with soy caramel, hoisin meatballs and short rib Thom Kha noodle bowls. It also has a veggie burger and discounts on beer and wine.
D'Allesandro's Pizza
229 St. Philip Street & 414 Nexton Square Drive, Summerville
843-853-6337, 843-900-3593
www.dalspizza.com for online ordering
This beloved pizzeria, highly-reviewed by both college students and professionals alike, has a wide variety menu of hand tossed pizzas, calzones, salads and more. It recently expanded to a Summerville location in Nexton. All of the menu items are prepared with care, from the quality ingredients to crafting creative pizza combinations like the "Get Gnarly" made with olive oil, garlic, spinach, balsamic chicken, mozzarella and blue cheese crumbles and "The Luau," with red sauce, mozzarella, feta, bacon, red onion, pineapple, drizzle of BBQ sauce.
Semilla's
218 President St.
843-718-3175
Instagram: @semillachs
Specializing in Mexican food, burritos, rice bowls and more, Semilla's is open for carry-out and for delivery through Uber Eats and Grubhub. In addition to its regular menu, Semilla's also offers family dinners for four and "heat to eat" meal kits. A recent hit was a green chile chicken enchilada served with drunken pinto beans, sweet potatoes and rice.
Street Bird
218 President St.
843-718-3175
Instagram: @streetbirdwestside
From the sibling-run team behind the Mexican food truck Semilla's, Street Bird is a new endeavor that offers Southern-inspired, Mexican-influenced fried chicken sandwiches. It is open seven days a week from 7:30 a.m. till 8 p.m. Owners encourage people to call ahead in advance. Deliveries through Uber Eats and Grubhub are also available.