Alone, Together
04 May 2020
Charleston in the time of Coronavirus
By Jenny Peterson
Photos by Gregory Wilson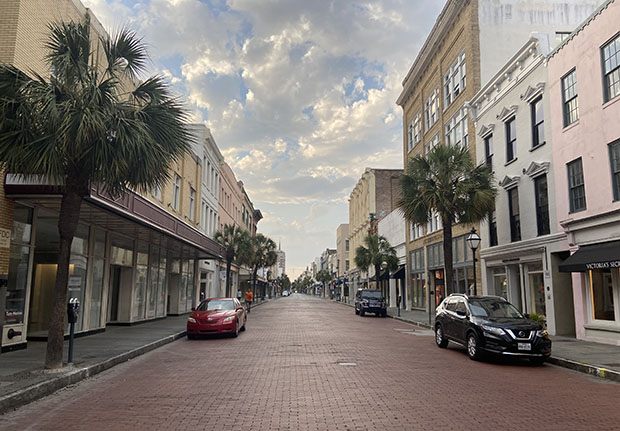 "As mayor, I'm most looking forward to the day when I know our citizens are safe from this virus. On a purely personal level, what I'm really looking forward to is the chance to take my family out to dinner and a concert—and to give everyone there a handshake or a hug."
-Charleston Mayor John Tecklenburg
Coronavirus timeline in South Carolina:
March 13: Governor Henry McMaster declares state of emergency.
March 16: All public schools ordered to close
March 18: Restaurants ordered to close dining rooms for social distancing
March 27: All visitors from deemed "high risk" areas ordered to self-quarantine for 14 days
March 30: McMaster orders the closure of all beaches and public boat ramps
March 31: Closures of "non-essential" businesses
April 3: Closures of additional businesses deemed non-essential
April 6: Essential business ordered to limit the number of customers so as not to exceed five customers per 1,000 square feet
April 17: McMaster loosens rules to allow the use of public boat landings, yet stressing social distancing
April 17: The total number of people confirmed to have COVID-19 in South Carolina is 4,086 with 116 reported deaths
-Sources: Governor's Executive Orders, SCDHEC
Like most people around the world, Charleston Mayor John Tecklenburg watched as the coronavirus crisis unfolded in China, and later in Italy during January and February.
He listened as experts around the world grappled to understand the science behind and the scope of the highly-contagious virus COVID-19 that originated in Wuhan, China.
The virus causes an outbreak of acute respiratory illness, marked by trouble breathing coupled with a high fever. The elderly and chronically ill are the most vulnerable.
On Jan. 31, one day after the World Health Organization classified the coronavirus as a "worldwide pandemic," it reached the U.S. border with the first case reported in Washington State.
"When I heard of the first cases of community spread in Washington State, I realized that this was likely to be a terrible problem for the whole country, including Charleston," Tecklenburg said.
On Jan. 31, President Donald Trump shut down flights from China to stop the spread. On March 11, he restricted travel from Europe, including hard-hit Italy. By then, it was already too late.
The first U.S. death from COVID-19, also in Washington state, was reported on Feb. 27. A national emergency was declared on March 13.
By March 26, The United States officially became the country hardest hit by the pandemic, with at least 81,321 confirmed infections and more than 1,000 deaths. This was more reported cases than in China, Italy or any other country.
With no vaccine for coronavirus, and the only observed way to stop the spread is to socially distance from others, it became clear that this would disrupt life for all Americans.
Social Distancing Begins
Federal guidelines banned crowds of more than 50 people in early March for eight weeks, forcing schools and colleges to move to online learning.
As cases and deaths in the U.S. began to rise, the federal government lowered group sizes to 10 people in order to "flatten the curve" so that hospitals wouldn't be overwhelmed with patients. Many states went into lockdown. The number of cases nationwide grew to alarming numbers, the hardest hit being New York, New Jersey and New Orleans.
According to experts, on average it takes 5–6 days from when someone is infected with the virus for symptoms to show, but can take up to 14 days. Those showing symptoms or who felt ill were instructed to self-quarantine.
Major sporting tournaments were cancelled, including "March Madness" college basketball tournaments. The NBA abruptly ended the season early. Spring major league baseball was postponed. The 2020 Summer Olympics in Toyoko was postponed until 2021.
In South Carolina, Gov. Henry McMaster officially shut down bars and restaurant dining rooms starting on March 18.
Later, he issued a statewide order to shut down all beaches and public boat landings. Meanwhile, the City of Charleston closed all city parks and playgrounds to encourage staying home.
Visitors from "high risk" areas were told to self-quarantine for two weeks no matter if they were showing symptoms or not.
Soon, almost every U.S. state ordered the closure of non-essential businesses, causing layoffs and furloughs that reached every business sector.
The closures halted the U.S. economy and drove up unemployment claims to record numbers. In response, President Trump and congress enacted a coronavirus stimulus bill, giving all taxpayers a $1,200 check (even more for families with children) to help them through the quarantine.
While waiting for the number of coronavirus cases to diminish, Americans adjusted to a new normal of online home-schooling, working from home and waiting for their world to re-open.
As of press time, there have been 661,712 total cases reported in the U.S., with 33,049 deaths.
South Carolina had 4,086 positive cases and 116 deaths as of press time.
Cases span all ages—from elderly citizens to recruits at South Carolina military bases.
In early April, the Centers for Disease Control and Prevention urged all Americans wear masks over their faces when going out in public and ordered people not to leave home except to run essential errands like going to the grocery store or pharmacy and for solo, outdoor exercise.
Local Hospitals Prepare For Influx
The SC Department of Health and Environmental Control reported its first cases in South Carolina on March 6, one in Charleston County and one in Kershaw County. The first death due to COVID-19 was reported on March 16, in Lexington County.
The following day, MUSC Health reduced the number of entry points and implement tighter visitation policies for all of its hospitals.
MUSC Health set up tented stations outside the hospitals to screen all visitors prior to gaining access to any hospital facility. Visitors considered high-risk for COVID-19 exposure or infection were asked not to enter. Visitors who are granted access to visit a patient in the facility are required to wear a mask at all times.
"The safety and wellbeing of MUSC Health patients and care team members are imperative; while we apologize for these inconveniences, MUSC Health hopes the community will understand these temporary policies are meant to mitigate the risk of COVID-19 exposure," MUSC stated in a press release.
These temporary restrictions were still in place as of press time. Telehealth began in earnest for those who needed to see doctors for non-emergency issues.
"Since this crisis started, I've been in daily contact with Dr. Cole and his team at the Medical University of South Carolina," Tecklenburg said. "Additionally, our Emergency Management staff has worked closely with the Department of Health and Environmental Control and our regional partners to coordinate our response efforts."
In mid-March, MUSC Health opened the state's first drive-through specimen collection site for people suspected of being infected with the virus. The drive-through site at Citadel Mall saw between 300 and 400 patients a day, six days a week.
Help for Small Businesses
Many businesses have tried to stay open during this global crisis, offering streaming classes and concerts and food curbside as everyone is ordered to stay home, potentially for months.
While the federal government outlined a plan to help businesses apply for loans, local governments have also stepped up to help during this unprecedented time.
On March 27, the City of Charleston formally deferred collecting hospitality taxes on businesses. It added a page on its website to help business owners navigate programs that can offer financial assistance, including economic disaster loans and a paycheck protection program.
"That's been a critically important part of our response here in the city, led by our Business and Neighborhood Services Division, which has launched several initiatives to help our small businesses get through this incredibly tough time," Tecklenburg said. The resources can be found at www.charleston-sc.gov.
Charleston Community Outpouring
There has been an outpouring of community support during this time, from organizations offering free hot meals to out-of-work food and beverage workers to groups hand-sewing masks to frontline workers.
The Charleston Hospitality Group launched "Full Belly, Full Hearts," program in partnership with its food supplier.
"We created a means by which hospitality workers affected by the crisis, their families, overworked healthcare providers and first responders can come get a free meal Monday - Sunday between 8a a.m. and 8 p.m. at four Toast locations," announced Sam Mustafa, with Charleston Hospitality Group.
The City of Charleston launched "One Charleston," a community resource hub at www.charleston-sc.gov/one-charleston, to highlight all the initiatives being offered by organizations throughout the community.
Organizations listed include how to donate to the Lowcountry Food Bank, or how to help donate to food and beverage workers and to local college emergency student funds.
There is light at the end of the tunnel: In March, for the first time since 2020 began, China reported zero local infections, a milestone in the ongoing fight against the pandemic.
Leaders are hopeful that the U.S. will also see a spike and then decrease in cases in May and June.