Healthy Hands Cooking
05 Jul 2017
HHC is a movement to help fight obesity by certifying and empowering instructors to teach children and families about nutrition and healthy cooking. Their instructors are passionate moms, dads, teachers, nutrition grads, entrepreneurs, wellness advocates and more.
The food is tasty and children love to help create these delicious, good-for-you dishes.
Choose one of these recipes to add a new twist to your family favorites, or make them all and serve to family and friends as one delicious meal.
We promise, everyone will love the food – with or without knowing that the dishes are good for you and yours.
By KATHERINE PETTIT Recipes compiled by JAN PINNINGTON Photos by CARTER WADE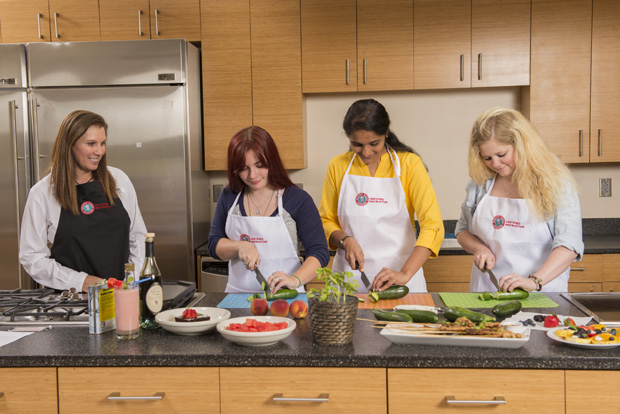 Watermelon Smoothie
1 Serving
Preparation time: 5 minutes
INGREDIENTS
2 cups watermelon cubes
Dash of Stevia or squeeze of honey
1/2 cup plain Greek yogurt
1/2 cup 100% cranberry juice
1/2 frozen banana
1 tablespoon ground flax seed
1/2 cup crushed ice
Chia seeds or fresh/dried mint for garnish

DIRECTIONS
Mix first 7 ingredients in a blender until smooth.

Garnish with cubed watermelon, chia seeds and/or fresh or dried mint leaves.
Orange Blueberry and Mint Salad
1 Serving
Preparation time: 15 minutes
INGREDIENTS
1 large naval orange (peeled, seeded, and sliced into 5 or 6 rounds per orange)
2 strawberries, washed and sliced
10 fresh blueberries, washed and dried
3 fresh mint leaves, washed and torn into small pieces to be scattered on top of orange salad
2 tablespoons Greek vanilla yogurt
1 pinch grated orange rind (1/4 tsp)
DIRECTIONS
Wash and dry orange. Grate a bit of orange peel and set aside.

Peel orange and slice into 5 or 6 rounds. Place sliced oranges neatly on a plate.

Wash and slice strawberries and place on top of oranges.

Wash and dry blueberries and arrange on top.

Place washed, torn mint leaves on top.

Mix yogurt and orange rind (zest) as a dressing and drizzle or dollop on top of salad, or serve as a dipping sauce on the side.

Recipe can be doubled, tripled, etc. as required and served as individual salads or arranged on a large serving platter.
Veggie Pasta Bowl
6-8 Servings
Preparation time: 30 minutes
INGREDIENTS
1 8oz. box of pasta (approx. 2 cups cooked) such as whole wheat, gluten-free, spinach, black bean, quinoa pasta, etc.
3 tablespoons extra virgin olive oil
1/2 teaspoon salt
1/2 teaspoon pepper
2 teaspoons garlic powder
2 cups chopped fresh veggies such as peppers, cucumbers, tomatoes, broccoli, carrots, etc.
Optional: 1/2 cup shredded or Parmesan cheese
Optional: 1 cup diced chicken, turkey, pre-cooked shrimp, natural pepperoni (no preservatives) if not making vegetarian dish
DIRECTIONS
Cook noodles as directed. Once cooked, add 3 tablespoons olive oil, 1/2 teaspoon each salt and pepper, 2 teaspoons garlic powder.

Mix, then stir in chopped veggies of choice. Multi colored veggies are terrific!

If not making vegetarian dish, you can add chopped chicken or turkey, slices of pepperoni, or small pre-cooked shrimp.

Serve warm or chill in refrigerator for 30 minutes before serving.

Can be topped with 1/2 cup shredded cheese or Parmesan cheese (optional).
Southern Grilled Peaches
8 Servings
Preparation time: 10 minutes
INGREDIENTS
Butter, olive oil or organic cooking spray (to oil grill)
4 medium peaches, slightly soft to the touch
Marinade:
2 tablespoons 100% Maple Syrup
1 tablespoon balsamic vinegar
Pinch Red Hot Pepper Flakes
1/8 teaspoon garlic powder
Pinch salt
DIRECTIONS
Heat grill to 400°F (medium heat). Moisten grill with butter, olive oil or cooking spray.

Wash and dry peaches. Cut, split in half, and remove pit using metal spoon.

Place peaches cut side down, close lid, and grill for 4 minutes.

Meanwhile, mix marinade ingredients in a small bowl.

Turn peaches and brush with marinade. Close lid and grill 3 more minutes. Transfer peaches to a serving plate.

Brush or drizzle remaining marinade or a bit of balsamic vinegar over peaches.

Can be served warm or cooled.

Makes a great side dish for chicken, fish, and seafood or a yummy dessert served over vanilla ice cream with a drizzle of maple syrup.
Healthy Chicken Peanut Satay
10-15 Servings
Preparation time: 40 minutes
INGREDIENTS
2 pounds chicken tenderloins
25-30 wooden skewers
3 tablespoons creamy peanut butter
2 tablespoons organic brown sugar
1/2 cup low sodium soy sauce
1/4 cup lemon juice
2 garlic cloves, minced
1/2 teaspoon crushed red pepper flakes
2 tablespoons chopped green onion
DIRECTIONS
Soak wooden skewers in water for 5 minutes. Thread each chicken tenderloin onto individual skewer.

Mix marinade ingredients (except for green onions) and pour over chicken. Let stand for 20-30 minutes.

Heat indoor or outdoor grill to high. Place the chicken satay on the grill, 3 minutes per side (or until no longer pink).

Meanwhile, heat remaining marinade in a small pot on the stove. Bring to a low boil for 3 to 5 minutes.

Serve on the side as a dipping sauce or pour over chicken skewers just before serving.

Garnish with fresh green onion slices before serving.
Chocolate Zucchini Cake
8-10 Servings
Preparation time: 60 minutes
INGREDIENTS
1 cup whole wheat flour
1 cup white flour
1 teaspoon salt
1/4 teaspoon baking powder
2 teaspoons baking soda
4 tablespoons unsweetened cocoa powder
3 eggs
1/2 cup white granulated sugar
1½ cups organic brown sugar
1 cup organic liquid coconut oil
1 tablespoon vanilla extract
2 cups grated zucchini, moisture removed by squeezing in paper towels
½ cup mini semi-sweet or dark chocolate chips
Sifted icing sugar/powdered sugar
DIRECTIONS
Preheat oven to 350 degrees.

Spray a 9 x 13 baking pan with nonstick spray.

Measure dry ingredients into a large mixing bowl. Whip eggs and then stir in sugars, oil, vanilla and zucchini.

Fold into dry ingredients until combined. Fold in chocolate chips.

Bake for 45-55 minutes or until a toothpick comes back clean from center of cake.

Let sit and cool completely. Dust with powdered sugar.
For more information, to become an instructor, or find a cooking class near you visit HealthyHandsCooking.com.