Here Comes the Bride
04 Jan 2018
Personalized hair and makeup services done on-site for your special day
By HELEN MITTERNIGHT » Photos by Lauren Myers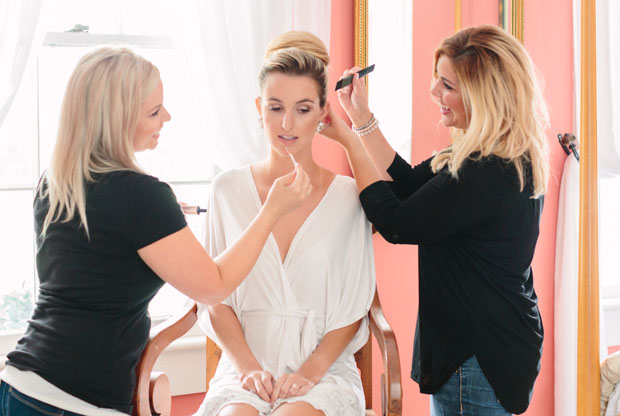 Maryland, 2004. Ashley Riddle's now-husband proposes. Amidst all the joy, she quickly realizes that, although she works in a salon, there'll be no one to come to her hotel to help with her own hair and makeup because salons are busiest on weekends, when most weddings occur.
In April that same year, Riddle's UpDos For I Dos is born, running to the rescue of nervous brides. There are 40 beauty specialists, four of them so far in Charleston, where they opened a branch this fall. "We wanted to go where the weddings are," Riddle says.
Today, the process starts with a trial where the bride brings a trusted friend – or, if she's remote, she fills out an online questionnaire and Facetimes with Riddle's company.
"We want you to meet with the actual hairstylist and makeup artist who will be your team on your wedding day," Riddle says. "We find out what the bride's theme, colors, flowers are and what her daily routine is. And then we go through pictures and figure out what she likes and why. We do a hands-on demonstration of a look and tweak from there. We find this process helps with pre-wedding jitters because they get to know their actual wedding day team and they get to do a trial run of their look."
Once the look has been agreed on, the team shows up again early on the wedding day, like some glamour-bearing Fairy Godmothers. "It alleviates a lot of stress on the day of the wedding," Riddle says. "We arrive, roll up with suitcases and set up shop. We do hair service anywhere from a simple blowout to a half-up, half-down and full up-dos. We also offer makeup services, both traditional and airbrush, and lash services, either strip lash or the application of individual lashes."
The service extends to the bridal party as well and the mother of the bride, special friends and even "groomswomen."
"If someone does have a large party, we can bring multiple teams on location. And because we arrive before the florists or photographers, we really set the tone so that the bride is relaxed on her wedding day," Riddle says.
Working with a bride is different from working with the average woman who just wants to look good.
"On average, a bride is going to spend a lot of money at a wedding," Riddle says. "Our training and education helps prepare a bride to look great from first kiss to that last dance, but also in photos, which last even beyond the wedding day."
Riddle's team works with wedding planners and photographers to make sure that their services fit into the packed wedding-day agenda. "We've never made a bride late!" she declares.
But being in the Lowcountry has taught Riddle a few things about humidity—and she has the beauty tricks to stand up to it. "It's something I've had to adjust myself. It was nice to be here during the summer so I could test different products on myself and see how they photograph, although it really does depend on a person's skin and hair texture. Each person is going to get a unique service because no two people are alike," she says. "We do train and we do educate for different climates. There's a difference between someone getting married on a perfectly sunny day and someone getting married in a hurricane. But we adapt, so it's not a big deal!"
For those non-brides anxious to share a bit of that hard-earned wisdom, Riddle offers, "Definitely drugstore brands work great day-to-day, but for a special occasion, you need something to last. Using a primer on the skin before applying any makeup will really make it last and then finishing with a setting spray is a great way to get longevity out of makeup."
But what about those tresses that get untamed in humidity? Riddle has the solution here, too. "My favorite trick is not to wash your hair every day. Washing can dry it out and then you end up using too much product. Just spray dry shampoo right on your hair for volume and to soak up any oil. Personally, three days dirty is my best hair day."
UpDos for I Dos will travel anywhere in the state but may charge for travel expenses if the trip is too far. Prices are similar to salon prices, starting at $100 a person per service.
The company also sells lip glosses, which isn't as random as it seems. "We tell our brides that once we're done, the only thing they should have to touch up all day is their lip gloss," Riddle says.
The company is currently booking for 2018 weddings and happily-ever-afters. 443-300-UPDO, updosforidos.com