We've got the scoop on how to make your soiree this holiday simple and stylish
By FAN OAKLEY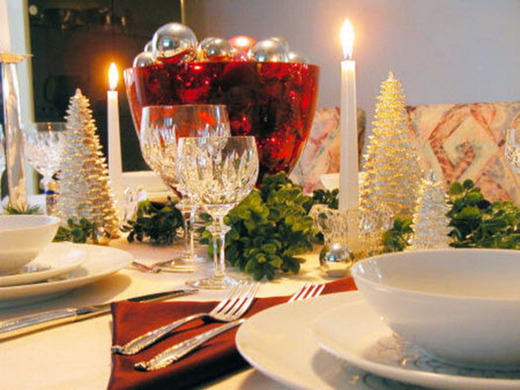 When decorating for the holiday season many people remember to decorate the Christmas tree and the mantle, but what about the dining room table? You want your guests to be transformed into the holiday spirit upon entering the dining room. But how do you decorate it? Here are four decorating tips you cannot go wrong with this season.
Decorations Start with Place Cards
Make specialized place cards for each guest to set the holiday tone throughout the room. You can do this by simply using free holiday graphics online. For example, download a snowman or snowflake onto your computer, type names in a cursive style font, and print out the place cards using card stock paper to give it a rich feel. For a kids table, use kid friendly fonts and graphics and perhaps leave an area where the kids could color holiday scenes. The place cards set the ambience for the remaining dinner table decorations.
Create a Centerpiece
You do not have to be Martha Stewart to achieve this goal. Do not be intimidated by the idea of a centerpiece. There are several ways to create a gorgeous centerpiece without spending a lot of time and money. Gather together a group of round ornaments – choose colors complimentary to the napkin rings, china, and place cards. Place the ornaments in a large bowl in the center of the dining room table and in moments you have a beautiful holiday setting. Another option is to use pine cones and branches for a rustic look.
Break Out the Good China
Dinnerware adds another element to the holiday dinner decor. If you are hosting an upscale holiday dinner party with mainly adults, then you may wish to set the table with formal ware. If you have formal china, then use it. Remember, the dinnerware enhances the setting. Thus, consider the mood you wish to set at the party and choose dinnerware accordingly.
Use Napkin Rings
Napkin rings sound like an insignificant item, but it does make a difference when it comes to your table setting. Napkin rings make the table look refined. The type of napkin ring depends on the type of dinner party you are throwing. A set of napkin rings with sparkle will add another dimension to a formal style.