A Family Affair
01 Nov 2011
We all have our customary holiday gatherings, but some traditions are still best spent with the customer.
By JEFF ALLEN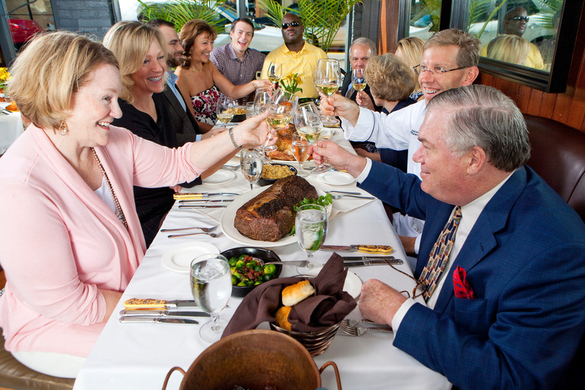 Call Bill Hall Sr. and ask for an interview and he'll meet you at "The Restaurant". Ask him where his family goes during the Thanksgiving holiday, and he'll tell you: "The Restaurant". Same thing for Christmas Eve. He and the rest of the family – two sons, a wife, chef and assorted staff – are all right there, noshing on roast turkey, prime rib, oyster stuffing, and the tiniest little roasted turnips and glazed baby carrots. "...from Thanksgiving until the next year rings anew," he adds. Hall's Chophouse is a family affair.
It's interesting that a man as accomplished as Hall, a man who spent a lifetime career in hospitality development, building hotels and resorts across the United States, would do such a thing. Why, with all of the success and the ability to retire, to move to Charleston and live comfortably in the city he and his wife Jeanne fell in love with so many years ago, would you be working on Thanksgiving Day or Christmas Eve. He says again, "This is about family."
Of course, I got the first inkling of such a message the first time I ever strolled through the heavy wooden doors. All of the pieces are in place, the dark wood, the brass frame – a classic space for traditional steakhouse fare. Men in dark blazers sip ancient cocktails at the bar. But Hall's is not stuffy; even if it sometimes has a Mafioso feel of sorts, when they say family they mean to include you as well.
Just inside the foyer of Hall's, past Anthony the piano man and the hostess stationed beside the large winding stair that descends into the tiled space, patrons are inducted into the family. For me it began swiftly with a pat on the back and I met Billy Hall for the first time. Soon I shook his fathers hand, received a warm smile from Mom minutes later, and before leaving on that first visit met Thomas, the up-and-coming hospitality protégé of the family. "Now, this is different," I thought. Charleston isn't known for "family-run" fine-dining eateries where you actually meet the whole clan while stopping by for a drink. I visit often, and by now I've seen enough of them to become a little bit of family myself, but to understand a Chophouse holiday, you need to know a bit about how Hall's came to fruition.
Bill Hall has always been a hospitality man, and after a few cocktails, observing the way he works the first floor bar area of Hall's, it's hard to imagine him as anything but. He's developed resort properties and hotels from coast to coast, and relocated 27 times during his frenetic career. In the end, the economic downturn offered him a respite and a home in Vail, but Charleston offered a welcome home.
"We really liked the people," he explains. "We were living on the West Coast, and my son Tommy had graduated from Clemson and was working for a large steakhouse chain when he called and said that he wanted to do something on his own. Our daughter attended the College of Charleston, and we knew this was the place."
Tommy and Bill went looking, at one time coming close to purchasing the old Charleston Chops space on East Bay Street, but the emerging Upper King corridor offered a far superior space, more suited to their vision, if a bit more of a financial risk. "We were some of the first people up here," Bill explained one morning over coffee. "There was Rue de Jean down the way and not much else around. It was a real gamble."
So they made it a family thing, which extends all the way to the Christmas turkey. Thus, when Thanksgiving rolls around, they keep the doors open, and serve the patrons that make the place home, even if only for that holiday once a year. "We have families that come into town and bring everyone out here for dinner," Tommy explained. "And every year we have a few folks that need a place to eat due to some kind of kitchen disaster." They tell of times where "mom 'blew up' the turkey", but revel in an obviously well-worn yarn about the lady who had the whole family over, mixed up the martinis, and "forgot" to turn on the oven. Bill chortled as he remembered the night, "Their turkey was cold, but they left Hall's warm and happy."
On those cold wintry holidays, chef Matthew Niessner is charged with interpreting Jeane's family dinner into a serviceable menu, which is predictably classic and traditional. There is a rich butternut squash soup swimming with baking spice and sweetness, and the famous Hall's chopped salad, always available on the regular menu. The main course brings more classics: roast free-range turkey that has been rubbed only with butter, salt, and pepper. A prime rib seasoned with the house rub, seared, and slow roasted to medium, sits next to a juicy rack of Berkshire pork, so flavorful a hog, Niessner claims, that even a simple brine would mask too much of the flavor. But at Hall's, you'll get just about anything you want. "We have a lot of our regular guests in during the holidays and we have a lot of special requests," he explained. "At Hall's we honor all special requests."
The "family", which extends to chef and working staff, sits down to eat after the guests have mostly departed. "On the holidays," Bill says, "Chef Niessner will setup a little table at the end of the night and we dig into the same specials that we serve our guests."
And that really is the point at Hall's, where all are made to feel welcome. To have a place like that, someone must care, and those folks don't get their own holidays. The Hall's spend them catering to others. Bill told me, "We've welcomed our guests as family, and many of them have traditions that involve a visit to the restaurant every year during the holidays. We hope to be serving those traditions 20 years from now, and making new ones."
With one exception. Hall's is closed on Christmas Day. I sense an opportunity. There is one day of the year when none of the family is at the restaurant, Billy, Thomas, Jeanne, nor Bill. I imagine them holed up in a big house watching football, but Bill quickly corrects that notion. "Oh yes! Christmas Day we're closed." he says. "We have a bunch of patrons, regulars, that we know really well and they invite us over. It's sort of like a progressive dinner all day as we visit their homes, and one of our best friends and patrons throws a big party and we always attend."
"They're like family."
RECIPES
Hall's Chop Salad
3 oz. Romaine Hearts, thinly chopped
½ bunch watercress stems, removed
1 T. cucumbers, ¼" dice
1 T. celery, ¼" dice
2 T. red & yellow peppers, small dice
1.5 T. crumbled Feta cheese
1.5 T. black eyed peas, cooked and drained
1 T. applewood smoked bacon, cooked & crumbled
6 each grape tomatoes, cut in halves
2 tbs. green peppercorn dressing
Combine and mix all ingredients together.
Green Peppercorn Dressing
½ C. shallots, finely diced
¼ C. garlic, minced
½ C. champagne vinegar
3 oz. worchestershire sauce
2 C. mayonnaise
1 C. buttermilk
¼ C. grained mustard (creole)
1 C. green onions, finely sliced
½ C. chives, chopped
½ C. parsley, chopped
1 tbs. sea salt
1 C. canola oil
½ C. ground green peppercorns, dried
Combine and mix all ingredients together. Use with Hall's Chop Salad.
Thanksgiving Chicken Roasted Turnips
12 baby turnips
3 C. chicken stock
2 C. water
3 bay leaves
1 bunch Thyme
1. Simmer turnips for 30 minutes until tender. Let cool in poaching liquid.
2. Cut turnips in half and dress with 2 tablespoons olive oil.
3. Roast turnips in oven at 450 for 12 minutes. Toss with ¼ cup chopped sage and serve.
Holiday Candied Poached Carrots
24 baby carrots
2 C. orange juice
1 C. brown sugar
2 cinnamon sticks
3 start anise
2 T. kosher salt
1 T. coarse black pepper
1 C. water
Add all ingredients into stock pot. Simmer 25 minutes, let cool in pot, then serve.