Holiday Curb Appeal
29 Nov 2013
Four Charleston interior designers offer their tips to get your home gussied up for the most wonderful time of the year
By HOLLY FISHER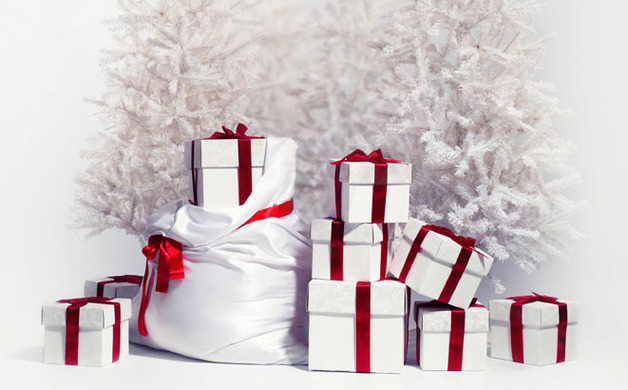 Sandra Gaylord
Gaylord Design, LLC
Lighting is a simple but impactful element when it comes to creating holiday ambience. Sandra Gaylord suggests using soft lighting in the rooms where the family gathers. Avoid overhead lighting, she said, and instead turn on lamps, light candles or, if the temperature is cool, light a fire in the fireplace.
A personal favorite for Gaylord when it comes to holiday decorating is greenery, including holly and pine or cedar boughs. "These items are a blank canvas for any style, design and color," she said.
Add glitter and gold with silver and white, and use on the chandelier with ample silk ribbons or up the stair rails with felt handmade ornaments, she suggested. Greenery is perfect around candle votives with small, turquoise ornaments glistened with silver glitter.
"Whatever the color theme or design, the greenery will only add to your idea," Gaylord said.
When it comes to decorating the tree, Gaylord recommends going heavy with the ornaments to create volume and interest. "We tend to hold back on our ornaments, but creating volume is very dramatic," she said.
And don't forget what's under the tree. Beautifully wrapped gifts add to the holiday décor. Simple white tissue paper with different widths of red ribbons tied around the box can make a lovely package and holiday decoration. Gaylord also suggests a mixed combination of green packages with gold ribbons, white tissue paper with velvet, navy-blue ribbon or red tissue paper with velvet and silk ribbons. 843-327-4635, gaylorddesignllc.com
Style Tips
· Use red and white packages for bright and cheery wrappings.
· The varying widths of ribbon makes it interesting.
· Wrapping the ribbon around the box is more thoughtful rather than a bow placed on top.
Terri Baldwin
TCB Design Interiors
When it comes to holiday decorating, Terri Caban Baldwin loves to use natural elements as her focal point. Brown-backed magnolia leaves are a favorite. She uses them to make holiday wreaths or ties a bunch with a burlap ribbon to adorn the mailbox.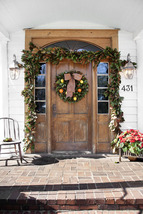 "I gravitate toward having a predominance of something natural," she said. So many people buy a live Christmas tree but all the rest of the decorations come out of a box. So Baldwin encourages her clients to make use of the natural elements so readily available here in the Lowcountry.
If it's a warm December, forego the fire in the fireplace and instead fill the space with grapevine balls, cedar and a few bright Christmas bulbs.
Baldwin suggests collecting the clippings from local Christmas tree lots to use in a vase or mixed with ribbons for a mantle display. "Right away, you're invoking the holiday spirit," she said.
"Take the opportunity to look around where you live and really borrow from nature," Baldwin said. "That's my number one tip. It's an untapped resource and lends itself to creativity."
Baldwin also recommends ways to blend family history with a holiday theme. Put a separate kids' tree in the den and decorate it with childhood art projects and handmade ornaments. For one client, Baldwin created a garland grapevine and then used ribbon to attach the children's drawings.
And, remember it's OK to retire some items or leave some holiday decorations in the box one year.
Make sure area to be decorated is clean and free of any debris. If necessary- oil or paint your front door. First impressions are everything. 817-0432, tcbdesign.net
Style Tips
· Look around your yard for trees or shrubs that can be trimmed and used for decoration, such as magnolia (with brown backs), holly, or lygustrum. These greens tend to last a couple of weeks without water.
· Use a wreath form in either 18" or 20". Select the natural greenery you want to use. I like an all magnolia wreath. Select a spot to begin and circle around. Use pins and wire to secure all the elements, and add any accents you favor like oranges and lemons.
· Surround your door with garland that incorporates the greenery used in the wreath. Measure the surround of the door then cut a rope to fit. Select bunches of greenery and wire to the rope. Ornaments and lighting can be added as well.
Muffie Faith
Elizabeth Stuart Designs
When it comes to holiday decorating, there's plenty of room for a sophisticated style mixed with family traditions.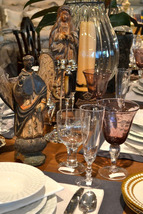 Muffie Faith recalled when her own children were small, she would put up small "Charlie Brown" trees in addition to the larger Christmas tree. The children could decorate those little trees with whatever they wanted. Even though years have passed since the children were small, Faith said she still puts up the little trees and "they have been my favorite all along."
She also has blown-glass ornaments that she bought when each of her children were born. In the spirit of family, those ornaments still get a prime spot on the main Christmas tree, Faith said.
"During the holidays I like to cut palm fronds and grey sable palmetto from the garden. Fronds are wonderful mixed with berries and holly because holiday decorating can be such a busy look. It's nice to have calm areas and flower arrangements to counter a fancy Christmas tree. "
Fresh flowers and garland also add a touch of the outdoors to indoor décor. Fresh garland draped over the mantel smells good and can be as simple or complex as you like, Faith said. Start with fresh garland and incorporate with fresh flowers using tubes for water, dried hydrangeas and red berries, or tie Christmas ornaments throughout. Faith also suggests adding in some seashells for a Lowcountry-inspired touch.
Faith decorates the outside of her home with as much enthusiasm as the inside. She admits to heading to Lowe's when the first trees arrive and buying the tallest, least expensive ones she can find.
"I put the trees all around my garden and light them so that each tree has their own personality," she said. "It creates such a wonderland. One year I kept them up until Valentine's Day." 225-6282, esdcharleston.com

Style Tips
· The holidays are a great time to display pieces that you have collected over the years.
· Remember that just because it is Christmas, you don't have to decorate using only red and green.
· Mix green holly with red berries and white hydrangeas and add a sprig of purple to create a beautiful look.
Gil Tisdale
GDC HOME
Living in an apartment or small house doesn't mean you have to go small on your seasonal decorating. "You can still add lots of festive charm by thinking outside the box," Tisdale said.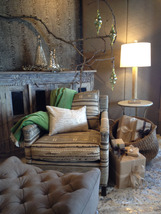 If floor space is limited, forgo the traditional tree that can take up a lot of room and instead use a large branch either suspended from the ceiling or leaned in a corner. Adorn it with statement ornaments and suddenly you've brought some of the outdoors inside. Use a large woven basket near the tree to display gifts.
Also using existing elements around your house, either rearranging them or repurposing items is an easy and affordable way to prepare for the holiday season. Tisdale said folding screens can be moved into a sitting area and used as a backdrop to suspend wreaths from ribbon.
He recommends layering rugs for a cozy look: throw a cowhide or fuzzy flokati on top of your everyday oriental or seagrass rugs.
Color is another way to decorate when space is at a premium. Try exploring a tone-on-tone holiday color scheme with pops of a single, bold accent color, Tisdale said.
"Jewel tone colors like emerald green or deep purple can really sing against neutrals, adding richness and warmth to your space," he added. 571-5142, gdchome.com
Style Tips
· A large branch provides a non-traditional option for hanging ornaments and brings the outdoors in.
· Big woven baskets are dual-purpose: a great solution for corralling gifts and filling an empty corner.
· Tone-on-tone holiday color schemes can help ease your home into the season and not compete with pre-existing items in your home. You can never go wrong with neutrals.
· Don't be afraid to throw in one bright accent to add some interest and edge to your holiday decor.
Layering in soft elements like rugs, throw blankets, and pillows can instantly add charm and coziness, bringing that holiday feel to your environment.