Worthy Adversaries
29 Nov 2013
A passion for practicing law runs in the family for this highly successful Charleston attorney
By HOLLY FISHER » Photos by SIGNATURE PHOTOGRAPHY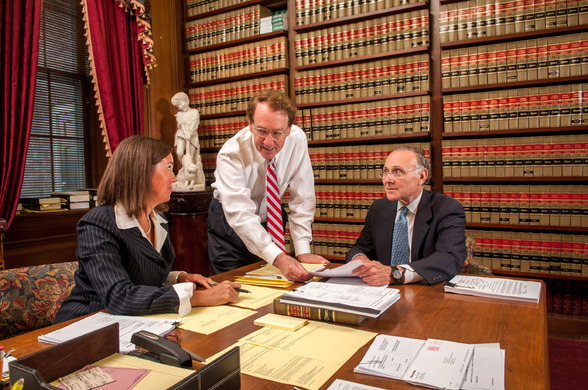 Gedney M. Howe, III owes his legal career to his father who gave him a start in the profession, served as his mentor, and demonstrated during Howe's childhood how rewarding a career as a lawyer could be.
A penchant for the law flows through the veins of the Howe family history. Howe is a third generation lawyer and even two of his three children are beginning to express an interest in becoming lawyers. Howe's three siblings are also lawyers.
Although he passed away in 1981, Gedney M. Howe, Jr. still influences Charleston's legal history and Howe's own 40-year legal career. A bust of Howe stands in the Charleston courthouse, recognizing the circuit solicitor who served in the Ninth Judicial Circuit from 1946 to 1956 and long-time trial lawyer. "Daddy had such a great time practicing law," Howe recalled.
He jokes about how early in his career, his father was known as the "real Gedney Howe." The younger Howe emerged into a bona fide Gedney Howe himself, developing an impressive legal career in personal injury and securing settlements for millions of dollars.
At the Law Offices of Gedney M. Howe, III, P.A., Howe and the other two members of the firm – Alvin Hammer and Caroline West – handle criminal and civil personal injury cases. Their work is often contentious and involves large sums of money.
"The battle of litigation is tough," Howe said. "You have to have pretty thick skin."
Practice areas for the firm include personal injury, auto accidents, federal tort claims, traumatic brain injury/head injury, commercial/business litigation, wrongful death, workplace accidents, criminal defense, medical malpractice, maritime law and burn injuries, to name a few.
Representing the plaintiff takes a level of initiative as Howe constantly thinks about how he can move a case forward and improve his client's position in the case. And because the cases often involve suing companies with deep pockets, like banks or large corporations, those businesses are bringing their best attorneys to the courtroom, making them worthy adversaries for Howe and his team.
Howe likens the experience to a professional basketball game – the score is going to be 109 to 110. Both sides are very good. It's the same with his cases in which two excellent attorneys go head to head. They are pulling in either direction and what's supposed to pop up in the middle is the truth, Howe said.
Howe isn't intimidated by his cases or opposing counsel. He's at home in the courtroom and in front of a jury. And yet it's no easy task and the responsibility for wrongful death cases or high-profile criminal defense matters is intense.
"There's a lot of energy and pressure when you're trying a case," Howe said. "You're focused on one case."
In four decades of trying cases, Howe doesn't try to predict the outcome. "The only thing you can predict is that it's unpredictable," he said.
Howe's only tell-tale sign before a verdict is rendered is whether one juror will look at him. If one does, he takes that as a good sign.
Taking on Big Cases
Even though the firm is small in number, Howe and his fellow attorneys give their clients personalized attention, and they've taken on some pretty big headline-grabbing cases.
The office represented the S.C. State Senate in reapportionment. The firm represented state Rep. Tim Wilkes, the only indicted legislator found not guilty in the FBI sting operation known as "Lost Trust." Other clients have included former state treasurer Thomas Ravenel and former chairman of the State Development Board Dick Greer.
One of the firm's largest cases resulted in a $19 million win against the U.S. Coast Guard in a negligence case in which three children died in a sailboat accident.
It's rewarding for Howe when he helps bring some resolution to often devastating circumstances. "In my legal world, I deal with hurt people whose injuries dramatically impact them and their families," he said. "We learn what happened and how we can make a recovery."
And for Howe it's not just winning the case but collecting on the win, so that means bringing a case against someone with assets who can pay, he explained.
The Mark of a Good Mentor
Howe has made a significant mark on the Charleston legal community and his father would be proud. Howe still speaks fondly of his early days working side by side with his father, soaking up all he could about the legal profession.
After earning his undergraduate and law degrees from the University of South Carolina, Howe joined his father's law practice in 1973. "That gave me a big professional jump forward quickly," Howe said.
Howe worked with his father for eight years. He admits it sounds a bit corny, but he cherishes the days he worked alongside his father as father-son, friends and law partners. "He was a great teacher and I was working with the 'real Gedney Howe.'"
Having that kind of mentor relationship with a seasoned lawyer is critical for young lawyers coming up in the profession today, Howe said. You need someone to call for advice when you get a new case and are unsure about what to do.
Even though today's legal profession is competitive, Howe urges young people interested in the law to take up the challenge. "As competitive as the law is it's still a great profession," Howe said. "It's made me very happy. It's a great way to make a living."
Gedney M. Howe, III is Martindale-Hubbell AV-Rated, the highest peer-review rating an attorney can attain for legal practice and ethics. He has been a member of the Best Lawyers in America, the International Society of Barristers, the National Association of Criminal Defense Lawyers and the National College of Criminal Defense Attorneys. Howe was ranked as the No. 1 attorney in South Carolina Super Lawyers Magazine for the 2011, 2012, and 2013 editions. In 2012, Howe was honored by the American Bar Association with the Pursuit of Justice Award in recognition of his outstanding merit and his efforts to provide access to justice for all.