Lowcountry Day Trips
06 Nov 2020
History, wildlife and art await just off the beaten path
By Barry Waldman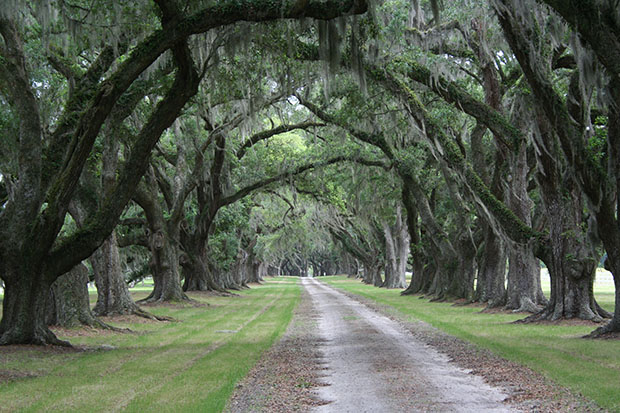 Charleston is a marvel, but it's not the only marvel in the Palmetto State. Many treasures await the intrepid who take a quick jaunt down the road with open eyes and a taste for alternative takes on what is the Lowcountry.
If you're looking for a quick getaway, take an hour or two mosey down the road to some quaint South Carolina town that time hasn't quite forgotten.
The southeast part of the state is ripe with the vestiges and artifacts of a history older than the nation itself.
Take a drive south, or west, or whatever we call the direction that Route 17 takes us beyond West Ashley towards I-95, and pay attention to the three rivers crisscrossing your route. They're the Ashepoo, Cumbahee and Edisto, which gush into confluence at St. Helena Sound, south of Edisto Beach, serving as a doorway to that big pile of water known as the Atlantic Ocean.
Walterboro
Walterboro is known as the "Front Porch of the Lowcountry," and life there flows as languidly as the Edisto River, one of the largest free-flowing blackwater bodies in North America.
Walterboro is a borough named for early settlers Paul and Jacob Walter, founded in 1783 as a summer retreat.
Highway 17, or Highway 61 (if you're traveling from north of the city) brings you across the Edisto River first, a signal that Walterboro isn't far off.
Take a stroll down Washington Street, the main downtown strip, and go back in time 100 years, especially when you step into the antique shops that dot your walk. If you love King Street in Charleston, you'll like Washington Street in Walterboro.
At the end of the street is the Colleton Museum and Farmers market, featuring the county's rice-culture history and plantation-era artifacts that should be familiar to any Lowcountry resident. Housed within is a commercial kitchen that serves as a staging area for local cooks and produces occasional morsels for passersby.
The state's finest juried folk arts and crafts are displayed in an old house a few streets away at the Artisan Center. Everything is for sale, including a $60,000 wooden canoe hanging from the ceiling. You'll know you've arrived by the massive live oak metal sculpture in front of the center.
The Welcome Center, at 1273 Sniders Hwy., offers a free brochure with a self-guided tour of Walterboro's quaint side streets, overhung with live oaks and bathed in Spanish moss.
Historic properties abound, most notably the five antebellum "high houses" built tall on high ground.
If you prefer the wild side, Walterboro boasts a wildlife sanctuary a block off the main streets. A network of boardwalks and hiking trails provide a path through a bit more than a square mile of blackwater bottomland and all its natural inhabitants. It's open daily dawn to dusk and free to all.
ACE Basin
If natural wonders shudder your rudder, check out the pristine ACE Basin, undisturbed lowland ecosystems forged by the triumvirate of rivers that drain the land and whose names form the ACE acronym – Ashepoo, Cumbahee and Edisto.The rivers offer kayakers, canoeists and paddleboarders a cornucopia of flora and fauna to enjoy, including gators, snakes, egrets, herons, peregrine falcons, endangered wood storks and much more.
There are innumerable sites and activities inside the 215,000 acres of the Basin, and several protected preserves to enjoy, from Botany Bay Heritage Preserve on Edisto to Hunting Island State Park towards Beaufort and including the Donnelley Wildlife Management Center in Green Pond, right off 17.
Owned and managed by the South Carolina Department of Natural Resources, Donnelley "encompasses a diversity of wetland and upland habitats including managed rice fields, forested wetland, tidal marsh, agricultural lands and a variety of upland types, including a natural stand of longleaf pine," according to DNR.
In other words, it's the Lowcountry ecosystem in microcosm, if 8000+ acres can be said to be a microcosm.
Donnelley is a haven for hikers, cyclists and bird watchers, with abundant alligator populations through November. Hiking/biking trails are closed periodically during the fall so that hunters can bag deer, turkey, waterfowl and other prey.
Beyond Donnelley on 17, lies a bridge over the Cumbahee named for famed Underground Railroad conductor Harriet Tubman. Dedicated in the 21st century, it marks the nearby site where Tubman led a Union Army raid on several area plantations on June 2, 1863 that freed 750 slaves.
Forty miles south through a series of Lowcountry islands lies Hunting Island State Park, home of the state's only publicly accessible lighthouse. Climb the 130 feet to the top for a panoramic sweep of the Atlantic. Descend onto the beach or into the maritime forest for miles of hiking trails passing cypress swamp, marsh and all the usual coastal forestry that wows us daily in the South Carolina Lowcountry.
Across the sound is Edisto Beach, home of the Spanish Mount Trail, with one of the state's earliest First People's shell mound sites. The beach itself is Hunting Island's opposite: tranquil, unpopulated and low-key. To truly get away from it all, head to Edisto Beach, where no one need tell you to stay six feet away–or 60 feet, for that matter.
Beaufort
An hour-and-a-half ride from Charleston is "Charleston Jr.," also known as Beaufort.
The Palmetto' State's second oldest city, Beaufort sits a bit inland from the Atlantic up the Beaufort River and offers many of the same Lowcountry charms as the Holy City – a delightful downtown, neighborhoods of antebellum architecture and style, centuries-old churches and an accessible coastline.
With more of a small-town vibe than its northern counterpart, Beaufort boasts one thing Charleston can be enviable of: The Pat Conroy Literary Center.
Commemorating the life and work of the recently departed author whose books bared the soul of Lowcountry life, the acclaimed museum is Beaufort's jewel.
"You will walk away from the Literary Center feeling as though you and Pat are personal friends," said one Trip Advisor reviewer. Perhaps, in part, because Pat's sister, Kathy, serves as a docent.
Like Charleston, Beaufort is an eating destination. Sit outside at a restaurant along the bend of the river and enjoy the double aesthetic of delectable Lowcountry fare in a charming saltwater atmosphere. Then stroll through town or take a tour of the moss-draped live oaks, the varied architecture of homes on Bay Street and the historic district declared a national landmark nearly 50 years ago.
Charleston, Beaufort and Savannah, says Peach Morrison, executive director at the Lowcountry Tourism Commission, are like three sisters.
"Charleston is the oldest sister. She's very well-established, sure of her charms. Savannah is the beautiful younger sister who loves to party and have a lot of fun. Beaufort is the middle sister. She will put her pearls on but will also jump in the truck, back a boat in the water and go get some fresh shrimp for supper."
It is possible to be so charmed by Beaufort that you will want to spend the entire weekend. For that, charming Bed & Breakfasts abound, many in spectacular buildings enshrined in the National Historic Register.
Bluffton
Quirky Bluffton, up the May River from Hilton Head's urban sprawl, takes the coastal vibe of Beaufort and adds an artsy element. Named "America's Happiest Seaside Town" in 2018 by Coastal Living magazine, Bluffton is a place to peruse downtown art galleries, visit old homes and churches, and enjoy a throwback southern Old Town at the water's edge.
Start with a walk to the Heyward House Museum and Welcome Center at 70 Boundary St., a pre-war 19th century Carolina Farmhouse built for a local plantation owner in a style imported, along with the involuntary labor to build it, from the West Indies. Wealthy merchants of the era fled the heat and disease-carrying mosquitos by moving up the river from the sea and onto higher ground–bluffs for the breezes and fresh air.
Enjoy a docent-led review of the building and its period furniture, then get the down-low from the welcome center experts on what to visit in town.
Next, stroll through Old Town's shops, parks and restaurants where old meets new along Wharf Street. Visit the Bluffton Oyster Company, South Carolina's last full-time oyster shucking business, for some fresh seafood, or lunch at any one of the waterfront eateries.
Before catching a golden sunset, your last must-do is the Church of the Cross, a stunning all-wood Anglican church established in 1787. A visual delight, this Gothic structure houses kerosene-soaked pine floors and a colony of bees within its walls whose honey is for sale. Find a church volunteer for a tour of this amazing structure.