Honoring the Past
02 Mar 2021
Downtown home gets thoughtful, careful renovation
By Rob Young
Photos by Tara Pasibe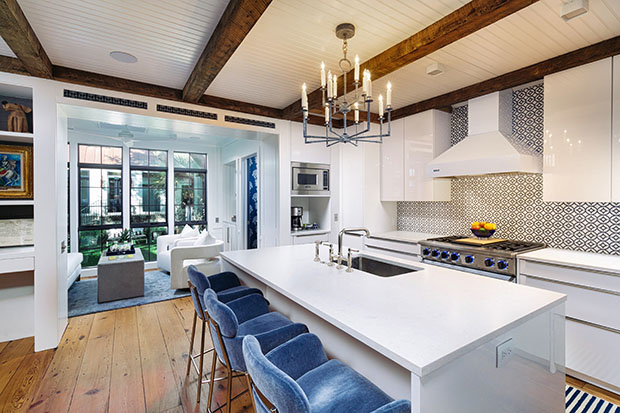 Short Street is in fact a short street. Always has been, always will be.
It's only two blocks from Colonial Lake, lodged between Logan and Franklin Streets in downtown Charleston. And at 20 Short Street, it's where the same family lived for 100 years. Thomas Winthrop bought the property for just $375 in 1875, building his two-story wood home four years later. He was a Black tinsmith, an artisan amongst a family of tinsmiths, seamstresses and carpenters – and likely born a slave, per historical accounts.
He and his wife, Emma, raised six children within the walls of the original four rooms. It was also within these walls that the original property deed and title were found over a century later and the documents were passed on to current owner Wendy Gilder when she purchased the home in 2015.
She understood the historical significance – but also her obligation to uphold it.
"I think the house deserves to be known," she says. "I'm certainly really proud of it."
Running away to Charleston
Gilder fell in love with Charleston from afar. She lived in Connecticut, owning a women's clothing store, first in Greenwich, then in Darien, but frequently visited the Holy City. The city called out to her.
"I kept hopping on JetBlue flights just to visit Charleston even if was just for 24 hours," Gilder says.
She looked at properties in I'On, other neighborhoods in Mount Pleasant and downtown near Hampton Park. She couldn't find anything that suited her until her realtor and friend, Jane Stoney Cook, heard about 20 Short Street through word of mouth.
"The second I heard about it – on April Fool's Day, 2015 – I got on a plane the next day," she recalls. "Basically, I sold my store and ran away to Charleston."
She packed her things and her three yellow labs – Boone, Huck and Archie – into her Mini Cooper and closed on the home in August of the same year. "I left on a Sunday morning with the movers behind me," she remembers.
And she found actual love, too.
Gilder reconnected with her now husband, Richard "Doc" Gilder, six months after moving to Charleston.
Wendy and Doc had been childhood acquaintances, despite her growing up in New Orleans and him in Manhattan; their grandfathers attended Yale University together during the 1920s, and their families remained friends for generations to follow.
Together, along with builder Adam Copenhaver, they embarked upon a renovation of 20 Short Street, the project beginning in October 2018 and finishing in June last year.
"It's one of the few houses like it still left – a Charleston single with a flat, tin roof, modestly built," Gilder says. "We just loved that we were able to keep the original structure intact, restoring the original four rooms back to how it was originally built, from the walls to the ceilings, beadboard and shiplap."
The art of twinning
CopeGrand Homes managed every facet of the preservation and renovation project. Twin brothers Adam and Ben Copenhaver run their building company from Johns Island, which was founded to create personalized custom homes and specialize in high-end renovation work.
"We're really focused on building beautiful relationships throughout every project. We've built a team that can take on the most complex projects with the most amazing details, and our clients and the architects we work with really appreciate our level of experience and collaboration across the whole team."
In all, CopeGrand and the Gilders have paired up on six projects, including additional properties downtown and on Folly Beach. Short Street was their first project together.
"I knew very much what I wanted to do, but certain things still needed to be figured out," Gilder says. "Fortunately, I met Adam when we were getting ready to start the project. It certainly wouldn't have been what it is without his participation."
The brothers also knew their way around the Board of Architectural Review (BAR), a necessity when building or renovating downtown.
"There are so many roadblocks and adjustments required to suit the BAR and Preservation Society of Charleston. We wanted to be respectful to all of those things, and sometimes it looked like the hurdles were too high," Gilder recalls. "But Adam is really meticulous and stubborn about dotting the I's and crossing the T's and devising solutions. We were able to work with the city very closely."
Some may describe the process as onerous. Just not Copenhaver.
"It's not difficult, it's actually fun," he says. "We have a great relationship because our interests are aligned. We're very familiar with the requirements. We strived to keep many of the components in the house to maintain its original intent, which were true to that particular home and location."
'Rocket fuel'
The house retains most of its original features, including its one-story piazza, windows, pine flooring and wood paneling. The piazza contains unadorned balusters and posts on the west façade, unique because today many single homes feature two-story piazzas. The original stairs, sturdy handrail and square balusters also remain.
"It's still only about 2,000 square feet. The original rooms are now the living room and dining room on the first floor," Gilder says. "The addition in the back of the house was built in the 1980s, and that's what we basically tore down and started over."
The home is covered by standing seam terne metal roof, mimicking the original roof fitted by the Winthrops. The window sashes are old-fashioned single wood frames, the panes a 6x6 configuration. Again, per historical reports, several of the sash and wavy glass panes are believed to be original. The windows have louvered shutters, a popular feature during the Victorian era to allow storm protection and ventilation.
The story addition is in the rear, containing a modern kitchen, bathrooms and master bath. Painted wood clapboard siding adorns both the addition and original home.
As the house was modified or repaired throughout the years, the original details were not sacrificed. The paneling was kept in place or was seamlessly reinstalled, accentuated by a simple chair rail in both original downstairs rooms.
"What wasn't able to be used was moved and meticulously reinstalled," Gilder said.
A simple cornice crowns the walls, as wooden paneling and beadboard ceilings throughout harken back to its origins.
When the roof was pulled up during the renovation, the Gilders also discovered a surprise.
"Underneath there were beautiful, long Heart Pine planks," Gilder says. "We salvaged those planks and reused them for the master bedroom floor."
Wendy and Copenhaver were actually downtown browsing hardwood floor samples at a store when they got word of the discovery.
"I got a FaceTime from our project manager who was on the roof," Copenhaver says. "He said, 'Adam, we've struck gold.'"
In the back of the yard, which is unusually long by downtown standards, the Gilders built a new carriage house. Doc uses the raised, one-bedroom, one-bathroom building as an office, though it easily could be converted to a guest home.
The carriage house had its unique challenges as well.
"Anything new construction downtown, you can't place a bathroom beneath the base flood zone elevation," Copenhaver says. "We considered elevating the entire structure, but the BAR wanted the carriage house to stay subordinate to the main house."
So they elevated the bathroom instead, raising it four stairs higher than the living space.
"You have to consider these opportunities rather than obstacles," Copenhaver says. "Our relationship with Wendy has just been rocket fuel for well thought-out design. We had great collaboration and appreciation for each other's skill sets."
Today, the home possesses a retro-modern feel. Wendy honored Winthrop's original vision with the home in choosing using virtually all of the same materials from the original house, then added her own touch—extensive millwork, sharp design features and a wonderful, clean aesthetic.
She had the original property deed and title framed, where it enjoys a special place of honor within the home.
"There are much grander, fancier properties around Charleston, but when I first saw the house, I was just thrilled," Wendy said. "You wouldn't find a home like this anywhere but Charleston. There was never a thought in my mind to change it from how it looked."
Builder Resources
CopeGrand Homes
843-735-2364
Circa Lighting
www.circalighting.com
Tree Marsh Woodworks
843-814-4204
Hostetler Custom Cabinetry
www.hostetlercustom.com
John Griffith Harwood (Flooring)
Matthew Ward Landscaping
www.matthewwardlandscapes.com