The Healing Power of Art
02 Mar 2021
Painting becomes a therapeutic passion for Beth Tockey Williams
By Jenna-Ley Jamison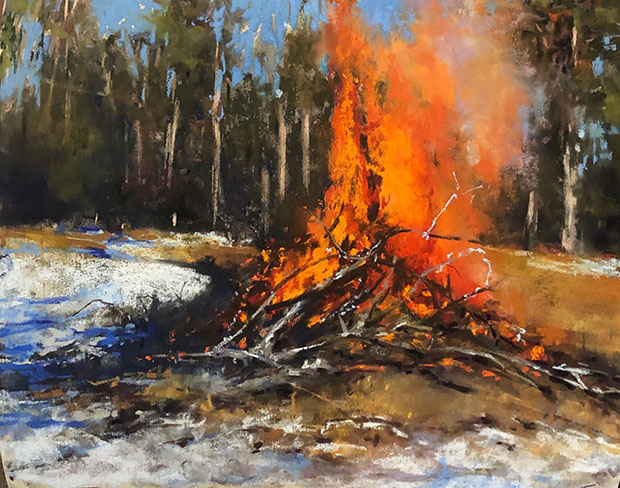 Painting is more than a pastime for landscape artist Beth Tockey Williams; it's a therapeutic passion that's helped heal her heart after horrific tragedy and reignited a hobby.
For years, the Edisto Island resident had tucked away her talent—at least in a full-time capacity—in order to pick-up a more meaningful and pressing role at the time—raising three kids.
"I shelved my art career and shifted to family for quite awhile," Williams said. "I decided when the kids could drive themselves, that's when I would recommit to it. I've talked to so many women who have a similar story with their art; they got back into it later when everybody needed them less."
Williams never completely relinquished her paintbrushes for maternal duties. She continued to dabble in her relaxing, right-brained craft, including tackling a mural-painting business. But with simultaneously raising a family, it eventually became too physically demanding to continue the business.
It wasn't until 2009, after her children had grown—and a year after she suffered the loss of her oldest son—that she returned to her painting. But she wasn't the same person. Williams had changed in more ways than one. Not only had she lost years of frequent practice with her passion, but scarred by death, she had also lost a part of herself.
Art As Therapy
"I knew I wasn't going to be able to pick up right where I left off," Williams said. "Art is really an exercise, and if you don't do it enough, you lose your skills. I had no intention of becoming an artist that was going to sell; I had gotten back into (painting) because I wanted to paint again. After (my son) passed, it became my therapy."
That's when the seasoned landscape artist opted to try something new with her painting: to start fresh with a familiar skill, but a different medium: soft pastels.
For four years, Williams studied under local pastel artist Tammy Papa and when the master felt her student was adequately prepared for send-off, she proudly but bluntly nudged Williams out of the metaphorical nest.
"She literally said, 'I'm kicking you out of the nest; you don't need me,'" Williams said.
Williams is now a signature member of the Pastel Society of America, along with the National Association of Women Artists, and, among numerous other accolades, has twice been featured in The Pastel Journal's "Pastel 100 Competition."
Prior to pastels, Williams painted with watercolors. The primary motive driving her desire to change mediums was simple, though somewhat nostalgic.
Williams said at the time she craved to again "feel like a beginner" in her field—perhaps, to remember what it was like when she was an Amarillo, Texas pre-teen first developing her creative interests.
The Lowcountry offered an endless array of scenes to paint, from dunes and marshes to iconic waterways and seascapes—waves being a central focus of her art. She showed multiple years at the Piccolo Spoleto Art Exhibit and her work is on display at Mt. Pleasant's Charleston Artist Collective.
Williams recently took on a new subject matter, one that's sparked popularity and praise from customers and fellow artists alike.
Her unique "flame" series—comprised of 30 unframed paintings that were a combo of 8-by-10 and 5-by-7 inches in size—was inspired by her time outdoors during this unprecedented COVID-19 pandemic.
"I have a couple acres, and I'm constantly clearing and burning brush out here," Williams said. "When my family and friends come out, we sit around the fire."
As she often gazes at the bright flames, entranced by the repetitive flickering, she feels a sense of familiarity.
"I get that same kind of feeling as watching waves….a contemplative kind of quality," Williams said.
She hopes to communicate and connect with her audience through emotion.
"Whatever I'm painting is kind of just what I'm going through at the time," she said.
That's especially true over the past 12 years, when her painting took on a cathartic power, helping Williams process sorrow and heal from losing a child.
"I tell people that art saves lives; it does," she said.
For more on Beth Tockey Williams and her art, visit bethwilliamspastels.squarespace.com on Instagram @bethewilliamsart and Beth Williams Fine Art on Facebook.