Outdoor Living
02 Mar 2021
Beautify your Backyard this Spring
By Monica Kreber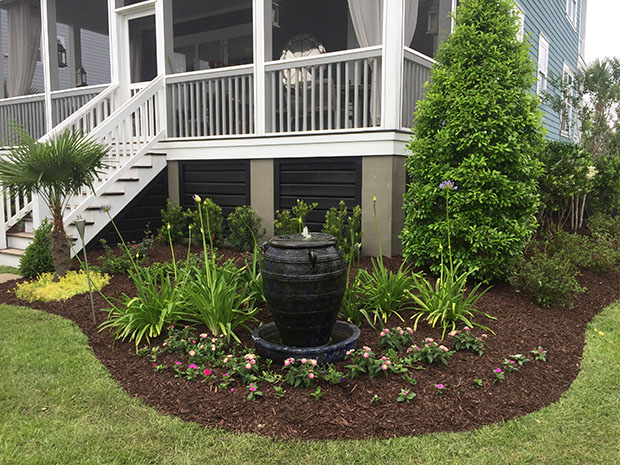 Ahhh….outdoor living. One of the main draws of living in the Lowcountry. Porches and gardens are not to be missed in our historic city, perfect for both gatherings and a respite.
The mild climate in Charleston allows for a number of planting options, from lush tropical greens to colorful blooming native species, like brilliant pink azaleas in the spring. Outdoor spaces can be truly transformative with lounge chairs, umbrellas and dining area.
Don't know where to start? Local experts have the knowledge, experience and personal touch to elevate your outdoor living space—no matter the size or shape—and tons of options to fit your personal style and needs.
Reacquaint yourself with your outdoor space and get inspired through their passion for outdoor living to make your house a home inside and out.
Linda Greenberg Landscape & Design LLC
Personalized landscape design, build and installation
www.lindagreenberglandscapedesigns.com
While she always enjoyed gardening as a hobby, Linda Greenberg realized that she felt compelled to create functional and beautiful gardens.
She followed through with that calling, obtaining her horticulturist degree, and over the last 24 years, she has created hundreds of gardens as a garden designer, making garden beautification and designing a career.
Linda Greenberg Landscape & Design LLC (LGLD) offers custom landscapes, from concept to completion. Her team designs, builds and installs "dream gardens" for her clients that include a seamless transition flow from the interior of the home to the garden spaces.
The key elements of these gardens include an array of colors, textures, forms and fragrances. Greenberg emphasizes that designing with an eye on these elements is critical. Organic gardening is the only way she prefers to treat a garden.
She creates grand outdoor kitchens, pavilions, patios and meandering pathways. She always prefers to include water and fire elements, like fountains and fire pits.
"A garden is a very personal, custom situation and every garden is completely different from the last, which is, I think, one of the reasons why I love what I do – because it's so transformative," Greenberg said. "It's really important to understand what the client's goals and desires are, but I think it's also equally important to educate them on what is realistic."
The arrival sequence, home's architecture, available space, budget and lifestyle are all elements Greenberg considers and reviews with her clients.
"Nature is so important to our emotional and spiritual health," she said. "It's a gift to be able to honor the space, to respect it and, hopefully, have that garden outlive me."
Greenberg also enjoys historic preservation – something she often faces when working with homes in downtown Charleston.
"I have to really honor the spirit of the space and the history that was in that space," she said.
One of Linda's favorite terms is "mindful gardening," which is how to maintain the garden using a low-maintenance approach so that whenever the client is in the garden, it is inviting every day of the year. Every garden should reflect the client's taste, including their favorite colors and ideas that will adapt to their lifestyle.
"Your garden should be your happy space and it should be filled with everything that makes you feel good," Greenberg said, adding, "I can do anything and everything you can imagine for the outdoors of my clients' homes. If you imagine it, we can build it."
For the seventh year in a row, Linda been selected as a Best of Houzz Professional on the elite designer platform houzz.com. LGLD creates extraordinary gardens in both Charleston and Charlotte.
She can be reached at 704-995-7173 or by email at linda@lglandscapes.net. Find out more at lindagreenberglandscapedesigns.com, on YouTube or on social media @lindavgreenberg.
Outside is In
Premium, hand-crafted outdoor furniture
1717 N Hwy 17, Mt. Pleasant
843-718-7181
High-end meets unique designs and affordability with premium outdoor furnishings at this Mt. Pleasant store and showroom.
Outside is In, formally known as the Teak Hut, served thousands of customers in the Lowcountry for more than 10 years. It adopted its new name about five years ago shortly after moving to its current location on Hwy 17 in Mt. Pleasant.
Bob Kelliher took over as the sole owner with a mission to expand the store's offerings beyond teak and mahogany, carrying new lines featuring synthetic wicker, powder coated aluminum and polymers, as well as offering more design center services with custom furniture and cushions.
Kelliher said teak wood, particularly grade A teak, has long been sought out by high-end furniture makers and boatbuilders because of its ability to thrive in outdoor environments for many years with little maintenance. Its resistance to rotting and splintering, along with its superior dimensional stability, helps to ensure that your furniture will have less issues over time.
Outside is In offers its own line of outdoor teak furniture as well as premium lines from Gloster, Barlow Tyrie and Castelle. Their popular Generations line has a large inventory at the store, often allowing for quick purchases with no waiting.
"We think of our store more as a design center for the outdoor space rather than a furniture store," Kelliher said.
Claudia Trowman is the design center's in-house designer and, like Kelliher, is available to go to a client's home to help with the design and selection process.
The store recently had a project working with Sara Ann Rolfes of Sara Ann Rolfes Interiors; the project consisted of furnishing the courtyard of a historic house downtown.
The owners enjoy entertaining and using their outdoor space for family gatherings. It was important that the furniture match the property's style along with the client's need for functionality. With an upcoming important event at the house, the team was challenged to install all the items within eight days.
"Fortunately, we often have a substantial inventory on hand and were able to provide our classic Big Sur collection along with several other pieces to provide the solution the client needed," Kelliher said.
"What we try to do with our clients is educate them on what their options are out there, and what will work for their space, but we also listen to see how they're looking to use their space," he said. "Almost all of them appreciate and enjoy the time we spend talking to them about possible solutions."
The store is located at 1717 N Hwy 17 in Mt. Pleasant. Walk-ins are welcome during normal business hours: Tuesday through Friday from 10 a.m. to 6 p.m., Saturday from 10 a.m. to 5 p.m. Mondays are by appointment. Learn more at www.Outside-is-in.com.
Backyard Retreats
A one-stop shop for outdoor furniture and décor
554 Johhnie Dodds Blvd., Mt. Pleasant
Sharon Campbell always likes to tell people: Backyard Retreats is not a typical outdoor furniture store.
Campbell's team considers the store as more of like a boutique – a place where customers can walk in and browse the different products while brainstorming elements that can be brought into their outdoor living space.
Customers can find the store off of Highway 17 – a brick building with a line of brightly-colored Adirondack chairs leading up to the entrance.
Her business dates back to her days of being a designer and wanting to help residents beautify their backyards. Campbell works as a team alongside her daughter, Darla Miller, and their main goal is to bring their customers' personalities into their outdoor living space. Campbell is the owner and Miller is the store manager.
Campbell said they make a good duo and describes her daughter as her "righthand" person who knows the products probably better than anyone.
Campbell said the store has built a good name for itself in the Charleston area over the years; Backyard Retreats is celebrating its 25th anniversary this year and it's still growing.
"I love it when people tell me, 'if you want good furniture you go to Backyard Retreats,'" she said. "I like that philosophy. I like to be able to be known as that."
"I think that comes from good customer service and just having good customers out there," Campbell added.
She describes her store's items as high-quality in the way they are manufactured. The store sources its furniture predominantly from manufacturers within the United States. In the store, customers will find anything from outdoor furniture pieces like wickers, marine-grade polymer pieces, tubular aluminums, lamps, custom accent pillows, rugs and more. Campbell said her store likes to be a part of the whole process with its customers, from start to finish."
With the pandemic, the store has seen a lot of customers wanting to update their backyards and "spice it up a little bit." As residents are spending more time at home, Campbell said a lot of customers are making comfort a priority when making those changes, from adding fluffier pillows to incorporating more soothing colors.
"I think COVID has made us more aware of being more comfortable and trying to maintain a comfortable feel," she said. "I think that cozy feeling is going to be a real big trend this year."
As the pandemic is still ongoing, Campbell's advice to prospective customers is to keep in mind that it takes longer for items to ship in.
"Time is of an essence – they really need to go ahead and make the move," she said.
Backyard Retreats offers walk-ins and consultations Monday-Friday from 10 a.m.-5 p.m.
and Saturdays from 10 a.m. to 4 p.m. Learn more at backyardretreatssc.com.