Hyman's Seafood
21 Sep 2014
By WENDY SWAT SNYDER » Photos by ASHLEY WALKER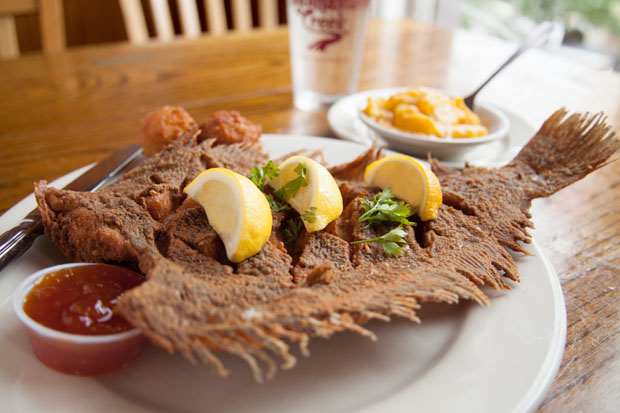 The next time you hear the words "tourist trap" when the name Hyman's Seafood is mentioned, you may want to respond with a challenge, since many of the mostly local crowd who bandy about that term have never even eaten at this Charleston institution. It would be reasonable to ask what, then, is it about this no frills, rambling seafood emporium in the middle of the historic district that keeps lines of hungry folk spilling out the front doors onto Meeting Street year after year.
Hyman's Seafood has been dishing up Charleston seafood classics with a side of genuine Southern hospitality for nearly three decades. If you haven't dined there yourself, you should brave the lines and go. The uninitiated may scoff—put off by the cue of patient tourists—but you should go and judge for yourself.
Case in point: The 2007 Southern Living Readers Choice Awards that placed Charleston at the top of the list of favorite Southern cities named three local restaurants as winners in the dining category. Magnolia's was voted favorite splurge restaurant, and "Two other Charleston restaurants, Hyman's Seafood and Hank's Seafood Restaurant, received tons of votes as best seafood restaurants."
The accolades continue. This year, seafood lovers voted Hyman's lump crab cake the city's best in a Charleston Living Magazine Best Of poll. When we tracked down co-owner Eli Hyman for the winning recipe he was willing to venture only a few details about the proprietary blend: "We use handpicked back fin blue crab meat—the cake is 87% meat—a small amount of filler, a special blend of spices, and a little egg to bind it all together."
Hyman also credits hard work and working with passion and sincerity for the restaurant's popularity. "We're going to do everything we can to please that guest, and they're going to go out and talk to others about us."
That word of mouth is driven by a menu of straightforward dishes prepared with fresh, superior quality product that is sourced locally whenever possible. Hyman's participates in the Sustainable Seafood Program and uses Limehouse Produce exclusively. In fact, according to Hyman, the restaurant's reputation for quality seafood product is so strong that other restaurants borrow from his kitchen when they run out.
A simple side dish of hush puppies—imperative to the traditional Southern fried fish platter—is executed as perfectly as the seafood, and that's a good indicator of what's to come. The nuggets are light with a crunchy bite and clean taste, thanks to the fresh fryer oil changed daily. The kitchen sources stone ground cornmeal from North Carolina-based Atkinson Milling Company notes Hyman. "We tweak it with beer, sugar, honey, onions, and let it rise overnight to get that fluffy interior. We've used the same recipe for 27 years."
Which would be about the time Hyman and brother Aaron re-purposed the family's century-old wholesale dry goods business and opened the doors of the new warehouse-turned-eatery in 1987. The two had worked in local restaurants growing up, so the transformation made sense when eminent domain gobbled up most of father Wolf Maier Hyman's property so the city could build a parking garage.
"It's what we knew," notes Hyman. "It was a very good fit for me—I like people—my language of love is performing acts of service." he adds, acknowledging how key this awareness is in the hospitality business.
Hyman says he expects his staff to do an outstanding job, holding them to the same values and work ethic as he does himself. "It's vital to work with people who care—who go to a table with a smile. That's how we remain a destination restaurant."
Indeed, that consistency in quality service and seafood has maintained Hyman's enviable position for almost 30 years. Inside the lively restaurant, original heart pine floors and Old English brick set off a glittering display of framed photos of visiting celebrities whose itinerary included a meal at Hyman's Seafood.
Bestsellers include Hyman's signature dish—the crispy flounder—which comes to the table deep fried and whole. Hyman contends that, because it is scored, it's easy to eat, but novices can review a "how to" video on the company website. The Carolina Delight features perfectly cooked shrimp—local, when in season—in a garlic Alfredo sauce served over a fried grit cake and dusted with a hint of Cajun spice. Combo platters come with various assortments of fish and shellfish, including oysters—also local or from Florida and Maryland—that are fresh, never frozen.
Tuna, trout, cobia, amberjack, and mahi mahi are also sourced locally when available. Sweet, delicate sea scallops from a trusted vendor in New Bedford, Connecticut, are phosphate-free "dry packed." Hyman eschews the wet style, with added chemicals that cause the shellfish to absorb moisture—making it appear plumper than it actually is.
The seafood driven menu also features choices like a USDA prime filet, chops, chicken, pastas, and barbeque. Salads can be embellished with broiled or fried shellfish, and housemade soups include Hyman's award-winning Charleston she crab.
The Aaron's Deli menu offers sandwich favorites like the authentically delicious hot pastrami. Hyman promises that a new smoker he's installed will "take it up another notch." Grilled burgers and chicken, and po-boys stuffed with shrimp, crab, oysters, or gator tail sausage round out the something-for-everyone menu.
Thirsty? Kick off the meal with Hyman's signature Bloody Mary – a lively blend that arrives garnished with the requisite celery stick as well as citrus, pepperoncini, and a dusting of the house spice mix. This recipe, too, won top honors in a local competition. And don't forget to ask for a bowl of boiled peanuts. The kitchen uses a special nut that stands up to several hours of cooking without becoming mushy.
Hyman says when skeptical locals do find their way to the restaurant—often brought in by visiting family or friends—they're surprised. "Over the years, I have gotten to know so many loyal fans, both locals and out-of-towners who stop in whenever they're in Charleston," he muses. "We in the hospitality industry are ambassadors of the city. The leadership and vision of Mayor Riley made Charleston the city it is today, and it's our job to maintain its unique Southern character."
Hyman's Seafood
215 Meeting St., Charleston SC
843-723-6000
hymanseafood.com