Innocence Lost and Found
21 Sep 2014
Charleston Animal Society and kind people breathe new life into pets' troubled past
By HOLLY HERRICK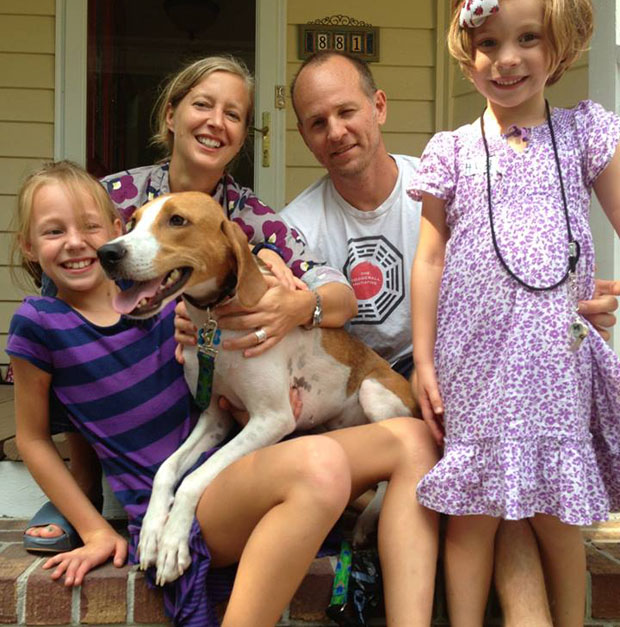 For animals that find themselves lost, hungry, injured, scared, abused or homeless, it probably couldn't happen in a better place than Charleston County. That's because it is home to the Charleston Animal Society, a 140 year-old non-profit organization that takes in over ninety percent of the stray and unwanted animals here, more than the thirty animal organizations and agencies currently active in the county combined, according to Charleston Animal Society CEO Joe Elmore.
Not only does Charleston Animal Society have an "open admission" policy, it also abides by what Elmore calls the "mainstream" (and more accurate) definition of no kill: "saving every healthy and treatable animal." In the past year, a staggering 88% of the animals entering the shelter were released alive. When compared to the SC state average of a thirty three percent euthanasia rate for the same amount of time, the success rate is even more impressive.
In the Arms of Angels
The Charleston Animal Society also has someone that no other animal organization in the county, state or country does. Her name is Kay Hyman. Locals may recognize her from the countless television spots she does, and on various radio stations to tirelessly pair homeless animals with the best would-be foster or adoptive parents. The Charleston native has been working there in some capacity for nearly twenty five years. Beginning as a volunteer after she had a job change, she tapped into her inner child to figure out the next leg of her professional journey. "My Mom and relatives told me that in every picture of me from the age of two until age ten, I was holding an animal," says Hyman.
These days, operating as Director of Community Engagement, Hyman's ambitious job entails not just pairing the animals with people, but overseeing the adoption process of each of the pets from beginning to end and ensuring they go to loving, qualified homes. Hyman speaks of pets she's helped with an iron-trap memory of each of their stories and a warm, maternal heart. "There are some days I have to stop myself to stop thinking about them (the animals). It's just so hard, some of their stories," Hyman explains.
For example, Sassy the cat who was found pinned in the chasse of an eighteen-wheel trailer off of Rivers Avenue in North Charleston. "Her shoulder was completely crushed and she couldn't move and one of her legs was so mutilated it had to be amputated," recalls Hyman. "She weighed fourteen pounds (you never meet a feral cat that weighs that much) and had a spay tattoo, so we knew she had a previous, good owner." Hyman blasted her face and information on television, social media and in the newspapers, but no one stepped forward. So Hyman took in the terrified cat who had a tendency to hiss and growl (hence the name Sassy) herself, until she found a foster parent in Hope Preville.
Another pronounced memory is of Penelope, a Chihuahua found staggering half-dead down a road with her right ear ripped off of her tiny head. Someone found her and took her to a shelter and eventually, with the help of Kay, The Charleston Animal Society and the loving arms of now owner Pam Yarborough, she found a happy home.
Sadie (a.k.a. Sassy) The Trucker Cat
Hope Preville is a twenty year-old College of Charleston student studying Special Education and working part-time as a nanny and a babysitter. She has been fostering animals through Charleston Animal Society for nearly three years and has adopted two cats through them, Simon and Spooks, both initial fosters that she loved enough to adopt permanently. She is something of a serial animal lover, foster parent and adoptive parent. "I started out doing kittens, then dogs, and then started working as an Adoption Ambassador. I take them to the beach or a park with a vest on them that says "Adopt Me," says Preville. "I have company and a friend. It's really rewarding to get to show the dogs off to people."
At the time of this interview, Sadie had been in her home and in her care for just three days. She's adapted well to being in a domestic environment away from the strange sounds and smells of the shelter, further testimony to the fact that she previously was in a loving home. Gone are the hissing and the growling, and the name Sassy. "Sadie's the sweetest cat. I feel badly for the people missing her. She loves and purrs all over me and just hobbles along happily to greet me," says Preville with a gentle giggle.
Penelope
Pam Yarborough is a Charleston native (recently relocated to Tennessee), a Special Education Teacher Assistant, and the proud owner of four Chihuahuas. The newest member of the family is Penelope. "My daughter saw the pictures of Penelope posted on the Charleston Animal Society's website about her injuries. The pictures were rough to see, but there was just something about her little face that drew us in. We messaged Kay asking about her progress quite often," says Yarborough. Eventually, the paperwork was in motion and before long, Penelope had a new home.
"She is so sweet. She just needs a lot of tender care. I love to watch her sleep and she and my husband have snoring contests. She is still not 100 percent, but she is well on her way and knows that we love her dearly. Penelope has also learned to sing/howl with my husband. It's silly, but the dogs love it. There are a lot of little things she does that shows us how she survived on the streets. It's sad, but she is safe now and always will be," says Yarborough.
For more information about The Charleston Animal Society and how to adopt or foster a pet, visit charlestonanimalsociety.org