If Mother Nature Threw a Spring Soiree
05 Mar 2022
-or- How to crush your next brunch with aplomb
Text and Photos by Kimberly Byer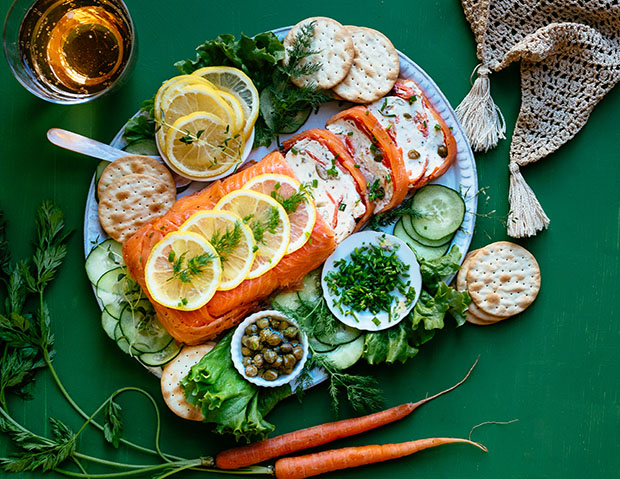 She greets you at the door, looking resplendent in her floor-length floral dress, her smile as warm as the sun itself, and her home sparkling like a field of white daisies. She hands you a pale-yellow cocktail in a crystal coupe. It's topped with a delicate foam that slides across your lips like a creamy citrus kiss.
On the buffet, tiny quail eggs nest in puffs of golden pastry, and slices of smoked salmon terrine beckon you to their savory, salted platter. And the prettiest casserole of the season—an asparagus and egg custard beauty—poses like an en plein air painting of her lush, backyard garden. Before the afternoon ends, she serves you a slice of coconut cake filled with Key lime cream that momentarily transports you to the coastal islands. Sigh.
When you finally wake up, far from the wild green wonder of her dreamy soiree, it's time to scrounge up something for dinner. Perhaps you'll try one of these down-to-earth dishes with their kitchen-window herbs, fresh eggs, and lemon-scented goodness. Know that you, too, can crush your next brunch, just like that showoff, Ms. M. Nature.
Quail Egg Pastries with Parmesan & Snipped Herbs

Smoked Salmon Terrine with Crème Fra

î

che, Lemon & Capers

Shredded Caesar Side Salads with Parmesan Lace Crackers

Asparagus & Egg Custard Casserole

Coconut Cake with Key Lime Cream Filling & Whipped Coconut Frosting

Citrus Crema Cocktails, a.k.a Ladies' Brunch Punch
***
Quail Egg Pastries with Parmesan & Snipped Herbs
Makes 15 pastry squares
1 sheet all-butter puff pastry dough (9" x 15" x 1/8") + flour for rolling
1 large egg + ½ teaspoon water, for egg wash
15 quail eggs (1 carton), near room temperature
1 ¼ cups grated cheese (Parmesan + extra sharp cheddar or cheese of choice), near room temperature
1 rasher of bacon, cooked and sliced (optional)
Handful of fresh herbs: basil, thyme, & chives, minced
Preheat oven to 400°F for 10 minutes prior to use.

Unfold thawed pastry onto a thin sheet of flour. Sprinkle a small amount of flour over the top. Using a rolling pin, gently increase the size to 16" x 14". Brush with egg wash.

Using a knife or pizza cutter, slice into 16 squares. Press indentions the size of a silver dollar (e.g. a small biscuit cutter plus an espresso tamper or thumbs) in each dough center. Then, prick holes in each center with a fork. Bake the squares on a cookie sheet lined with parchment paper for about 15 minutes or until pastry begins to rise and turn golden.

Remove from oven and "pop" dough centers with a skewer or knife.

Pile cheese into the square centers, sprinkle on bacon, and bake until cheese begins to bubble and brown, about 5 more minutes. Remove and "pop" dough centers again, if necessary.

Carefully crack a quail egg over each pool of cheese (or pre-crack into a bowl and use a small ladle to remove one by one) and bake until whites are no longer translucent (or yolks cook). Remove from oven, sprinkle with herbs, and serve warm.
***
Smoked Salmon Terrine with Crème Fraîche, Lemon & Capers
Serves 10-12 as an appetizer
2 tablespoons gelatin powder
14 ounces thinly sliced, smoked salmon, brown bits removed
8 ounces cream cheese, softened
8 ounces crème fraîche
2 tablespoons capers
2 tablespoons Dijon mustard or wholegrain mustard
Handful of fresh dill and chives, finely chopped
Zest and juice of 1 lemon (divided use)
4 ounces good-quality smoked salmon, brown bits removed (optional step)
Crackers or toast points and/or lemon and cucumber slices for serving
Bloom gelatin in 1/2 cup water until spongy (about 5 minutes).

Spray a mini loaf pan (8" x 4" or similar-sized mold of choice) with baking spray then line with several sheets of generously overhanging plastic wrap.

Line the pan with smoked salmon, arranging slices up all sides and leaving a small amount of overhang (about ½"). Cover gaps with smaller pieces and chop any remaining bits for the filling.

In a medium bowl, using a fork, mix cream cheese, crème fraîche, capers, mustard, dill, chives, chopped bits of leftover salmon, and a teaspoon of lemon juice until smooth.

In a small saucepan, add bloomed gelatin and remaining juice from lemon. Bring to a quick boil, then slowly pour, and stir into the cheese filling.

Gently ladle filling into the center of the salmon in the loaf pan and wrap top edges with overhanging salmon slices. Cover with overhanging plastic wrap and press to smooth flat.

Cover and chill for at least 6 hours or overnight. Unwrap the top film, cover pan with an upside-down platter, invert and gently pull film to release the terrine. If desired, wrap additional smoked salmon layer over the entire terrine. Garnish with lemon slices, lemon zest, fresh dill, and chives.
Note: Smoked salmon quality and price vary greatly, so you may want to consider less expensive salmon for the initial wrap (hello, Trader Joe's) and a top-quality salmon (hello, local fishmonger) for the outer wrap. Higher quality salmon is typically thinner, paler in color, and slightly translucent.
***
Shredded Caesar Side Salads with Parmesan Lace Crackers
Makes 4-6 salads
4 slices day-old bread of choice
1 garlic clove, skin and inner germ removed
4 tablespoons butter
3 romaine hearts (1 ½ pounds), shredded into ribbons
1/2 cup shaved good-quality Parmesan cheese
Parmesan Lace Crackers (see below)
Parmesan Lace Crackers
2 ounces Parmesan cheese, grated (about 1 cup)
Caesar Dressing
1 garlic clove, minced
Juice of 1 lemon (about 2 tablespoons)
2 anchovy fillets, smashed into a paste
1 teaspoon Dijon mustard
1 teaspoon Worcestershire sauce
1 tablespoon capers
1 cup Duke's mayonnaise
2 ounces Parmesan cheese, grated (divided use)
1-2 tablespoons milk, or as desired for preferred consistency
Kosher salt and fresh black pepper, to taste
Preheat oven to 350°F. Spread shredded Parmesan evenly onto a small baking sheet or jellyroll pan (10 x 15-inch) lined with parchment paper. Bake for 12-15 minutes until cheese melts and turns golden. Remove from oven. Cool completely, then break into large chards.

Preheat the broiler. In a microwave-safe bowl, heat garlic clove with 2 tablespoons of butter for 10-15 seconds. Add a pinch of kosher salt. Rub garlic on bread slices, and then tear bread into small pieces and toss in butter.

Turn broiler on high. Spread croutons onto baking sheet lined with parchment paper. Broil for a few minutes, turning once, until crisp and golden on the outside but still slightly soft in the center.

In a medium bowl, whisk the minced garlic with the lemon juice, anchovy paste, Dijon, Worcestershire sauce, and capers. Gradually whisk in the mayonnaise and half of Parmesan cheese. Stir in a tablespoon of milk and repeat, if necessary, until desired dressing consistency is reached. Season with salt and pepper.

Before serving, toss romaine ribbons with Caesar Dressing and transfer to individual bowls. Top with croutons, extra Parmesan cheese, and Parmesan Lace Crackers.
***
Asparagus & Egg Custard Casserole
Makes 1 deep-dish casserole
6 ounces Gruyère cheese, grated
10 large eggs
1 12-ounce can evaporated milk
½ teaspoon kosher salt
¼ teaspoon coarse pepper
12-15 grape tomatoes, sliced
1/2 cup fresh, shelled English peas
Heaping tablespoon of minced yellow onion
1 bunch fresh asparagus (about 20 stems), rinsed and peeled (if thick) with woody ends snapped
¼ cup Parmesan cheese, grated
Preheat oven to 350°F. Grease a deep-dish casserole (8" x 11" or similar) with butter or baking spray and layer in

Gruyère cheese

.

Crack eggs into a large bowl. Add evaporated milk, salt, and pepper, and whisk until smooth.

Sprinkle tomatoes, peas, and onion over

Gruyère, and then pour egg mixture evenly over top.

Float asparagus spears atop the egg mixture and top with Parmesan. Bake for 35-45 minutes, rotating dish once. Eggs should be set, puffy, and golden.
***
Coconut Cake with Key Lime Cream Filling & Coconut Frosting
Makes one 3-layer 6-inch cake
Coconut Cake
2½ cups cake flour (or see note for substitution)
1½ cups sugar
1 tablespoon baking powder

1 teaspoon kosher salt

2 large eggs (whites only)
1 can full-fat unsweetened coconut cream
1 cup canola oil
1½ teaspoons good-quality vanilla extract
Key Lime Curd
Yield 2/3 cup
2 large eggs (yolks only)
Zest of 1 lime
1/4 cup + 2 tablespoons sugar
Pinch of kosher salt
1 tablespoon cornstarch
1/2 cup key lime or lime juice (fresh or bottled)
1 teaspoon cold, high-fat butter
Toothpick tip of blue food coloring (optional)
Key Lime Cream Filling
1/2 cup sugar
4 ounces cream cheese, softened
4 ounces sour cream
5 tablespoons Key Lime Curd (see recipe)
1 teaspoon coconut extract
Coconut Frosting
4 ounces cream cheese, softened
4 ounces sour cream
2 tablespoons sugar (or more, to taste)
1 teaspoon coconut extract
8-ounce tub of whipped topping
1 cup unsweetened coconut flakes
Decorations: lime zest, lime curls, coconut flakes, mint leaves, and/or non-toxic greenery or flowers.
Bake the cakes:
Preheat oven to 350°F. Spray three 6-inch pans with baking spray and flour. Line with parchment paper.

In a large bowl, whisk cake flour, sugar, baking powder, and kosher salt together.

In a small bowl, using a whisk, aerate the egg whites until they begin to turn white and fluffy.

In a medium bowl, whisk coconut milk, canola oil, and vanilla extract. Fold in egg whites and gently stir until blended. Then, incorporate wet ingredients into the large bowl of dry ingredients.

Divide the batter evenly between the 3 pans and bake until a toothpick inserted into the center comes out clean (about 35 to 45 minutes).

Cool completely before removing cakes from pans.
Make the Key Lime Curd:
Separate yolks into a small bowl. Stir in lime zest.

In a small saucepan, stir sugar, salt, cornstarch,
and lime juice together. Stir while bringing to a boil.
Temper the yolks by stirring 1-2 teaspoons of boiling mixture into yolks before adding them to the saucepan.

Stirring continuously, return to a boil for about 3 minutes, until thickened.

Remove from heat, add butter, and stir until melted. If desired, dip one end of a toothpick into blue food coloring and stir into curd to make a greener color. Repeat if needed.
Make the Key Lime Cream Filling & Coconut Frosting:
Using an electric mixer, beat sugar, cream cheese, sour cream, and extract on medium-high until smooth. Scrape sides down with a rubber spatula and add 5 tablespoons of Key Lime Curd. Beat for 1 minute. Remove to a small bowl and chill.

Next, in a clean mixing bowl, add cream cheese, sour cream, sugar, and extract to the mixer, and beat on medium-high for 30 seconds. Add coconut flakes and whipped topping, and stir by hand with a rubber spatula until fully incorporated. Taste and fold in additional sugar, if desired. Chill until ready to use.
Assemble the cake:
If needed, carefully slice the crowns off layers with a long, serrated knife to make a perfectly flat cake. Place first flat layer on a cake plate or Lazy Susan. Using a spoon, smooth a heaping dollop or two of Key Lime Cream Filling in the center of the cake avoiding the outer edges by 1 inch. Repeat with next cake layer. Place the top cake layer on and add a large dollop of Key Lime Cream Filling to this, as well. Then, steady the cake with a wooden skewer (or similar) forced vertically down the center of all 3 layers.

Next, using an icing spatula, frost the outside of the cake with a layer of Coconut Frosting. This will help contain the filling. Then, spread a thicker dollop of frosting on top of the cake to enclose the Key Lime Cream filling on top. Frost the entire cake with a thick layer of frosting. Refrigerate (overnight is best). Before serving, remove skewer and decorate. Serve slices with a dollop of remaining filling.
Notes:
To substitute all-purpose flour for cake flour, measure out 2 ½ cups all-purpose flour, then remove 2 ½ level tablespoons. Sift remaining flour with 2 ½ tablespoons of cornstarch.

Leftover Key Lime Curd can be frozen for several months or refrigerated for another use for up to one week.

Refrigerated, frosted cake reaches peak deliciousness on the third day and lasts up to 1 week.
***
Citrus Crema Cocktails a.k.a. Ladies' Brunch Punch
Yields 2 cocktails
2 ounces rum
2 ounces freshly squeezed orange juice
2 very fresh, large egg whites (or 3 tablespoons pasteurized egg whites)
4 tablespoons simple syrup (see note)
1 ounce freshly squeezed lemon juice
1 ounce freshly squeezed lime juice
1 ounce heavy cream or half-and-half
Ice to fill shaker
Club soda for splashes
Dry shake (no ice) rum, orange juice, egg whites, simple syrup, lemon and lime juices, and cream in a cocktail shaker for 45 seconds.

Add ice (to ¾ full shaker) and shake again for 45 seconds.

Strain into glasses, then add a few cubes of ice from the shaker. Add a splash of soda to each drink. Soda enhances the separation of egg white foam (crema) from the drink.

Add a citrus twist or two and enjoy.
Note: To make a batch of simple syrup, dissolve ½ cup sugar into ½ cup water. Heat and stir.