A trip to Flowertown Garden Center is a feast for the senses
By Jenna Ley-Jamison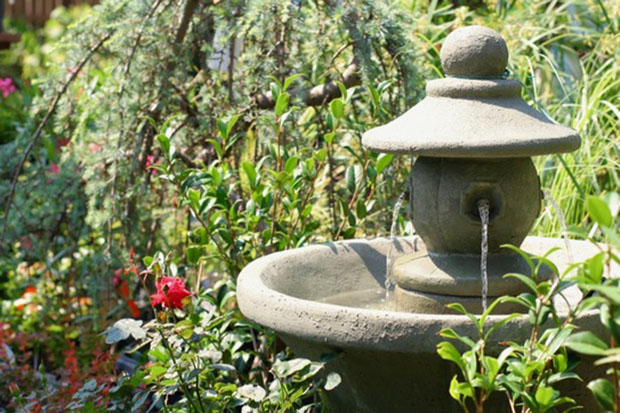 Visiting Flowertown Garden Center is anything but a typical trip to the store to pick up extra mulch or a new potted plant for the porch. It's a one-of-a-kind experience that engages all the senses and transcends the ordinary garden center stop at a big box chain store.
"(Customers) say we should charge admission; they say it's like a little park," said Charlene Sharkey, co-owner of Flowertown Garden Center. "Our whole entire area is like walking through a garden."
That's because the Summerville-based business, located on four acres off Highway 78, is an operation that reflects the heart, mind and soul of green-thumbed Charlene and her husband Paul Moore. For more than a decade, the Walterboro residents have created a lush, green oasis with close to 4,000 types of plants, trees, blossoms and plant materials from the Carolinas and Florida to Texas, Alabama and even Oregon.
"We don't buy anything that won't work in Zone 8B," Charlene said. Species of plants are divided up into various zones where they will best thrive. Zone 8B plants can withstand an average winter temperature as low as 15-to 20-degrees Fahrenheit.
Whether the customer fancies the popular South Carolina Palmetto, lush magnolias, or Flowertown's favorite azaleas, the business guarantees it can deliver. After all, meeting the community's vegetative needs are part of the owner-pair's passion.
And it's that passion and knowledge that makes them the seasoned experts customers want to help answer their gardening questions.
People who come into garden centers want answers; they want to be able to come in and say, 'What can I put here?'" Charlene said.
And that's exactly what the couple does. Paul often explains landscaping ideas to customers, and Charlene offers her expertise on creating combination pots.
What additionally makes the garden center a standout from its industry counterparts is not only its large-scale selection of greenery, shrubs and the like, but also its miscellaneous assortment of fountains, handmade pottery pieces, outdoor home décor, ornamental trinkets and other novelty gifts.
With no shortage of things to peruse, customers can spend hours admiring their options and imagining how each might look in their own yards, decks, porches, patios or sunrooms.
In fact, much of the items for sale on site are separated and displayed in their very own distinctively-themed gift shops on site.
"They're all themed, which is really fun," Charlene said. "We've had a blast with them."
There are currently seven total gift shops—with two more in the works, set to open later this year. They range in themes from a "Mother Earth" boho theme filled with candles, essential oils and other soothing souvenirs, an "enchanted garden" with decorative garden fairy figures and other whimsical items to one featuring essential garden apparel.
But Charlene ardently pointed out that it's her talented better half who's done most of the work on the shops and overall property. Charlene touted how through countless hours of planning and designing, Paul has successfully brought to life his vision for Flowertown Garden Center. Simply put, the operation is nothing short of his artistically engineered, botanical masterpiece.
"He plans everything in his head, and he can work it out to the finest detail. His touch is on everything; he's got the most creative mind of anyone I've ever met," Sharkey said.
In addition to offering more products than most other garden centers, the Sharkeys' utopia of flourishing native flora also offers a priceless quality—Southern friendliness and small-town charm. They are the specific qualities that draw in new customers and turn them into staple ones.
"My favorite thing is actually talking to the customers—I love it," Charlene said. "I love hearing their stories; I love helping them."
The couple opened Flowertown Garden Center in its current location about 11 years ago. But the business's humble beginnings were in a smaller space along Orangeburg Road, with Paul handling most of the day-to-day operations while his wife worked as a teacher at Summerville Catholic School and later Pinewood Preparatory School. Paul grew up working with plants, helping on his grandfather's farm as a child and later working at his brother's tree farm.
"He's had this love all his life…then he wanted to do his own thing," Charlene said.
After retiring from her career in education in March 2010, Charlene started working full-time for the garden center. But post-retirement hasn't offered her a less relaxing work week. Besides the Sharkeys, only one other full-time employee works there.
"It's a lot to keep up with," Charlene said, "but we have a few part-time people."
While the store is closed on Sundays, the owners only take off every other one, often giving them a 13-day work week. That's because maintaining the property never stops. Behind the scenes, the husband-wife duo spend time pruning, watering, and ensuring the plants stay well-nourished and the area's overall aesthetics look top-notch.
The height of the COVID-19 pandemic also didn't slow business; it only ramped it up.
"We had a huge increase simply because people were home, and for the first time in years they were actually out in their yards…recreating a space in their backyard or starting from scratch," Charlene said.
The result? More amateur gardeners with a newfound hobby began flocking to the business as repeat customers.
"People who had never ever gardened before have fallen in love with it—customers who started last year and we see them on a regular basis," Charlene said. "We were very fortunate that we were in the type of business that could stay open."
"I love it; I absolutely love it," Charlene said. "We've worked really hard to get the center to where it is, and we've worked hard to keep it that way."
Flowertown Garden Center is located at 410 E 5th N. St., Summerville. For more information, visit Flowertown Garden Center on Facebook or online at flowertowngardencenterllc.com.