In the Heart of James Island
01 Mar 2012
Glenn Christiansen brings the heat with his New York style wood-fired kitchen
By Denise K. James » Photographs by Dickson Dunlap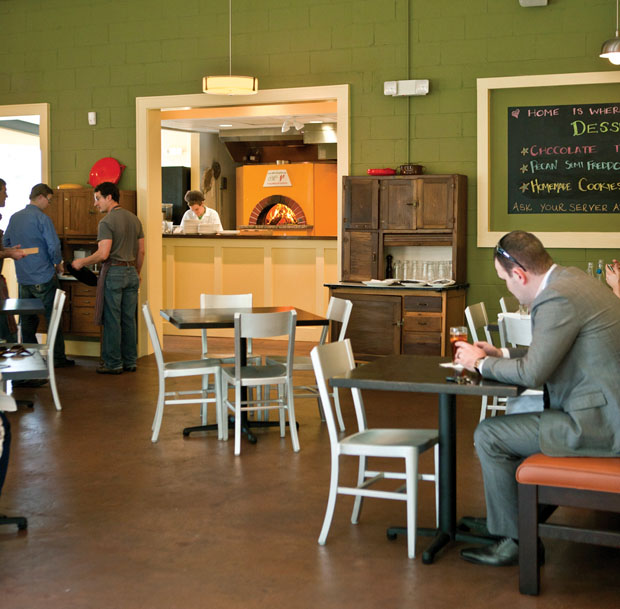 Glenn Christiansen, like many other residents of the Lowcountry, moved away once and then felt compelled to return.
"I'm originally from upstate New York but I've moved around a lot," says the owner of Heart Woodfire Kitchen. "I earned a degree in hospitality from Virginia Tech and became acquainted with the Homestead Resorts. I figured out food was my true love during those summer internships."
Christiansen initially arrived in Charleston over a decade ago, and learned a thing or two by working at restaurants like FIG.
"I was the first Sous Chef at FIG when it opened," he says. "I learned to use fresh ingredients there and make the most of whatever vegetables were available."
Then during a move out west, Christiansen had a taste of culinary independence.
"I ran a couple of kitchens by myself, and I realized I loved the freedom," he says. " Then I met my girlfriend, Raelynn, while living in California. We decided to move back to Charleston together and open up a restaurant. She wanted to be someplace warm, and I suggested Charleston. I missed it."
Thus, Heart was born.
The concept of Heart is to provide comfort food prepared with a wood fire flavor. Christiansen seems enthusiastic about sharing his passion for yummy, no-frills cuisine.
"I think of the food here as being a great canvas for the subtle, smoky flavor that comes from our wood fire oven and the rotisserie," he says. "When I opened Heart, I wanted a simple place where the meal on your plate and the drink in your glass could really be the focal point. This building, which used to be the Daily Dose, turned out to be perfect after some renovating."
And food is the focal point at Heart—the modest, friendly décor is just understated enough. High ceilings, muted, cheerful shades, and an open floor plan give the restaurant a comfortable, not trendy or stuffy, atmosphere.
As for the name, Christiansen wanted something synonymous with the food.
"I deliberated over a few versions, before settling on Heart Woodfire Kitchen," he says. "Everyone knows what a heart is, and since we're a wood fire kitchen, I kept imagining a fiery heart symbol. I think it does well as our logo. It's positive."
The menu at Heart consists of straightforward dishes like burgers, chicken, and flat bread pizza—but everything is made with tender care.
"One aspect we're proud of is that we grind our meat here in the restaurant," Christiansen says. "Our burgers contain good cuts of beef that a hamburger wouldn't normally have. Also, the bun is made out of brioche dough, which contains egg and potato. We make our own zucchini pickles for the side."
The appetizer list features fresh salads and plenty of dressings from which to choose. The "Speidie" skewers, which are a type of meat on a stick snack, have been extremely popular.
"I wanted something reminiscent of my roots in upstate New York," Christiansen explains. "We have a few varieties like the beef short rib, the house made sausage, and my personal favorite, the Fontina and prosciutto!"
And don't skip drinks with your meal. Heart's cocktail list is full of unique twists on favorite combinations, and the wine list is affordable.
"We have hired an incredible team of bartenders," says Christiansen. "We agreed on classic cocktails that were well thought-out. We use American Artisan liquors as much as possible."
The day that I spoke with Christiansen he had just finished visiting with a wine representative, eager to get some new bottles on the list.
"We're trying to find the best values, but not what everyone else is featuring," he says. "I want things that strike our customers, so we're going through about a million wines. I think we have a great balance of whites and reds right now, both by the glass and bottle."
The future of Heart looks bright, with plans for an outdoor patio taking shape.
"By spring, I'd really like for us to become more of a night spot," he says. "We'll have musical acts and an outdoor bar. I want people to come relax in the evening, have drinks, and enjoy the atmosphere."
Heart Woodfire Kitchen
1622 Highland Avenue, Charleston, (843) 718-1539 www.heartkitchenji.com