Indulge Your Appetite
06 Nov 2017
The most highly-recommended restaurants to satisfy your palate in the Lowcountry
By JENNA-LEY JAMISON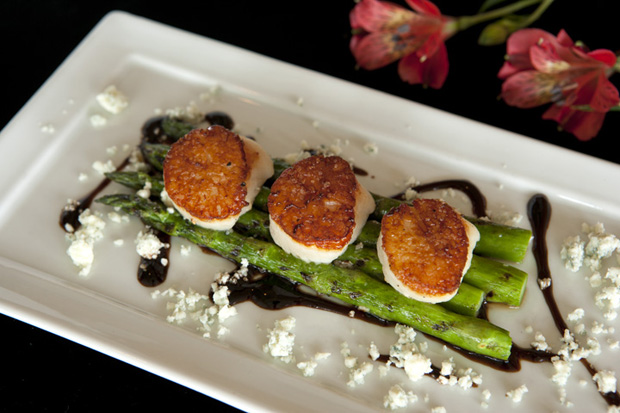 The cuisine and beverage options across the Holy City are endless and satisfying, offering an array of American and international eats with equally appealing vibes—and often views—sure to set the bar high for all your future dining-out experiences. We've compiled our annual list of where readers most enjoy hanging out and indulging all their senses, particularly taste! The top 31 restaurants for 2017 were chosen based on a combination of local feedback, the publication's "Best of the Best" lists and Trip Advisor rankings.
492-King
Drop in one of six days a week to satiate that grueling hunger. Whether it's dinnertime or happy hour, you desire a sweet cocktail, locally-brewed beer or savory wine, or just a simple Sunday brunch, this King Street kitchen has the menu options your mood demands. A structure filled with history having been built in the 1800s, its timeless atmosphere and eye-catching plates offer amorous appeal—the fairytale eggplant is a prime example. But swanky doesn't mean pretentious. There's still a bacon or egg-topped double cheeseburger if you need comfort food on the fly. 492king.com, 843-203-6338
Aaron's Deli
Part of the always-packed Hyman's Seafood, this Meeting Street deli is an authentic burger and sandwich stop that will surely earn a stamp of approval from your inner Joey Tribbiani. You'll find all the classics you crave, from the Philly cheese steak and Reuben to pastrami and corned-beef hash—try the last two together and you have the menu's beloved "King Street Singer." The chicken and beef patty menu proudly reflects the area's hotspots—among them the fried chicken breast "Yorktown" and the mushroom and Swiss "South of Broad." hymanseafood.com, 843-723-6000
Basil
Whether in Charleston or across the bridge in Mt. Pleasant, grab the refined flavorsome Thai food that teases your tongue with unprecedented taste. Curries range from mild to medium. Try the bamboo shoot, basil and bell pepper "red" or the same mix with eggplant and green peas added to give you a "green" curry option. The "masaman" kicks up the heat with an onion, potato and cashew nut blend. Go for the soup, salad or noodle-and-rice dishes. The entrees—some highlighted with garlic, sweet and sour sauce and ginger—will also impress you. eatatbasil.com, 843-724-3940
Bistro Toulouse
Come dine at Mt. Pleasant's Parisian style bistro where French flavors are the focus. With an ever-changing menu, the eatery invites customers to indulge in new and different dishes inspired by the season and motherland. Enhance mealtime with a 3- or 6-ounce glass of wine—18 to 20 labels always available. In addition, the beer is locally brewed and cocktails crafted to your liking. Share a charcuterie and cheese starter or go straight for the escargots Bourgogne or steak tartare. Better yet—dive fork-first into a decadent chocolate mousse or lavender crème brulee. The kitchen also serves a champagne brunch. bistrotoulouse.com, 843-216-3434
Café Framboise
Tease those sugary taste buds or go all the way—and put them in a coma from any number of sinful treats and beverages inside this French-inspired neighborhood-style café. Here the chef is adept at European flair, and both the caffeinated drinks and the pops of pink wall paint will energize your spirit. Forget the calorie-counting and order up that éclair, muffin or caramel macchiato and enjoy an afternoon sitting with a book or friends inside or on the patio. While dessert is a staple here, the kitchen also pumps out filling soup, sandwiches and salads an even healthy, organic fruit-flavored smoothies. cafeframboise.com, 843-414-7241
Cannon Green
Sit among a utopia of outdoor greenery as you feast on Mediterranean cuisine made with locally-sourced ingredients from more than a dozen area farms. Cannon Green's courtyard is a hub of activity in the Elliotsborough neighborhood and offers an historic energy—the sound of carriage rides in the background and cobblestone streets nearby. You'll also spy among the décor the front of a pre-Civil War era house. Wishing for a balcony view—putting patrons above the verdant courtyard? For a fee, reserve a private dining area. Fill up on locally-sourced oysters and other seafood items, along with staple breakfast fare during weekend brunch. cannongreencharleston.com, 843-817-7311
Charleston Crab House
All you need to know when stepping foot inside this "crab-a-licious" spot is whether you like it raw or steamed—your seafood that is, though the menu doesn't discriminate against non-seafood eaters. Come dine at either the Charleston or James Island location—where your eyes will surely spy a vessel or two cutting through the Intracoastal Waterway. Chat it up with the family over a staple Lowcountry shrimp boil dish or snack on a scoop of chilled blue crab dip. But if it's just a party for one, choose a chair at the bar and sip a cold beer like it's a relaxing "stay-cation." charlestoncrabhouse.com, 843-795-1963
Charleston Grill
Whip out that little black dress to match this eatery's upscale dining experience. It's a popular location for dates, celebrations and perhaps some dancing once you hear the main dining room's live jazz tunes. The mood is perfect for falling in love the first time or all over again. But be sure to sample one of 1,300 wine labels available while making goo-goo eyes over candlelight. And please the palate with either simple, clean tastes and local favorites, or French-inspired foods and other international eats. The desserts—German chocolate cake and sorbet—are equally decadent. charlestongrill.com, 843-577-4522
Charleston Harbor Fish House
Food with a view—an unforgettable panoramic view of the sights that make Charleston and Mt. Pleasant a top destination for tourists. That's the highlight of this fish house. So order that margarita on the rocks from the rooftop bar—and survey the land—Patriots Point, U.S.S. Yorktown, Cooper River—while catching a coastal breeze in between sips. To suppress those hunger growls, choose a seafood dish or a Southern staple like fried chicken, ribs or shrimp and grits. charlestonharborfishhouse.com, 843-284-7070
Coast Bar & Grill
Craving seafood galore? Sneak around the side streets while shopping or walking the downtown Charleston strip and discover a hidden mecca of fresh flounder, Oysters Rockefeller, Lowcountry shrimp & grits, steamed mussels and other fish favorites only a coastal destination can provide fast and fresh. Also try the shellfish and popular raw bar all tucked inside this former warehouse. With exposed brick and an outdoor patio with stringed lights overhead, the setting is social but casual. holycityhospitality.com, 843-722-8838
Drawing Room
Like many of its restaurant counterparts throughout the Lowcountry, this niche bistro combines the past with the present, transformed from an 18th century warehouse into a cool, modern hangout with sophisticated décor—chandeliers, bright white walls and long curtains—inside the French Quarter's Vendue Boutique Art Hotel. Drawing Room offers a dining appeal furthered by the kitchen's use of local ingredients and the chef's heart to promote local seafood. Pop in Tuesday for discounted wine or have the resident mixologist craft you an iconic cocktail. drawingroomrestaurant.com, 843-414-2334
Fleet Landing Restaurant & Bar
Surrounded by water and windows to view it, this former U.S. Naval house is often the setting for a hungry crowd. Though located on a pier—at the foot of City Market—in one of Charleston's prime spots for viewing the city and Ravenel Bridge, the menu prices won't leave you full of regret. Try the peel n' eat shrimp, lightly-breaded hushpuppies or burger basket with fries; or unwind with one of 14 different cocktails and martinis from the bar. Craving both breakfast and lunch? Stop by for weekend brunch and fork up crème brulee French toast or Lowcountry grits and quiche. fleetlanding.net, 843-722-8100
Grill 225
East Bay Street's Market Pavilion Hotel is home to this Travel & Leisure Magazine-approved nook for steak, seafood and creatively-crafted chilled cocktails that you're sure to find nowhere else in the Holy City. The most esteemed? The liquid-nitrogen infused "Nitrotine." Chilled to a whopping 325-degrees below zero, it's a drink you'll likely not forget. Menu options include everything from pan-seared flounder to red snapper, oysters and even a chilled seafood tower. For lighter fare try a fried-green tomato salad. marketpavillion.com/grill225.cfm, 843-723-0500
Halls Chophouse
There's perhaps no better locale to enjoy a juicy, thick cut of steak than at this lush downtown Charleston hotspot at the top of nearly every Lowcountry food list. Aged and seasoned to perfection, meat cuts include everything from mouth-watering New York strip and prime rib to tender filet mignon, ribeye and succulent porterhouse. But it's not all about the beef. Try veal, pork, duck, chicken and raw bar favorites. Sides, desserts, wines and ambiance—the soft lighting and live piano music—are also part of the memorable dining experience. No patron leaves without a smiling face and full belly. hallschophouse.com, 843-727-0090
Hank's Seafood
Step inside to this luxurious world of class and sophistication, where waiters don white dinner jackets, and white linen-covered tables greet you at every turn. The last decade this saloon-style restaurant has served locals and tourists alike sauntering through downtown's Historic District. The restaurant has retained the same posh vibes from its past life as a 1970s disco club. Once you find a seat, start with a drink—order a shot of premium whiskey or sweet sangria for the lady. Then spoon up some oyster stew or opt for one of several classic menu options: roasted salmon, seared beef tenderloin or the raw bar's tuna tartare. hanksseafoodrestaurant.com, 843-723-3474
Henrietta's at The Dewberry
Located inside Charleston's upscale hotel, The Dewberry, this fancy food hub mirrors the traditional characteristics of a French brasserie and provides top-notch fare—many dishes cooked to perfection on a custom wood-burning grill that's the kitchen's central focus. Nicely-dressed waiters deliver plated lamb, spotted skate wing and other cuisine found in different cultures across the world. Try breakfast, lunch, dinner or weekend brunch at either an open table or tucked away bar pew—not forgetting to also eye the 1920s-inspired artwork that lines the walls that adds to the classy tone. thedewberrycharleston.com, 843-872-9065
High Cotton
Owned by the same family operating Charleston's popular Halls Chophouse, High Cotton offers a similarly elegant dining atmosphere. Patrons will find it's a chic culinary haven where ingredients flow in from farms throughout the Lowcountry and Upstate and seafood is fresh and flavorful. Close your eyes and taste the chef's pan-seared halibut, lobster tail and yellow fin tuna. Buttermilk-fried oysters and the seafood crepe are among the items dotting the tasty brunch menu. It's easy to see why High Cotton is highly recommended for a high-class experience. highcottoncharleston.com, 843-724- 3815
Husk
Husk keeps it local and authentic when it comes to the dishes it prepares. Only ingredients native to the region can be found inside the Queen Street kitchen, where chefs are sure to whet your appetite and serve your Southern soul with foods likes fried chicken skins and deviled eggs with pickled okra. The bar scene inside the restored Victorian-era home is also one to boast about—thanks to its vast selection of beer, wine and cocktails. Be sure to take your beverage up a flight and checkout the upstairs lounge. huskrestaurant.com, 843-577-2500
Hyman's Seafood
Since the late 1800s, five generations of family businessmen have successfully run this seafood operation where the famous faces of past Hollywood elites—who once visited neighboring Charleston Place Hotel—plaster the walls as décor. From spicy shrimp dip to gator sausage and staple po-boy sandwich, Hyman's cooks what you crave and is commonly observed at mealtimes to have a long line of patrons waiting outside its doors. hymanseafood.com, 843-723-6000
Locals Sushi & Sports Bar
An uncommon mash-up, this sushi and sports bar—known to "roll hard" in in the kitchen—is no restaurant dud. It's become quite the hip Mt. Pleasant hotspot among customers hankering for fresh sashimi, award-winning rolls and hibachi. It also draws in laid-back patrons searching for late-night signature tacos, celebratory tequila shots or a chill setting for your favorite live T.V. game. The music is also live—local bands weekly adding to the carefree ambiance. So pop in each day for specials including Hump Day's open mic night and half-price wine bottles. localsushi.com, 843-388-5114
Minero
Your taste buds will certainly sizzle with fresh eats from this East Bay Street hotspot for authentic Mexican fare. Take a load off your feet and indulge in the atmosphere of casual dining and rich flavors this vibrant Hispanic culture's cuisine is guaranteed to offer. There's no limit to the number of tacos, rice, beans and churros you can order, among other eats. So choose whatever protein you crave—shrimp, pork, chicken, steak, chorizo, and even fried catfish—and squelch the hunger you came to curb. minerorestaurant.com, 843-789-2241
Morgan Creek Grill
This kitchen boasts experienced chefs who gained skills cooking in the tropics—the Caribbean to be exact—giving uber credibility and a punch of flavor to your every bite. Even if you're dining healthy or gluten-free, there's a dish for you, depending on which of the two menus you peruse. Try a vast selection of seafood and American fare while dining more traditionally and upscale inside the downstairs seating area or more casually on the Upper Deck—also the site of the Creekside Bar. Most unique to the eatery is how culinary hands season and prepare your fish: "simply grilled," "pumpkin seed crusted" or blackened "island." morgancreekgrill.com, 843-886-8980
Old Village Post House Inn
You're sure to feel right at home inside this Mt. Pleasant inn, where hospitality and cozy dining are guaranteed no matter where you take a seat—the open tavern dining room or more intimate guest rooms—six total—above the restaurant. Maybe try the outdoor patio for weekday happy hour specials. This quaint Old Village area eatery has a menu filled with rich Southern eats like flounder paired with Geechie Boy grits or sides of creamed corn and parmesan risotto. oldvillageposthouseinn.com, 843-388-8935
Oyster House
Through these doors, the focus is on the pearl-making mollusk that's a hot commodity to some. The restaurant features an array of lunch and dinner plates centered on the classic seafood favorite, giving customers the option to order it raw, fried or steamed. If you're feeling a bit brave, raise a friendly toast and toss back the slippery sea resident like a tough "Southern Belle"—the name of the Vodka-infused oyster shooter. Non-oyster eats include mussels, ribeye steak, stuffed shrimp wrapped in bacon, fried calamari and wasabi crusted tuna. oysterhouse.menu, 843-723-1151
Peninsula Grill
Dine in Charleston's Historic District in classic style. You'll feel like you've entered a dream-like state and possibly pinch yourself as you peruse a menu in the outdoor courtyard. Surrounded by flickering lanterns and a wrought-iron gate—a fancy fountain close by—you'll blissfully slice through a center cut filet and reach a heavenly state sharing an espresso crème brulee dessert with your dinner date. So take a vacation from the mundane dining experience you've always settled for and reset the bar for culinary expectations. peninsulagrill.com, 843-723-0700
Rutledge Cab Co.
Both the cab life and the 1950s influenced this eatery's décor, which also features a fake alligator skin front door. It previously served as a busy gas station and convenience store and is now a hip hub for a beer, burger or other American fare—BLT, reuben, fish tacos—cooked on the area's only indoor charcoal grill. And whether waking up at dawn or later in the day for overnight shift work, pop in for breakfast or a classic vanilla or orange creamsicle milkshake for dessert. rutledgecabco.com, 843-720-1440
Saffron Café & Bakery
Explore the rich world of baked treats and international eats without the travel—though your taste buds might feel from home with unique menu items from Australia, Africa and even the Middle East. That's because the owners are happy to share their Persian culture, including hookah smoking on the patio, with their Southern community. For a chance to hear live music, pop over on the weekend for a ladies' lunch, sugary snack, or toe-tapping date day with a romantic partner. eatatsaffron.com, 843-722-5588
Tavern & Table
The last three years the rustic Mt. Pleasant eatery has provided the Lowcountry simple, classic dishes—everything from duck breast to finger foods—under the direction of a head chef who once showcased her skills on the famed Food Network. Whether you lounge with friends inside the dining area or toast drinks beside the waterfront bar—stocked with wine, beer and cocktails for each season—you won't miss the epic outside view of vessels and sea-life often found meandering along Shem Creek. tavernandtable.com, 843-352-9510
The Refuge
The name says it all. This quaint, island eatery is where customers come to unravel from the day's stress or find solace in some of their favorite eats—Maryland-style crab, sandwich, wrap or soup. If its brunch is available, feast on warm, hearty buttermilk pancakes or a stack of cinnamon and sugar French toast. Even the drinks, including "spiked" coffee if you choose, can offer respite from a busy week. A popular caffeinated item is the Mexican Mocha with hot chili added. Overall, menu items exude a tropical feel with names like the "volleyball spike" wrap and chicken salad "kitesurfer" croissant, reminiscent of beach life. therefugeiop.com, 843-242-8934
The Swamp Fox Restaurant & Bar
It might be located inside a luxurious hotel—the Francis Marion Hotel on King Street—but don't shy away from dining here if you haven't booked a room. If you're lucky you might stumble in on one of three days during the week when live jazz piano tunes add to the mealtime experience or during Tuesday evening's social hour, when hors d'oeuvres are complimentary 5-7 p.m. While waiting for your group's deviled egg appetizer or perhaps Southern sampler of pickled vegetables and pimento cheese, among other finger foods, check out the restaurant's unique view of Marion Square Park. francismarionhotel.com/swamp-fox-restaurant/, 843-722-0600
Willie Jewells Old School BBQ
Named after a teen girl who had a knack for cooking, this grub joint has locations nationwide including locally in North Charleston. From sausage and pulled pork sandwiches to "smokin' snacks" and filling platters, bring an appetite because the laid-back, savory goodness of old-school barbecue and staple Southern sides—hospitality included— is what makes Willie Jewels world famous. Finger-lickin' sauces include smoky "hickory heaven," sweet and tangy "sweet & sassy," the Carolina mustard-base "Lowcountry gold," and the spicy mustard-base "hot momma." williejewells.com, 843-789-3636