Art for a Community
06 Nov 2017
Figurative clay and bronze sculpture of Judy Mooney
By LEAH RHYNE » Photos by WALKER MONTGOMERY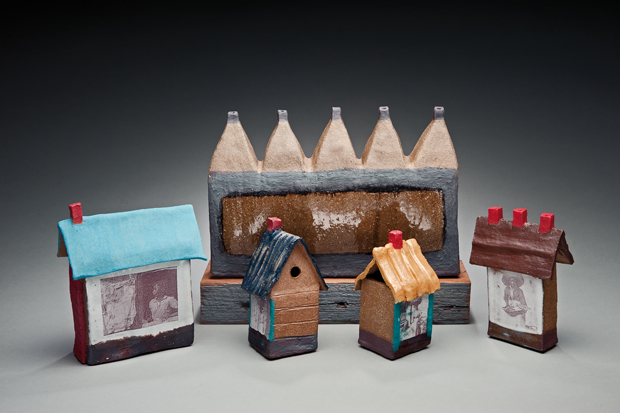 To understand the work of the late sculptor Judy Mooney, you need to understand her story, says her husband, Pat. Born in the bayou, their partnership flourished through years of cycling, activism, social work, and a surprising final career of artistic storytelling.
But every story has a beginning.
Judy was born in Baton Rouge, Louisiana, in 1941. Her blue-collar southern neighborhood was white. Segregated. Judy was lucky, though. She was white, too.
After her sister was born with developmental disabilities, requiring the full attention of their mother, in stepped "Big Jenny," a friend and neighbor. She took Judy on vacations and shopping trips, and it was through Big Jenny's Jewish husband, Leonard Levine, that Judy learned of racism and anti-Semitism. Even as a child, she saw how wrong it was.
She became, in Pat's words, "a champion of the underdog. A white southern lady, aware of her white privilege, who wanted to right that wrong."
The couple met in Alexandria, Louisiana. Each was previously married. Neither had plans to wed again. They bonded over cycling, their matching ponytails, and altruistic dreams. Pat was a clinical social worker, and Judy was an executive with the YMCA. Due to the capital "C" for Christian, the couple decided to marry. It wasn't worth it, Pat says, to "live in sin" in the shadow of an organization Judy loved so much.
As interim Executive Director of the Alexandria YMCA in the early '80s, Judy overhauled the struggling organization. "It wasn't an inviting place," says Pat. The town was segregated, by practice if not law. The YMCA sat between the black and white sections, surrounded by a chain link fence topped with barbed wire. Judy's first task as Interim Director? She pulled down the fencing and barbed wire. "She was making over the place so it would serve the entire community," Pat says.
From there, and later when the couple moved to Charlotte, North Carolina, Judy practiced asset-based community development, asking people what they needed and doing her best to provide it. She brought Black Achievement to Alexandria and an "easy rider shuttle bus" to Charlotte. She was, in the words of her husband, "an excellent business woman with a sense of social justice."
Pat stood by her side through it all.
Upon Judy's retirement in 2000, the couple moved to Savannah, Georgia. Judy, who loved to manage things, took over "managing" Pat. He told her to get a hobby instead, so Judy took a pottery class. That led to a sculpture class where, to Judy's surprise, "she realized she could look at somebody and reproduce them in three dimensions."
Next she had to find her subjects. Once again, Judy found an underdog.
Enter James. James was from St. Helena Island, South Carolina, home of the Penn Center School for formerly enslaved individuals. He was "a natural friend of ours," says Pat. A member of the Gullah/Geechee community, the group of African-Americans inhabiting the islands of South Carolina, Georgia and Florida, he left to join the service. Later he married a white woman, had kids, then came out as gay: as underdog as a black Southern man could get.
But as he reconnected with his Gullah roots, Judy connected with them too. With James' help and Pat by her side, Judy went to Church to meet the Gullah people. She learned their stories, and she retold them, first in clay and later in bronze.
There's "The Net Maker", in honor of Mr. LeGree, who is in his 80s and still makes nets the way his granddaddy taught him. Ten percent of proceeds from his statues goes straight to Mr. LeGree.
There's "Mother and Child", in honor of Nakia and her momma, who make sweetgrass baskets the same way that's been handed down through generations. A portion of those statues' proceeds go to Nakia as well.
And then there are "The Shouters", portraits of an antebellum tradition still performed in praise houses today. The Songster, Baser, Clapper and Stick Man shuffle and step in a counter-clockwise circle, singing praises to their God.
Judy told their stories, and so many more. Based on the number of awards won and pieces sold, she recanted them well. The bronze casts she created are expensive to make, but Pat prefers selling them. They're reproducible. He struggles to part with Judy's smaller clay works because, "once they're gone…they're gone."
Because this story has an end, as all stories do. It ends with cancer. Stage four at diagnosis, followed by surgeries, recoveries, and hospice. Judy's story ended.
Or did it?
Recently, Pat celebrated Judy's life, surrounded by friends and family. They held their celebration in a park, overseen by clouds framed with a brilliant, sunny halo: Judy, watching over them.
The New Orleans-style Second Line took the group back to Pat and Judy's place, where people mingled with her statues, celebrating the woman who'd given them life. Who'd told their stories.
As for Pat, his long ponytail sheared off the day Judy began chemotherapy, he'll continue to tell her story, too. With a slow, steady Tennessee drawl and a palpable love for his wife, partner and inspiration, he'll make sure no one forgets the life and art of Judy Mooney. judymooney.com
Judy's artwork can be found locally at the Lowcountry Artists Gallery downtown, which is part of the Charleston Gallery Association's First Friday Art Walk, Dec. 1, 5-8pm. Pat Mooney will be at this event to speak with people about her life and work.