Interactive Kid's Books
18 Sep 2014
Keep summer boredom at bay and make everyone happy
By Courtney Webb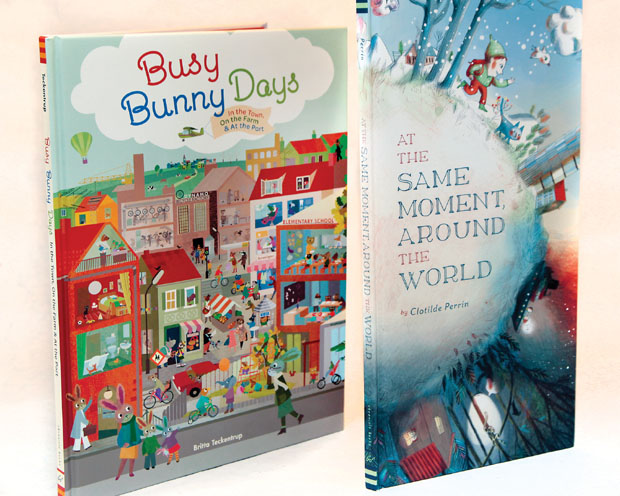 In those first days of summer freedom is fresh and new, not only for the kids but for Mom, Dad and other caregivers too. Plans and activities abound to keep the little ones busy, active and fulfilled but as the weeks go by, summer can quickly lose its novelty. Soon starts the desperate search for ideas, events and activities to keep children entertained and everyone else sane through the dog days of summer. However don't fret these last months of summertime as the one of a kind award-winning publisher Chronicle Books has just the thing to fill those hours of boredom with their unique interactive books to interest young readers of all ages. Bringing in imaginative play, art and even educational tools to keep everyone happy and entertained throughout the long hot days to come.
Photoplay! Doodle. Draw. Design by M.J. Bronstein (Ages 5+)
Bring out the art lover at any age with this quirky doodle book filled with black and white photographs that inspire kids or anyone young at heart to add their own imaginative drawings to complete the scenes presented. Packed full of fun drawing opportunities, it's a fantastic way to get artists of any medium excited and enthralled for hours on end. A great choice for artists from even the most basic to advanced skill levels.
Busy Bunny Days. In the Town, On the Farm & At the Port by Britta Teckentrup (Ages 5-8)
Kids of many ages will love the intrinsic detail and never ending action included in this massive seek-and-find book featuring the Bunny Family and their neighbors. With so much to look for and discuss on its pages kids will treasure the many hours of enjoyment spent between its pages. Great for encouraging discussion, problem solving and even learning to tell time as the Bunny Family goes about their busy day visiting multiple exciting locations.
At The Same Moment around the World by Clotilde Perrin (Ages 5-8)
This amazing book combines breathtaking illustrations with a story that literally spans the globe illuminating cultural differences of children around the world while demonstrating how kids are all essentially the same and connected on a much deeper level despite their diversity and location. Including a fold out map that further illuminates the geography of the world and each character's physical locale. A winner that is not only beautifully crafted but also a wonderful educational resource.
Daddy Wrong Legs by Nina Laden (Ages: Infant-2)
In this silly board book young children will delight in matching up Daddy characters of all types. While creating fun characters pre-readers will also be promoting language and bonding with those with whom they cuddle up and share this unique book.