Opportunities Abound
18 Sep 2014
Heading up a structural engineering firm, Richard Garcia welcomes the business challenges of keeping up with growth and civic involvement
By HOLLY FISHER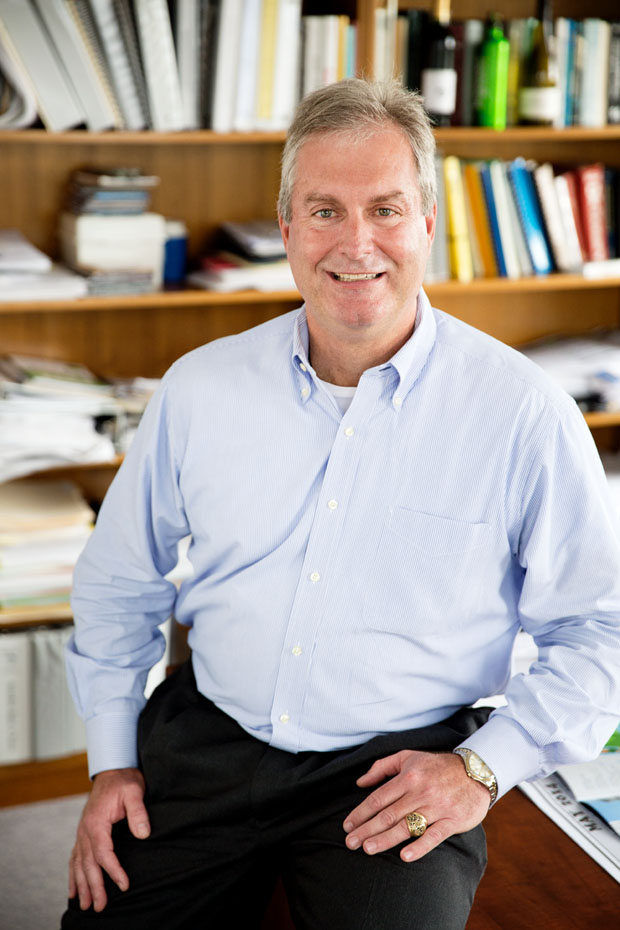 At the age of 17, Richard Garcia arrived in Charleston from Caracas, Venezuela, to attend The Citadel, where his cousin was an instructor. Thanks to his American mother, Garcia knew enough English to get by. Besides, he jokes that as a first-year knob the only words he ever said were, "yes, sir" and "no, sir."
He studied civil engineering in part because he knew numbers were numbers whether in English or Spanish. Still, it was a challenge navigating the language barriers and an entirely new culture. But Garcia loves a challenge.
After college, Garcia worked for the Charleston Naval Shipyard, mostly negotiating contracts. He laughs now that when he was hired his boss told him, "It will take an act of Congress for you to lose this job."
That surprising act of Congress happened and the shipyard was closed.
Up the Engineering Ladder
So Garcia joined what was then GEL Engineering, a firm started by Molly and George Greene, who went on to found Water Missions International. After six years, Garcia moved on to become a program manager with J.A. Jones in the late 1990s. That was the time the industry was moving from a design-bid-build process to the design-build process that is still used today. Garcia worked on some of the first design-build projects in South Carolina.
O'Brien & Gere started in Charleston in 2004 with three employees. Having worked on several projects with the smaller Lindbergh & Associates structural engineering firm, O'Brien & Gere took that company under its umbrella as it expanded into the Charleston area.
O'Brien & Gere fills a unique niche in the engineering market by providing a host of engineering services under one roof – architectural, environmental, engineering and surveying. "We help clients with speed to the market," Garcia said. "We try to walk clients through all those phases and that's unique in this market."
Building Relationships
Almost 11 years ago, Garcia joined O'Brien & Gere, where he is a senior vice president and leader of the federal facilities business unit. Headquartered in Syracuse, N.Y., O'Brien & Gere has 900 employees in 27 offices working on both private and public projects in a variety of sectors around the country.
The Charleston office has 40 employees, making it the third largest office in the country and the largest office in the Southeast. The employees here work on a vast number of primarily public and government projects at The Citadel, the Medical University of South Carolina, Trident Technical College and the College of Charleston. They have also worked with companies locally in the automotive and aeronautics industries and recently completed work on a new research addition at the Ralph H. Johnson VA Medical Center.
O'Brien & Gere's overall mission focuses on client satisfaction as well as working with customers on repeat business. Organizations like the cities of Charleston and North Charleston, Joint Base Charleston and the Charleston District of the U.S. Army Corps of Engineers are ideal clients because their work is long-term. "It's how we build relationships," Garcia said.
The company is not only committed to its clients but also its employees and the communities in which it works. Garcia said employee satisfaction along with a culture of teamwork and innovation is prevalent in his office and sister offices around the country.
A Knack for Leadership
Last year, O'Brien & Gere built upon its corporate social responsibility program, allowing it to be involved in local communities and reward employees for civic involvement. The company makes financial contributions to community organizations, matches qualifying employee donations and matches personal volunteer hours of employees with financial grants.
Garcia is chairman of the board of East Cooper Meals on Wheels where he's engaged in the challenge of eradicating hunger in East Cooper. "We should not accept hunger in our backyard so we serve over 135,000 meals a year in pursuit of this goal," he said.
Garcia also supports Crisis Ministries and Water Missions International. He is also active in professional organizations, previously serving as president of the Society of American Military Engineers.
Locally, Garcia is a member of the Trident CEO Council, an organization of high-level executives that looks at challenges facing the Charleston region, such as education and infrastructure, and ways the business community can provide ideas and solutions. He's also involved in the Charleston Metro Chamber of Commerce, sitting on the board of advisors and the Developers Council.
Even though Garcia grew up with a father in construction and studied engineering, he has found a real passion for leadership and project management. "I think I have better people skills than engineering skills," he said.
Unlike a lot of engineers, Garcia describes himself as an extrovert who enjoys social situations and tackling new challenges.
Preaching Balance
But don't think Garcia is all work and no play. In fact, he makes a conscious effort to get out and enjoy life, family, friends and faith.
"I'm a believer in that you work hard during the week and play hard on the weekends," he said.
Garcia encourages his employees to do that same and often preaches "good balance."
"I want people out of here and with their families, going to church and away from here on the weekends," he said.
Describing himself as a "dynamic Catholic" and a "man of God," Garcia is deeply rooted in his faith and makes it a point to be engaged in his spirituality. He attends Christ Our King Catholic Church in Mount Pleasant and has been active in men's groups both there and at St. Benedict Catholic Church in Mount Pleasant. He has launched Emmaus programs, giving men the opportunity to deepen their faith.
"I've built some beautiful relationships," Garcia said of his faith-related activities.
Garcia and his family live in Mount Pleasant where he enjoys boating on the Wando River, running, and fishing.
When he travels and people gush about Charleston, Garcia said he's reminded of how fortunate he's been to live in such a great community since he moved to the United States as a young man.
"I'm blessed by the opportunities I had in this country," Garcia said.
He often thinks of friends who still live in Venezuela where violence and theft are ever present – their lives dramatically different from his. "I give great kudos to the people who run these towns," he said. "They all do a wonderful job."
The Next Challenge
And yet like many business leaders in Charleston, Garcia recognizes the challenges of keeping up with the growth, creating a solid infrastructure and providing the jobs and industry needed to sustain the local economy.
The Charleston area's growth is what made it attractive to O'Brien & Gere more than a decade ago. "Our firm is trying to support that growth as it comes in and position ourselves for the future," Garcia said.
While the firm as a whole has about 70 percent private contracts, the opposite is true in Charleston with about 80 percent of the business tied up in public and federal work. Garcia is working to bring a better 50/50 split to the workload and diversify the firm's local business.
It's a business issue Garcia welcomes. "I can't wait for the next challenge to show up."