Italian-Inspired Comfort Foods
21 Jan 2014
Recipes and Photographs By Kim Byer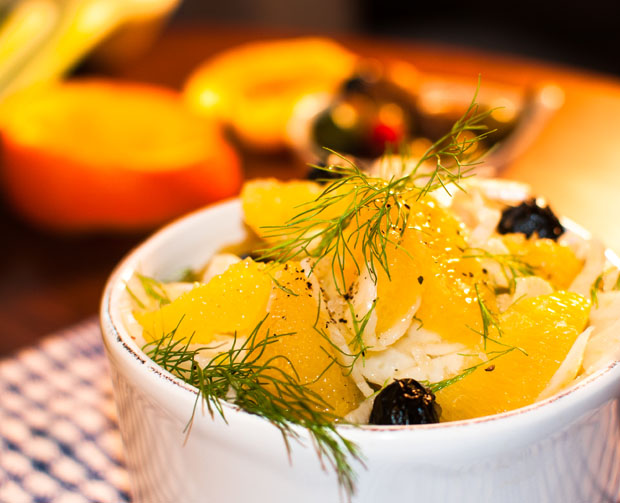 Go ahead. Make those resolutions. Everyone needs goals to work toward, especially if they are reasonable and just a little bit fun.
I'm a list maker. Resolutions are my cup of hot tea. After the holidays, I love spending a leisurely winter afternoon wrapped inside a comforter, writing a long list of dreams and goals for the coming year. At the top of my twenty-fourteen list sits a recurring resolution: Get healthy. It used to read, "Lose weight," but after years of early abandonment, I've rebranded my goal to a more sustainable (and less tedious) catch phrase.
I follow this up with other easily attainable goals such as eat less meat, eat more raw veggies, choose slow food over fast food, walk the dog more often, enjoy life, etc. Typically I'm not an over-achiever, so a few checkmarks over the course of the year buys a lot of satisfaction. I'm also not a martyr. Getting healthier is a process with more of a winding road than a finish line. I intend to stroll along it, enjoying the view and soaking up the good feelings. With this la dolce vita mindset and mission, here are a few Italian-inspired comfort recipes that correspond (however you want to justify it) with some of my New Year's resolutions.
To eat less meat, while still enjoying a homemade bowl of delicious and filling meatballs, I've resolved to make these more often: Eggplant "Meatballs" with a Garlic Confit Marinara. Inspired by Domenica Marcetti and Roy Choi, and served with warm slices of garlicky toast, these meatless marvels will have you longing for red wine, but never for red meat. More of a weekend dish than a weeknight one, the heady aroma of this garlicky marinara wafting through your kitchen will whet the appetites of your whole neighborhood, so be sure to make a large pot and let it simmer all day long. And upping the homemade ante, Hand-torn Pasta with a Fiery Tomato Tapenade is a cold-weather favorite with less of a time commitment. It's even doable on a weeknight. In fact, it's one of the easiest made-from-scratch pasta dishes you can make -- no need for a pasta machine; simply roll the dough and tear it into bite-sized squares.
If eat more raw veggies is on your list, then buy a fennel bulb, some oranges and a jar of oil-cured olives the next time you're at the grocery store. No cooking is necessary for this Italian-inspired Shaved Fennel & Citrus Salad soaked in orange juice and olive oil. Its crisp crunch and licorice hints will have you licking your lips for more. And for nights when a salad needs more oomph than olives, bring on the burrata – a delicious and delicate pillow of creamy mozzarella cheese. Before serving the Arugula Salad with Tomatoes and Burrata Cheese, pierce the outer skin of the mozzarella wrap and let its creamy curds flow over the sweetest hydroponic mini San Marzano or grape tomatoes you can find this winter. Burrata cheese may not be the healthiest option atop a salad, but its heavenly taste will steal your heart.
And finally, although homemade pizza may not be your first idea for a quick or healthy weeknight meal, taking a few minutes to roll a fresh ball of pizza dough into a dusting of flour is a great way to unwind from the day. Plus, it keeps you away from the processed, frozen pies in the grocery store. Pile on the veggies; sprinkle on a handful of freshly grated cheese and in less time than it takes for delivery, you'll be saying, "Buon appetito!"
Resolutions shouldn't set us up for failure. With inventiveness, an adventurous spirit, and a little leeway on the wording, resolutions will guide us toward the good life. Enjoy your New Year for all of the hope, health and la dolce vita it brings.
Eggplant "Meatballs" in a Garlic Confit Marinara
Serves 4
Eggplant "Meatballs"
1 large eggplant
2 ounces dried porcini mushrooms, divided use (see Garlic Confit Marinara)
1 yellow onion, divided use (see Garlic Confit Marinara)
3 cups bread crumbs (fresh is best)
2 large eggs, beaten
3 ounces Parmesan Reggiano, shredded
1 T flat-leaf, Italian parsley, plus more for garnish
1 t salt
1 t pepper
All-purpose flour, for coating
Vegetable oil, for frying
Garlic Confit Marinara
1/2 of porcini and onion mixture (from Eggplant "Meatballs" recipe)
1/4 cup garlic cloves, peeled and chopped
3/4 cup olive oil
2 (28-ounce) cans whole peeled tomatoes with juice
1 1/2 t sugar
Salt and pepper to taste
Serve with…
Parmesan Reggiano
Garlic bread
Directions
Preheat oven to 350 degrees. Prick eggplant all over with a fork. Place in a roasting pan and roast for 1 hour or until it collapses. When cool, scrape the flesh (only) into a bowl.
Rehydrate the porcini mushrooms by placing them into two cups of boiling water. Set aside to cool. When cool, chop mushrooms and strain juice of any grit.
While the eggplant is cooking, begin your tomato sauce by gently cooking garlic and onions in olive oil, covered in a large pot, stirring occasionally, for one hour or until brown and bubbly. Remove from heat and spoon out one half of the mixture into the bowl containing the eggplant.
Next, add tomatoes, 1/2 of the mushrooms (chopped) and all of the mushroom liquid to the pot; bring to a boil, and then reduce to a simmer. Blend until smooth with a hand-held stick blender. Add salt and pepper to taste and cook for 2 to 3 hours, until sauce is thickened. Adjust seasonings.
To make the meatballs, add remaining mushrooms, breadcrumbs, cheese, eggs and parsley to the eggplant and garlic-onion mixture. On a baking sheet lined with wax or parchment paper, shape mixture into approximately twenty 1-1/2 inch balls. Dust with flour and refrigerate for 20-30 minutes until firm. Fry in 1/2 inch of oil in a heavy skillet or Dutch oven until browned all over. Drain on paper towels.
Ladle the Eggplant "Meatballs" into the sauce and simmer until reheated.
Before serving, sprinkle with Parmesan Reggiano and chopped parsley. Serve with garlic toast or chunks of Italian bread.
Hand Torn Pasta with a Fiery Tomato Tapenade
Serves 4
Pasta Dough
3/4 cups of semolina flour
3/4 cups of unbleached white flour sifted with 1/2 t kosher salt
2 eggs, beaten
2 T water
2 T olive oil (optionally substitute chili oil)
Directions
Knead the dough for 10 minutes until it's pliable and smooth. If you have a stand-up mixer with a dough hook, knead on medium speed for ten minutes. Large humming appliances tend to make the dough much smoother and our lives much easier, but honestly, the cooked result will not be noticeably different. And, personally, I think kneading dough is one of life's greatest pleasures. Semolina is textured flour; the final texture should be smooth when the heel of your hand flattens it.
Next, rest the dough beneath a dish towel for 20 minutes while you make the sauce and heat the pasta water. When ready, roll the dough into a large, pizza-sized round. The dough will thicken as it cooks, so roll it out thinner than you want it when cooked. If you choose to use a pasta roller with six depth notches, pass it through until you reach three or four. I prefer the dough a bit thick for this recipe.
Tear the round into approximately 2" x 2" squares. Don't worry about being uniform. Cook squares in salted, oiled and boiling water until al dente.
Tomato Tapenade Sauce
2 T olive oil (optionally substitute chili oil)
1 small yellow onion, diced
2 cloves of garlic
1/2 cup good chardonnay
28 oz. can of tomatoes (e.g., imported San Marzano whole tomatoes)
1/2 cup pitted, spicy green and black olives
2 T capers, drained
2 anchovies, minced (optional)
1/4 t red pepper flakes
Add salt (kosher or sea) and freshly ground pepper to taste. In a large skillet, heat the olive oil and sauté the yellow onion until tender. Add the garlic and sauté for one more minute. Add the wine and cook until it is reduced by half. Add remaining ingredients and cook for at least fifteen minutes. Season with salt and pepper.
Toppings
Pine nuts, lightly toasted
Parsley, chopped
Parmesan for shaving (e.g., Parmigiano Reggiano)
Extra virgin olive oil
In low pasta bowls, layer pasta and sauce. Drizzle extra virgin olive oil and sprinkle with parsley, toasted pine nuts and Parmesan shavings.
Shaved Fennel & Citrus Salad
Serves 2
1 medium fennel bulb
2 oranges
10 oil-cured black olives
2 T white balsamic vinegar or orange flavored vinegar
Salt and freshly ground pepper to taste
Extra virgin olive oil or grapeseed oil for drizzling
In a large salad bowl, shave the fennel bulb into whisper-thin slices using a mandoline or a very sharp knife. Save the stalks for soup and reserve a few of the fronds for a garnish. Peel the oranges and remove each segment between the membranes, taking care not to include any seeds. When the orange segments are removed, squeeze the remaining orange juice into the bowl. Add orange segments, olives, vinegar, salt and pepper. Drizzle with oil and serve.
Burrata with Arugula and Tomatoes
Serves 2
2 cups arugula, washed and dried
1 cup fresh tomatoes, sliced (mini San Marzano, grape or cherry)
1 ball fresh burrata mozzarella cheese
Arrange arugula and sliced tomatoes on a plate. Center the ball of burrata and slice open. Dress with sea salt, freshly ground pepper and extra virgin olive oil or other homemade dressing.
Quick Italian Dressing (optional)
¾ cup extra virgin olive oil or lighter oil, such as grapeseed
¼ cup white balsamic vinegar
1 clove of garlic
2 slices of roasted red pepper
1 T yellow onion
1 t sugar (or sweetener of choice)
1 t sea salt or kosher salt
¼ t freshly ground pepper
Place all ingredients except oil into a food processor and blend. Slowly pour oil into mixture and continue blending for a few seconds until the dressing is emulsified. Adjust salt, pepper and sugar to taste. Shake and drizzle a tablespoon or two over arugula and tomatoes just before serving.
Thin-crust Pizza
Pizza dough:
1 cup bread flour
1/2 cup whole wheat flour
1 T olive oil
1/2 t honey, agave or sweetener of choice
1/4 t kosher salt
1 t dry oregano, basil, thyme, rosemary and/or red hot pepper flakes
1 1/4 t dry active yeast
1/2 cup water + 2 T more, if needed
Preheat oven to 550 degrees. If you have a pizza stone, place it inside the oven to heat.
Either throw all of your dough ingredients into a bread maker on the "Pizza Dough" setting or combine all of your ingredients and knead the dough for about ten minutes until it's soft and pliable. Let it rest for 10 minutes under a warm, damp cloth. Knead it again (gently) for few minutes. Put the dough ball in a bowl and cover it with olive oil and a warm, damp dishtowel. Set the bowl in a warm location and let it rise for up to 30 minutes.
After the dough has risen, roll it out before transferring it to a pizza peel or sheet pan. Round it up for a traditional pie or stretch it out oblong for a rustic, Italian countryside vibe. Before placing it on the peel, spread a small amount of cornmeal on the peel's surface for added texture beneath the crust. You may want to dab a little olive oil around the rimmed crust for a golden hue. When you top a thin-crust pizza, less is more. If you want to pile on the goodness, double the dough. Using an extra large spatula, slide the pizza onto the hot stone.
Bake for approximately 8 minutes or until the cheese begins to bubble.
Note: The right ratio of flour to water is key to the perfect pizza dough. Humidity may make a difference with your dough consistency, so be sure your dough has formed a nice moistened ball before it starts to rise. This may call for a few more splashes of water.
Pizza topping suggestions:
Chicken and spinach sausage, pesto and feta
Pine nuts, pesto, goat cheese and fresh basil (add basil after cooking)
Thinly-sliced tomatoes, basil and fried mozzarella slices (heat separately, add cheese halfway through cooking)
Preserved lemon peel, capers and pre-cooked, pulled chicken
Sliced mushrooms, provolone and red hot pepper flakes
Sweet ham, garlic slices and freshly shredded Parmesan
Thinly-sliced eggplant, tomato sauce and goat cheese
Arugula, shrimp, capers and feta (add shrimp when the feta starts bubbling)
Chicken (pre-cooked), BBQ sauce and red onion slivers
Smoked turkey (pre-cooked), sweet onion, sliced fresh tomatoes and mushrooms (shown)