Holiday Make-up
17 Nov 2013
Sweet and flawless or sparkling vamp, the holidays are here. Put your game face on.
By AMY TRAN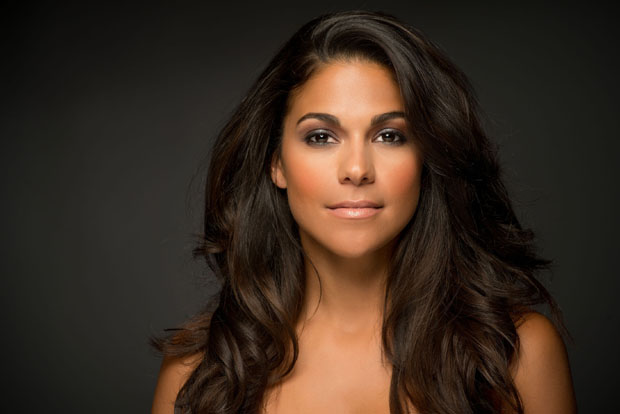 Believe it or not, the holidays are just around the corner. This means parties, get-together, and plenty of other wonderful opportunities to dress up and show off your new holiday look.
Whether you choose something more subtle and pretty, or decide to go bold and sophisticated, there are so many great options for every taste and style. Following just a few easy holiday makeup ideas you can achieve a flawless sweet look, or an attention grabbing sparkling effect without giving the impression of trying too hard.
The holiday season always makes you want to shine and escape from all the day-to-day habits, especially when it comes to makeup. It's the best time for you to try something bold and glamorous. Based on your personal taste and occasion, here are some makeup looks that will help you transform your look into one that will be in season for years to come.
The Classic Red Lip
You will always be in style with this look. The best way to achieve this timeless look is to put more emphasis on your lips. A fine soft line on the upper lid with neutral shades of gold on the lid pairs so well with a strong red lipstick.
This combination of subtle eyes and bold lips always represents simple, yet beautiful holiday makeup. Besides, what color says holiday better than red? The best way to apply a red lip is to start by filling in the lip with lipstick. After you apply your lip color all over, then line the lips softly with a matching red liner.
For the eyes, apply a soft gold on the lid followed by sweeping a soft sandy matte in your crease. Add a pop of gold in the inner corner of eyes to open them up. For a little more drama, add a darker brown shade in the outer corner of the crease to create an easy smoke effect. Make sure to use a thin black or brown line to define your lashes along with some super black mascara.
The Smoky eye
Never rule out sparkle. You can be elegant and charming without overusing sparkle and metallics. In fact, what can be more sophisticated and chic than the classic, timeless, Smoky black that seems to reinvent itself every season.
For this look, apply a creamy brown shadow lightly on the lid with a brush or your fingertip from lash line to crease. Next, take a metallic grey and pack it on top of the cream shadow again going from lash line to crease with a patting motion. The key to a Smoky eye is to blend around the edges so that it's soft and sultry. Keep it natural and light under your brow bone to highlight the eye area.
Using a black kohl eyeliner make a line at the roots of the eyelashes and on the inner margin of the bottom lid. Because this eye makeup is rather powerful, keep your lips as natural as possible by applying a neutral color. Another lip option for this look is a simple lip-gloss that will enhance the natural beauty of your lips. If you want to try something even more daring, add some red lipstick. Hot and festive!
Flushed Cheeks
Sometimes, the focus isn't about the eyes or the lips but more about the skin. Here, we're putting more focus on the cheeks and keeping the skin soft. Swirl a light pink blush onto apples of cheeks pulling color slightly up towards the temples. Keep the eyes soft by adding some silver glitter to the lid and a soft earth tone in the crease. Apply a gentle coat of mascara and some lip-gloss in a peachy-orange shade. You simply cannot go wrong with this look! You'll look classic and sweet.
The Bold Eye and Lip
Now, it's time to forget all about those boring rules and go for something more dramatic. Vibrant colors are great for the holiday season as long as you wear them in moderation. The key is to exaggerate with the use of color. Try applying a black gel liner or liquid liner on the lid with soft gold shades that scream holiday.
For easy application, hold or set a mirror at chin level and look downwards. If you have unsteady hands, rest your elbows on a table. Gently drag the liner along the lash line and past the top outer corner of your eye. Follow the upward curve of your eye with the eyeliner.
For a dramatic winged look, draw farther out and angle the liner more toward your brow. Now to create the winged effect at the outer corners! Start at the outer corner of the line you just drew and work back toward your eye, using a light sketching technique with the brush in short strokes. As you get closer to the inner lash line, draw a thinner line. You want the effect of the liner to be thin to thick from the inner corner of the eye to the outer.
Follow the natural shape of your eye and connect the liner to the inner corner of your eye. Fill in any missing spaces along the lash line. Repeat on your other eye and voilà. You've completed your winged eyeliner. Then, add to the drama with a rich plum lip. This gives just as much drama as a red lipstick but with a little more attitude.
Own the look
These makeup looks are timeless and will always be in season. With a few changes here and there to fit your personality, you'll shine at all of your holiday parties this year. The most important thing is to remember to have fun and experiment. With practice, you'll find the right look that fits your personality.