Sharing in Special Moments
07 Nov 2019
Polly's Fine Jewelry treats customers like family
By Teri Errico Griffis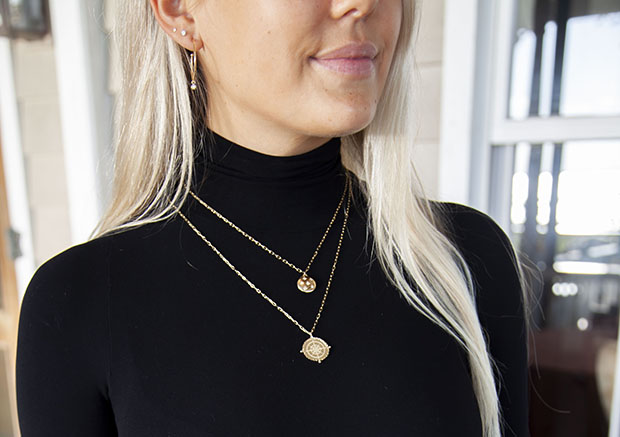 Since opening its doors more than 30 years ago, Polly's Fine Jewelry offers the finest selections for every occasion, every celebration, and every budget.
"Whether it's a surprise for that first girlfriend, the perfect ring for the big question, a surcie (unexpected gift) for a best friend, or a celebration of years spent together, our goal is to help customers find the perfect expression of that moment," says owner Polly Moore.
Polly's is a family business and wants everyone who comes in their doors, from customers to staff, to feel as if they're a part of it. In fact, it's hard to find anyone who's been working there for less than ten years.
"Relationships are everything to us," says Moore. "The great thing about what we do is that we get to share the best moments of people's lives with them: engagements, weddings, birthdays, anniversaries, when their children are born, and so much more."
Sharing the best moments in people's lives and helping them celebrate special days are what Moore loves about coming to work each day.
"We've had people surprise their girlfriends and propose in the store a few times, and those are always really fun days. I think we're almost as nervous and excited as the guys are when it's happening," Moore says. She loves being a part of those moments.
"Everyone has stories about their jewelry — who gave it to them, what occasion it was, or who handed it down to them. Our stories add so much to our lives, and nothing's better than being part of that. And spending your days surrounded by beautiful things isn't too bad, either!
When it comes to selecting each piece in the store, Moore and her team keep the customer in mind in every decision. It's the same idea that drives their service, says Moore. "We're never looking just to sell someone something. We're here to be your family jeweler, where you know you'll always be well taken care of."
And you'll be taken care of thanks to the expertise of the staff at Polly's—and the benefits of in-person shopping. So much shopping today occurs online for its convenience, "nothing really compares to seeing jewelry in person, trying it on, and feeling really confident about what you're buying," says Moore, adding that Polly's website pollysjewelry.com is continually expanding as well.
She adds, "With our store, you're able to not only see the piece and make sure it's right for you or significant other, but you will receive knowledge behind the piece as well as the Polly's guarantees." Those guarantees for engagement rings include lowest price, lifetime sizing, replacement of pave stones at no charge, 110-percent lifetime upgrade, and more.
Moore offers her secret to buying a great diamond and getting a great deal: Shop with someone you can trust, where you can ask all the questions you need and where you're not pressured to make a decision until you feel it's the perfect one for you.
"Know what someone is showing you and how it really compares to others you've seen," she offers. "The four Cs—color, clarity, cut, and carat—are important, but every diamond is more than just those characteristics. Until you see it in person, there's no way to know which one you'll really fall for."
Beyond the jewels, Moore considers it especially important to be active and involved in the community and to give back.
"Our customers are our neighbors, and we want to support them like they support us. We sponsor little league teams all over town each season and partner with great local organizations like the Charleston Animal Society, My Sister's House and the Leukemia and Lymphoma Society of the Lowcountry, just to name a few, and support their events each year."
Since 1986, Polly's has grown to three convenient locations across the Lowcountry, in North Charleston, Carnes Crossroads in Summerville, and Mount Pleasant. Whichever one you visit, "we want every person who comes in our door to have a great experience. We're grateful they've chosen us and we want them to know it," says Moore.