DockDogs competition a crowd favorite at Southeastern Wildlife Expo
By Bryce Donovan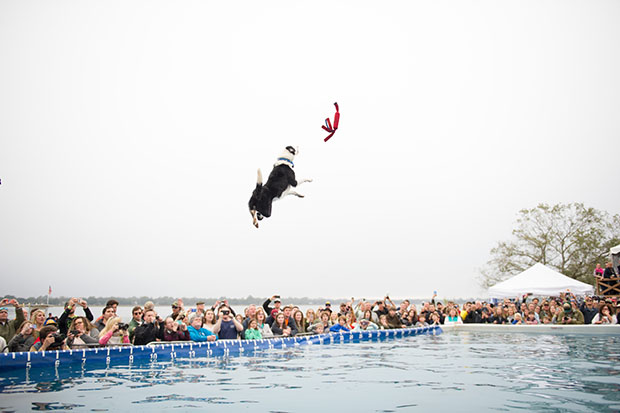 In a parallel universe where dogs ran the world, streetlights would be made of jerky, leashes would be exclusively for surfboards and the only sport on TV would be DockDogs.
To the uninitiated, DockDogs is a super fast-growing sport that pits all different breeds and sizes of dogs against one another in a competition to see which can jump the farthest into a pool of water, highest while over a pool of water and retrieve a toy the fastest in – you guessed it – a pool of water.
The phenomenon's roots can be traced to the 1999 Great Outdoor Games (The event on ESPN8 where the guys would chop wood and run on logs in water). Mixed in with all the lumberjacks rocking cutoff plaid shirts and jeans shorts was an event simply called dog jumping. Not-so-surprisingly, fans fell in love with the bouncing pooches and the Brawny Man quickly took a back seat to Lassie and friends.
Twenty years later and DockDogs is, according to the governing body's web site, "the fastest growing sport on four legs." Now this isn't just a bunch of dogs playing fetch at the community pool, no sir. These canines are real athletes that are solely focused on a single goal and that is to – "SQUIRREL!!"
These dogs are so skilled at jumping and swimming that until you've seen it yourself you can't fully appreciate just how incredible they are. You're in luck. In February, the doggie equivalent of the Olympic Games comes to Charleston for the 37th annual Southeastern Wildlife Exposition, where the airborne pups take center stage at Brittlebank Park on Friday, Feb. 14 and Saturday, Feb. 15 from 10 a.m. - 5:30 p.m. and Sunday, Feb. 16 starting at 10 a.m. with the finals at 4 p.m.
"A lot more goes into it this than people think," explains Blair Rivers, a registered nurse whose lab/retriever mix Russell took home first place in his division last year. "It's pretty dang cool when you see a dog jump 28 feet."
All this high-flying action takes place outside, on a raised platform covered in AstroTurf, terminating in a 20-by-40-foot tank filled with 28,000 gallons of very cold water.
If you plan to show up – either as a spectator or a competitor – you first need to know what you're looking at/up against. All DockDogs-sanctioned events are broken down into three categories:
Big Air. This is the mack doggy of all the events. It's simply to determine which dog can jump the farthest off the dock. Deb Feller, the president of Palmetto DockDogs, is no stranger to this category. She and her dog Doni have won the event the past five years in the top division. Her 8-year-old yellow lab has a best jump of 27'9".
Extreme Vertical. Think of it as the straight-up-and-down version of Big Air. At the end of the dock is a boom with a toy suspended from it by magnets. Each dog is given 20 feet ("three strides is the sweet spot," Feller says) to jump as high as they can. If successful, the toy is moved up in increments of two inches, until eventually only one dog remains. Feller's dog's best is 6'8". The world record is 8'10".
Speed Retrieve. Feller calls this the "50-yard dash in water." The dog starts in a box and when the light turns green it takes off running. Moving at top speed, the dog jumps in, swims the length of the 40-foot pool and snags a toy from a bracket mounted on the far end. The best time ever in this discipline is 3.4 seconds, or roughly the amount of time it took you to read this sentence.
At the end of the three-day competition an "Iron Dog," or best overall dog is crowned.
"If you're animal person there's no way you wouldn't enjoy watching one of these," Rivers says. She likens it to people-watching at the mall, only these people are hairier (if only slightly) and far more athletic.
"It's like a college football tailgate – with dogs," Feller says.
For Feller and Rivers, DockDogs is a great way to meet new people, get outdoors, and better yet, spend time with their four-legged friends.
For a full schedule of DockDogs events, visit sewe.com/events. To learn more about DockDogs, visit dockdogs.com