Pushing Boundaries to Pursue Art
04 Jan 2020
Early-century Southern female artists featured at The Gibbes Museum
By Terri Errico Griffis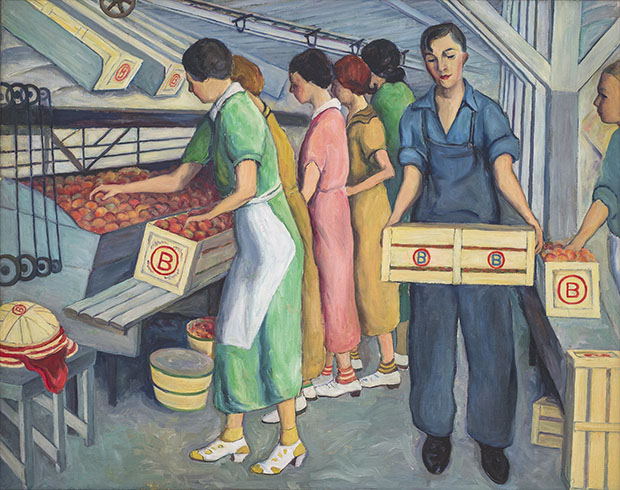 Celebrate the achievements of 42 female artists with the Gibbes Museum's newest exhibition, Central to Their Lives: Southern Women Artists in the Johnson Collection, opening January 17.
Organized by the Johnson Collection in Spartanburg, the exhibition includes works by leading figures in the Charleston Renaissance and spans the decades from the late 1890s through the early 1960s. Featured artists include Alice Ravenel Huger Smith, Elizabeth O'Neill Verner, Corrie McCallum, Minnie Evans, Anne Goldwaite, Clementine Hunter and Augusta Savage.
"All of the women in the exhibit made fairly significant contributions to art as a whole here in the South, in their own unique way," said Amanda Breen, Assistant Curator for the GIbbes Museum. "There was so much going on during those decades – socially, politically – here in the U.S, but specifically in the South. This exhibit highlights these women and the struggles, the obstacles they went through and overcame."
Locals might recognize, especially, Verner and Smith who created their art here in Charleston and together were at the center of Charleston's artistic awakening in the early 1900s.
A teacher, artist and preservationist, Verner gained a reputation in her own right as the matriarch of the Charleston Renaissance and one of the 20th century's best-known female artists in South Carolina.
While she gained recognition for capturing Charleston's spirit in her pastels and prints of street scenes, she was best known for her Holy City etchings and drawings and for representing African-American subjects in ennobled likeness. Museum goers will find especially familiar the paintings by self-taught Smith of coastal landscapes and Spanish-moss-draped oaks.
The exhibit features paintings and sculptures from a range of backgrounds and skill sets.
"You see the progression of the different themes, mediums and techniques. It's really kind of a snapshot of the women that were working in the South during that time," said Breen, noting that it's fascinating to see the evolution through the exhibit. "Some women had formal training and went to art schools, while others learned on their own at home. It's a beautiful juxtaposition of the different paths they took and what they endured in their personal lives to forge careers in art."
One of the featured artists, Augusta Savage, was a leading figure in the cultural awakening of the Harlem Renaissance in the 1920s and 30s. The seventh of fourteen children and the daughter of a poor rural teacher, she learned to shape forms from her small Florida town's clay pits. At every opportunity, she learned, taught and sold her work, breaking out of the conventions that traditionally would have kept a black female artist from being successful in the South.
She moved to New York in 1921 to study sculpture and made national headlines when she was denied admission to a French art school two years later on the basis that her race would be "disagreeable to white students." Undeterred, she worked in steam laundries to make ends meet and continued her passion for sculpting.
Her breakthrough came in 1929 with her sculpture, Gamin. Following her acclaim, she was at last accepted into art school in Paris before returning to Harlem in the '30s to concentrate on teaching and advocacy through neighborhood-based programs.
"A lot of these artists were not particularly encouraged by their families or societies to make a career as an artist," Breen said. "There weren't as many opportunities for women to receive the education they needed, and a lot were up against the hurdle that it wasn't a socially acceptable career."
There are infinite changes in the world from 1900 to the 2000s—noted best by the 100th anniversary of the women's suffrage movement this year—but the theme of women overcoming is still just as prevalent in today's climate.
"I hope this exhibition can serve as inspiration for younger artists who are thinking of pursuing the arts as a career in some form of fashion," said Breen. "I hope they see the women who have come before them and are inspired by their stories and the achievements as well as the opposition they faced for their chosen career path. These women sacrificed for what they feel they were called to do."
Central to Their Lives: Southern Women Artists in the Johnson Collection will be on display at The Gibbes Museum through May 3. This exhibition is sponsored by the Gibbes Museum Women's Council, Blue Cross Blue Shield of South Carolina, Charleston Magazine, and the Jane Smith Turner Foundation.