Just a Splash!
05 Jul 2018
The livin' sure is easy in the summertime. Weekends last longer. The sun shines brighter. And the drinks are sweeter. Whether you and your friends need a refreshing sip after soaking up some rays on the beach, on the boat or in the pool, beat the heat with these creative cocktails, certain to remind you of why you love these Southern summer days.
By TERI ERRICO GRIFFIS » Photos by JAMES STEFIUK
Recipes and drinks by Carmella's Café & Dessert Bar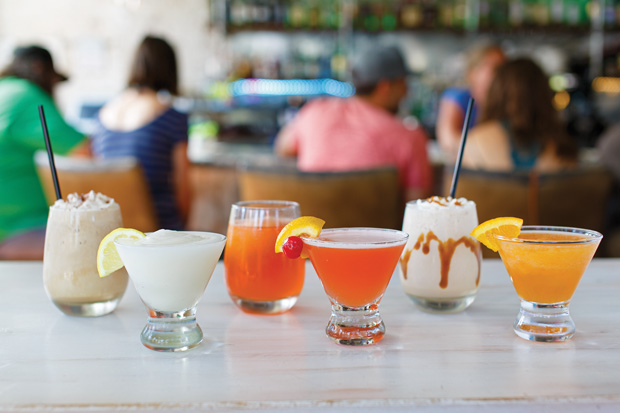 Pictured from left to right:
Drunken Resurrection
2 oz espresso vodka
3 oz espresso
4 scoops espresso gelato
Squirt whipped cream (as desired) into a blender, add all ingredients and mix. Sprinkle cocoa powder on top.
Lemon Crush
1 oz gin
1 oz elderflower liqueur
2 scoops lemon sorbet
1 squeeze fresh lemon juice
Put all ingredients in a blender and mix. Garnish with a lemon wedge.
Blood Orange Float
1 can blood orange hard Italian soda
1 scoop peach sorbet
Stir to mix or let sorbet melt into soda.
Pineapple Fountain
1.5 oz raspberry vodka
1 oz triple sec
1.5-2 oz pineapple juice
Splash of cranberry juice
Put all ingredients in an ice-filled shaker and shake hard. Pour 2 oz prosecco into glass, then pour shaker mix on top. Garnish with orange wedge and cherry.
Caramel Mudslide
¾ oz caramel vodka
¾ oz bailey's Irish cream
¾ oz coffee liqueur
4 scoops salted caramel gelato
Mix all in a blender. Top with whipped cream and caramel sauce.
Orange Creamtini
1 oz vanilla vodka
Splash of vanilla simple syrup
1 scoop orange cream sorbet
Mix all in a blender. Pour 2 oz prosecco in a glass, then pour blender mix on top. Garnish with an orange slice.