Keeping it Local
04 Sep 2021
New executive director of Lowcountry Local First promotes community businesses
By Holly Fisher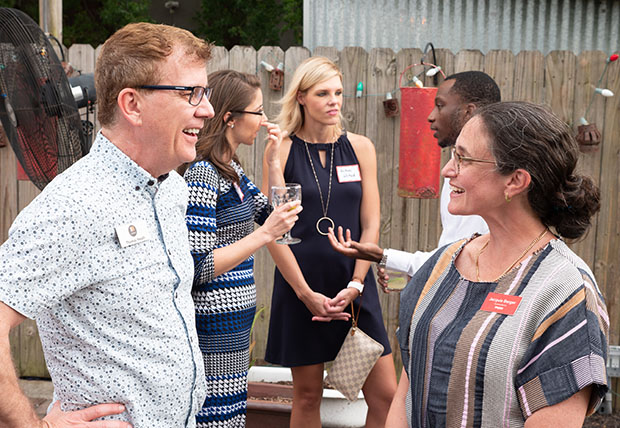 Jacquie Berger believes in the power of relationships to build up local businesses. She lives on James Island, walking distance to a hub of locally-owned restaurants like Aji Asisan Bistro, Coastal Crust and Grumpy Goat Seafood Cantina. For Berger, these are more than just delicious places to dine; they are opportunities to connect with the people behind the businesses.
"There's a joy factor in having those interactions with people you know," Berger said. "Those unstructured conversations – you really can't capture that without getting out and supporting the local community. Those places are what make the Lowcountry where you want to live. They have the wonderful, funky things that people get to enjoy."
Berger is bringing her passion for the power of local businesses to her new role as executive director of Lowcountry Local First. In spring 2021, Berger was hired to fill the role of long-time executive director and founder Jamee Haley.
After a four-month, nationwide search, the organization's board found the best fit right here at home. They selected Berger, who was serving as director of development for the Children's Museum of the Lowcountry.
Granted, her two children, ages 6 and 9, weren't particularly thrilled their mom was leaving the "best job in the world," she laughed. Berger, though, is ready to invest her energies in supporting all the good that's happening in the Charleston area.
"I'm so excited to be taking a broader lens to building a strong local economy focused on justice, access and equity and to be supporting the small, but mighty, local businesses here in the Lowcountry that make this community so special," she said.
Long-time Lowcountry Local First Fan
Before moving to Charleston more than four years ago, Berger was the executive director for Just Food, a New York City nonprofit that shifts power, health and wealth of historically and economically marginalized communities through advocacy and work in food, environmental justice and sustainable agriculture.
At the time, she was aware of Lowcountry Local First and attended the Good Business Summit, an annual event in which business leaders and advocates explore innovative models for success while fostering positive community impact.
"I was a fan of Lowcountry Local First before I ever called the Lowcountry home," Berger said. "I started paying attention to them before I moved to town."
In her first few months on the job, Berger has been getting to know the ins and outs of Lowcountry Local First as well as local business owners and their needs. She remains close with Haley, who continues to offer advice and inspiration as Berger gets acclimated in her new role.
Local Initiatives
"I'm really trying to get to know the organization from the inside and take my time doing that," Berger said. "I'm getting to know the people and the communities we serve and figuring out how to better meet their needs."
For example, Berger is connecting with graduates of Good Enterprises, a 12-week business academy for traditionally underserved entrepreneurs. Participants learn what it takes to run a successful business. Even after graduating from the program, business owners receive coaching, business accelerator services and guidance on how to access credit and capital.
"What do they need to keep marching on their journey? Some 70 percent (of business owners) don't have any savings when they start," Berger said. "We have some huge gaps to fill there. We are looking at creative partnerships to address those needs."
And that's just one of Lowcountry Local First's programs. The Good Farming initiative supports sustainable agriculture by supporting existing farm businesses and educating consumers on the importance of local growers, producers, the businesses that support them. Lowcountry Local First partners with Trident Technical College to train new farmers in the region.
"Eat Local Season" in the spring is an annual awareness campaign to bring attention to local growers, fishers and food and beverage establishments.
During the holiday shopping season, Lowcountry Local First hosts "Buy Local Season," another public awareness campaign that encourages people to shop for holiday gifts at local retailers, food and beverage businesses and personal service providers.
"We look at our population, which is 819,000. The average person spends $1,000 on holiday shopping. If we could keep just 10 percent of that in the local economy, it would have a tremendous impact," Berger said.
Lowcountry Local First is planning hyper-local events this holiday season, giving shoppers the opportunity to support their local businesses and discover some of the hidden treasures in the community – treasures you miss if you're simply scrolling online for gifts, Berger said.
Tackling Local Challenges
And let's not forget how a global pandemic can rock an economy. COVID-19 impacted local businesses in a big way. As businesses scrambled to shift their offerings, protect their staff and apply for small business loans, Lowcountry Local First pivoted, too. The nonprofit offered real-time resources, particularly when it came to helping businesses apply for the Paycheck Protection Program administered through the U.S. Small Business Administration.
Lowcountry Local First continues to keep in close contact with businesses, offering workshops and tools to address the most pressing needs from COVID and beyond, such as hiring staff and accessing affordable commercial real estate, Berger said.
Online shopping – which grew dramatically during the pandemic – continues to be a source of competition for local businesses dependent on foot traffic.
Lowcountry Local First has its work cut out for it. At the heart, though, is opening consumers' eyes to the value of keeping the money flowing locally.
"We're helping businesses market the fact that it's important to shop and buy locally," Berger said. "Three times more money stays in the local economy when you shop locally instead of online. Those [local] businesses sponsor your local soccer team, create jobs and contribute to the tax base."
To learn more about Lowcountry Local First, visit lowcountrylocalfirst.org.