Antique door knockers make a statement
E.C. Waldron
Photos by Jenny Peterson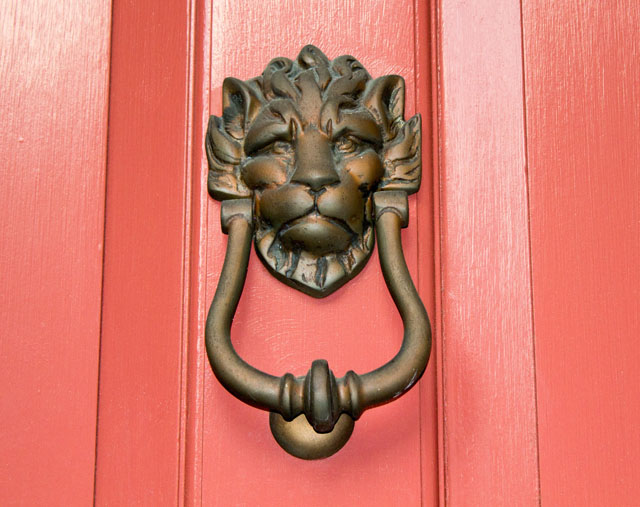 Anyone who has spent time walking in Charleston's historic neighborhoods, peering into gardens or marveling at ornate wrought iron gates, may have missed a more subtle feature: historic brass door knockers.
Many that adorn Charleston homes were purchased from George C. Birlant and Co., one of the oldest continually-operated antique stores in the South, located at 191 King Street. The store is filled with European antique furniture, china, glassware and unique and unexpected items like a display of ornate walking canes and shelves of fireplace fenders.
The door adornments can be found tucked into the corner and back of the store and are displayed on a pegboard painted "Charleston green." The knockers come in many different designs—some centuries old, others more modern.
There is the 10 Downing Street version, the head of a lion, a replica of the actual knocker on the door of the Prime Minister of England's residence. The actual 10 Downing Street wooden door was changed to steel due to security issues. The door no longer opens from the outside, but the head of the lion remains above the mail slot. Tourists take their photos at the door at 10 Adam Street, which is almost identical.
Birlant and Co. also sells modern door knocker designs, like large seashells or alligators. Andrew Birlant Slotin is a third generation Birlant on his maternal side of the family and is co-owner of the operation, which began 101 years ago.
"We started importing the knockers 75 or 80 years ago by buying an original and then having it cast by a foundry, so we have reproductions made," said Andrew. Store buyers go to Europe twice a year to purchase antiques and to visit the foundry where the knockers are produced.
"We can't get any grand quantities because these are small cottage industries, they're not big manufacturing plants," he said.
These foundries are so rare today that Andrew would not reveal the names or locations, due to competition. You can find door knockers online, but nothing compares to the knowledge of a Charleston antiques dealer with a brick-and-mortar store.
Andrew is a charming man with a great sense of humor and deep history of door knockers.
"We have what's called a 'doctor's door knocker,' which in America they call pitcher handle knockers because from the side it looks like the letter S," said Andrew Birlant Slotin. "This door knocker goes back quite a few centuries because when people lived in their village or town it would signify the home of a physician, so if someone became ill, they would know where to go."
Many of today's designs are more about what people love, not what they do. Wildlife, fish, shells and marine motifs are popular. One of the more unique South Carolina designs is the
Carolina brown bat. It is displayed hanging from a branch, and you pick up the bat head to knock on a door. Andrew Birlant Slotin said the original foundry in the South that cast these has since gone out of business.
"We had that little brown bat cast in England; we sent one of the remaining ones we had and had it made," he said.
In today's world with electronic doorbell cameras rolling video, the antique design of an artistic door knocker can set a tone—literally. All door knockers are different and when knocked on an individual door, it will have a unique sound.
"They have a very handsome sound. Pre-electricity, this was how people would indicate they were at someone's door. They were an important part of people acknowledging they were present and needed attention."
And as a design element for the home, they are sold at George C. Birlant and Co. at reasonable prices. Most are in the $100 to $200 range, while some of the larger, historic knockers are priced up to $400.