Johns Island home blends beach styles from different coasts
By E.C. Waldron
Photos by Jim Somerset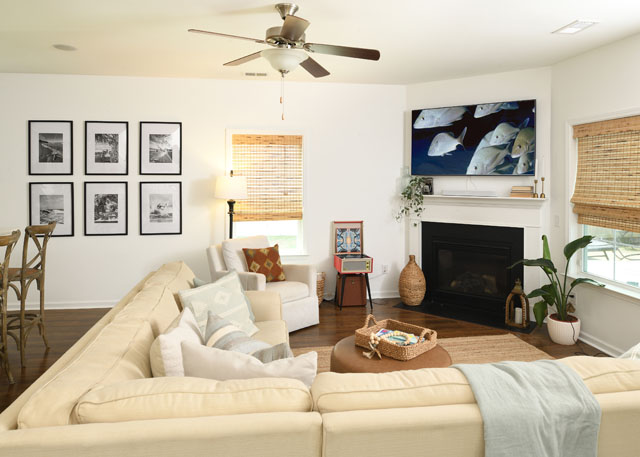 Logan Kelly's design inspiration for her new home comes from three different coasts: the sea islands of the South Carolina Lowcountry, and the two tropical coasts of Costa Rica.
Kelly grew up in the Charleston area swimming and surfing and was thrilled recently to travel and experience the lush beauty of the Central American country which has beaches on both the Caribbean and the Pacific.
"Costa Rica is one of my favorite places in the world, so that was a big inspiration when I first went there years ago and saw all of their greenery and the plants. I wanted my backyard and the inside of my house to feel as tropical as it can," said Kelly.
Kelly bought her Johns Island home in the Oaks at St. John's Crossing three years ago. It's a four-bedroom, three-story home built in 2017. The downstairs has an open floor plan.
"I love entertaining, so I wanted a house that had a really open and inviting kitchen and living room, and it kind of flows nicely right into the backyard too," she said.
As soon as she moved in, she had everything painted Chantilly white, then added accent colors to certain rooms. She shares the home with Bodhi, her lively Golden Retriever.
Surfs Up
At more than 2,500 square feet, there is plenty of space for her four surfboards, which she uses as unique decorative items.
"I'm a big beach girl. l I love to surf, I love to be out on the water paddleboarding, playing spikeball, anything beach-related, so my house has kind of taken on that as well. There's a giant 9-foot-long board that's a light teal color that stays in the corner of the living room/dining room space," said Kelly. "I have a gray short board in my bedroom, and then I've got another surfboard up in the third-level bonus room. That one's a fun bright color, and then there's a little short board that is currently in the living room." Kelly displays them vertically, leaning against a wall.
Kelly takes the longboard from the living room to the Washout at Folly Beach as often as she can, in between her mostly-remote work as product manager for Segra, a national fiber network company.
Green inside and out
Flora and fauna, both real and faux, are another design element Kelly uses. "I've got probably four or five different plants in each corner, or around mirrors and things," she said. "I've got a big birds of paradise in the living room, and a monstera and some snake plants that I love."
In the guest room and other rooms she doesn't use as much, she places faux plants so she doesn't have to worry about watering them.
Besides greenery, accent elements are something Kelly seeks out. She incorporates pillows, rugs, and wall hangings, mostly in beachy colors or jute fabrics. Sometimes she shops online at Wayfair or in person at World Market, and her taste can be very eclectic. She also has a wall display of her own photography of surfers and beach scenes, along with vintage antique cameras positioned around the home.
Kelly sometimes buys pieces from a small Charleston-based design company, Styled by Leni. Founded by Pauline "Leni" Theos, a Charleston native who graduated in interior design from Queens University in Charlotte, NC, Leni consults on home design and also offers items such as oyster blessing beads and citrus garlands for sale on her website. Other items can come from "inspirational browsing."
"One of my favorite pieces in my house, which hangs in the hallway going up to the second floor, is a very cool, large-scale glass depiction of a wave. I I love waves. I love the water. I love the movement behind the glass. It's not framed; it's just set up kind of like a mirror would be hung."
Party Time
Now that we are on the other side of the Covid pandemic, Kelly, like most of us, has gotten back into entertaining, which provides her great joy.
"I have a three-in-one dining room table that turns into a ping pong and pool table, so it can be most of the time a pool table, which is really fun because I'm 30 and a lot of my friends are either newly-married or still not yet married, and so it's fun to have a space where I can have a lot of people over and be able to entertain.," she said.
Kelly added a backyard grill and had a Superbowl party, hanging a projector screen on the live oak in the backyard to watch the game.
"It's been so fun to have friends over and grill out steaks or burgers. A lot of times I'll say 'bring your own meat' and I make all the sides, and then everyone brings whatever they want and throw it on the grill and it's it usually works out so well."
Add in some adult beverages and music, and it's Lowcountry living at its best. And golden retriever Bodhi is often the star of the show, loving the attention and playing fetch until he tires out and takes a nap.
Peaceful Coasting
When Kelly is ready to chill, her bedroom is the favorite place.
She has several LP record players, and puts on music like Norah Jones or Citizen Cope.
"My bedroom has that similar beachy feel to it with the with the white walls and the white bedding, and then the natural wood headboard and media table with a white dresser. I've got some art in there that's very coastal. It's like a Sunset Beach scene with bohemian style pillows and a rug."
For Kelly, when her home reminds her of surfing, she knows she's made the right choices.
"On the water, life feels very quiet; you feel very connected to the earth. You can feel the energy and the ocean, and it's just a very relaxing and calming experience," she said.
Kelly admits she can sometimes be pummeled by a wave, but right now she is living a life she has dreamed about, in a home she has created and loves, with her buddy Bodhi. But the retriever might have company in the future.
"It's a big house for just me, but I think I got it at a great time, and I hope to one day grow into it with a family and have all this space to keep having friends and family over," she said.
Design:
Surfboards:
Gary Wilson Surfboards from
Ocean Surf Shop on Folly Beach

Plants:
Brownswood Nursery on John's Island
https://www.brownswoodnursery.com

Logan's photography from Gallery wall: